Job boards are a type of search engine which aggregate and display jobs posted by employers seeking new employees. These job boards often target one specific industry like healthcare, transport, or technology. They are among the most popular sites on the internet.
Job board popularity changes rapidly so, as a hiring manager, it is important that you follow the candidates and post your jobs where they will see them.
New job boards are launched every day, so the next Indeed or LinkedIn may already be out there, rapidly soaking up the available candidate pool. The top job boards for your company may not be the most popular ones, so don't be shy to try out new job boards.
Special Offer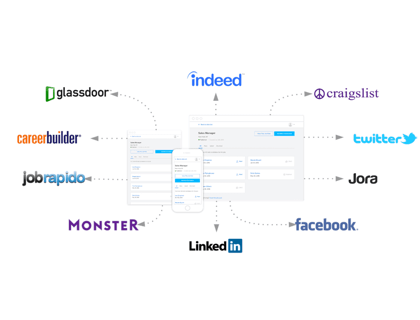 Post Jobs for FREE
Completely free trial, no card required.
Reach over 150 million candidates.
Top Job Boards:
| Our Rank | Job Board Name | Description |
| --- | --- | --- |
| 1. | | Indeed is one of the best places to search for jobs. Ask most people to name a job board, and I think you'll get Indeed most of the time. What started off as a job search engine and job aggregator has become the biggest board, and after acquiring Simply Hired last year, it isn't showing signs of slowing down. For many companies, it's the go-to free job board. It's got anything from entry level to executive jobs, and full to part-time jobs. |
| 2. | | craigslist offers so much, that not everyone immediately thinks of it as a free job board. It's a great place for finding local jobs and freelance work to make additional income. craigslist has begun charging for job postings in most regions, which has improved posting quality from a job seeker perspective, but it's no longer a free job posting site. |
| 3. | | LinkedIn is the world's most popular social network for professionals. It is fast becoming a place to post jobs and handle talent management due to its enormous reach and growth in active users. LinkedIn is mostly suited to white-collar jobs as its growth has predominantly been professional positions with desk jobs. It's a good place to post jobs to fill more senior roles also. With the rise of social recruiting, LinkedIn is a must. It's like a giant social resume database. |
| 4. | | Monster.com is a great job board for a wide range of jobs, and has a great resume database. Pricing is based on the number of postings you buy - the more you buy, the cheaper each post is. |
| 5. | | Facebook is a great place to post jobs if you're interested in finding passive recruits - people who aren't necessarily looking for a job opportunity. Connecting with people on Facebook also gives you a chance to learn about them in a more personal way. Posting can be free, but you can increase the visibility of your job depending on how much money you're willing to spend. |
| 6. | | Google for Jobs was launched on the 20th of June 2017 as an embedded feature of the normal Google search engine. Candidates entering terms such as "jobs near me" or "sales associate jobs" will now see a curated list of jobs Google has collected recently. It is not possible to post jobs directly on Google for Jobs so your ATS will need to support the Google Job Posting schema format for your jobs to appear here. |
| 7. | | Careerbuilder is a general posting site, is one of the most trafficked job sites in the U.S. and is trusted - it has direct relationships with 92% of Fortune 500 companies. Pricing is based off or number of posts purchased. Buying job postings in bulk gets you a better price. |
| 8. | | Find jobs near you, formerly known as USA.jobs, is a job search engine for part-time, full-time, and contract workers in the U.S. Find jobs near you offers free posting for seven days, plus access to the resume database. |
| 9. | | Jobvertise claims to be the world's #1 no-cost job and resume database, and says it has 1 million resumes available for employers to search. That's a lot of resumes! Luckily they're searchable. Pricing is based on a monthly or yearly membership fee. |
| 10. | | JobsRadar is another general jobs board. It claims to give employers access to more than 50 million job seekers in the U.S. |
| 11. | | Snagajob is focused on the hourly job market, and claims to be the #1 place for hourly jobs in the U.S. With 60 million registered job seekers, it'll help increase your talent pool quick. Typical jobs are in the restaurant, retail and hotel industry, with wages between $10 and $20 per hour. |
| 12. | | JobsFlag is a general jobs board website that aggregates job postings from around the web, and allows members to post as well. It offers a membership based pricing plan, with prices available upon request. |
| 13. | | Nexxt is a general jobs board, and claims 53 million active job seekers and about 15 applicants per job posting. It's one of the original boards, operating since 1998 when it was known as Beyond. |
| 14. | | CareerJet is another job aggregator site that gives applicants a place to search for jobs that have been posted all over the Internet. Unlike many aggregator sites, employers can pay to have their jobs advertised on CareerJet, on a cost-per-click basis. |
| 15. | | Cleverism is an international job board for general job seekers. The platform features branded employer profiles, a wide range of resources for job seekers, and AI-driven search filters that enable ideal matches between employers and job seekers. |
| 16. | | Juju is a job aggregator site that gives applicants a single place to search for jobs that have been posted on other sites around the Internet. Employers can pay to have their jobs advertised on Juju, on a cost-per-click basis. According to the job site, ads are seen by millions of job seekers. |
| 17. | | CareerBliss calls itself a Cultural Job Search Engine. It's a job seeker oriented site that focuses on company culture as a way to help job seekers find employment. Employers can pay to have their jobs advertised on CareerBliss as sponsored jobs. According to their site, the average job seeker on CareerBliss tends to be experienced and educated. |
| 18. | | WeWorkRemotely is the most popular job board for startups looking to hire remote workers. The main job type is software development but they are also an excellent source for writers, marketers, and other startup roles. |
| 19. | | Mashable is a large independent online news site with a job board that actively promotes listings to 45 million monthly unique visitors and 25 million social followers. |
| 20. | | Lensa is a U.S. job board with more than 10 million members. The AI-powered platform instantly matches job requirements supplied by employers with job seeker resumes and prompts job seekers to contact employers directly. |
| 21. | | Geebo is a classifieds site, similar to Craigslist, that claims to filter out scams and other annoyances for job seekers. For employers, Geebo says that it "broadcasts your job announcements to some of the most highly visited and cutting edge Websites in the U.S." Pricing is per job post. |
| 22. | | ClearanceJobs is a jobs board for employers looking to connect with job seekers who have a security clearance. It claims to be "the largest recruiting network in the defense industry, and the nation's only secure, social recruiting site for cleared professionals." Pricing is both membership and pay-per-click. |
Top Job Board Pricing:
| Job Board | Price |
| --- | --- |
| | Free for regular postings, sponsored jobs range from $0.10 to $5.00 per click. |
| | Free and paid options. |
| | From $279.00 /post. |
| | Free. |
| | From $219.00 /mo. |
| | Free job postings valid for 7 days. Featured jobs cost $145.00 for a 45-day posting. |
| | Contact for quote. |
| | From $89.00 /post. |
| | Contact for quote. |
| | From $199.00 /post. |
| | Contact for quote. |
| | Free and paid options. |
| | $299.00 /post. |
| | From $259.00 /post. |
| | Contact for quote. |
| | From $75.00 /post. |
| | Contact for quote. |
U.S. Job Boards by City (Paid and Free)
Online Job Sites for Industries & Demographics:
Where can I find Remote Job Boards?
See our complete ranked list of the best remote job boards for 2020.
More Resources:
Looking for a job? Check out our job search sites to get the perspective on job boards from the job seeker's point of view.
FAQs:
What are the best job sites to use?
This depends on which industry your company is in. Most industries have a number of niche job boards that focus on that industry. Candidates will usually go to one of these online job boards to start a search before going to a top job search sites like Indeed.
Do job boards work?
Yes. The job market is really tight right now so it may feel like they aren't as effective as they used to be, but this is likely because of historically low unemployment rates making hiring tough for most positions in most of the U.S.
How do job boards work?
Job boards connect job seekers with employers. The best ones minimize spam for both parties and help connect them with the best opportunities for both employee and employer.
Is Indeed the best job board?
For most general roles Indeed is a great place to start posting jobs, but is it the best job board? Indeed is able to drive a startling number of candidates for a wide variety of roles. For highly specialized and competitive roles, Indeed does not do as well due to competition from smaller niche job boards. So, "best" might depend on your industry, and possibly region as well.
Are there any great engineering job boards?
Yes. Check out the National Society of Professional Engineers job board, EngineeringJobs.net, Engineering.com, and Engineerjobs.com to get started. You can also take a look at our selection of engineering job boards.
What are the best job boards for employers that need to hire nurses?
Nursing is a tough field to hire for these days, but check out nursing job boards such as Nurse.com, NursingJobs.com, and Nurse Careerboard to get started, and look at our healthcare job boards article for other medical job boards.
What are the best job boards for journalism jobs?
For entry-level journalism jobs and more senior positions, some of the best online job sites include JournalismJobs.com and Media Bistro.
What is the difference between a job board and a job search engine?
A job board is a platform on which employers post jobs directly, while a job search engine collates job postings from different job boards and websites on the internet.