ZipRecruiter is an online job board that allows employers to post jobs on its own website, and post jobs to other job boards as well. Candidate information such as resumes and answers to screening questions can then be viewed in an employer dashboard.
Special Offer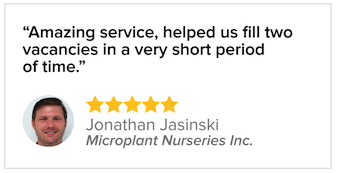 Post Jobs for FREE
Completely free trial, no card required.
Reach over 150 million candidates.
ZipRecruiter Pricing:
| Plan Name | Monthly Cost | Features |
| --- | --- | --- |
| Starter Standard | $249.00 | 3 active job slots, 1 user seat |
| Starter Premium | $349.00 | 3 active job slots, 25 resume database downloads per month, 2 user seats |
| Team Standard | $375.00 | 10 active job slots, 1 user seat |
| Team Premium | $549.00 | 10 active job slots, 25 resume database downloads per month, 4 user seats |
| Company Standard | $576.00 | 20 active job slots, 1 user seat |
| Company Premium | $799.00 | 20 active job slots, 25 resume database downloads per month, 6 user seats |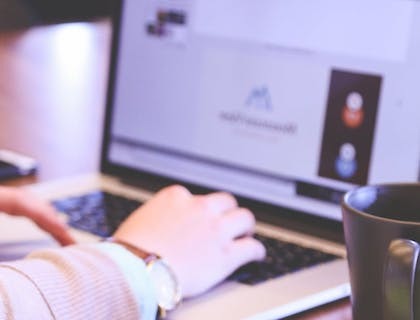 How to Post a Job on ZipRecruiter:
Go to ZipRecruiter.com.
Click "Post a Job."
Select number of employers and click "Post Jobs for Free" button.
Enter information about your company.
Enter information about the job.
Choose a package.
Enter your credit card information.
Click "Post My Job Now."
ZipRecruiter Reviews:
| Company Name | Rating | Review |
| --- | --- | --- |
| The Reserve at Columbia | 4 Stars | I like that this software basically prescreens candidates, saving me time. I also like the filter functions! |
| Porter Corp. | 3 Stars | ZipRecruiter has a nice database of candidates that is relatively easy to search. They provide no shortage of candidates as well applying for positions. It is a good site for posting and praying or if you have open parameters for filling a position. |
| Zyston | 2 Stars | UI was very easy to use, got plenty of responses to jobs I posted, some decent candidates. Short trial period meant I wasn't able to fulfill any roles, not their fault per se. When I contacted them about my account being charged, they promptly refunded my money. |
| Slingshot Inc. | 4 Stars | ZipRecruiter has an excellent note taking ability. It timestamps each note on the candiates, which makes it very easy to track. The ability to send emails individually or in a group worked seamlessly, which I truly enjoyed. |
| (mend)bicycles LLC | 1 Star | Everyone of the 10 candidates I got had NO experience in the industry and were applying for a SENIOR LEADERSHIP position. I was so disappointed, but I signed up for a 30 free trial and I thought I would give them time to make it work, until I saw a charge on my card! I called them to complain and they told me that there was never a 30 free trial, not only that, they told me that I needed to put more qualifications to LIMIT my posting! |
| GoRapid Inc. | 4 Stars | We used an ad to hire a new employee. This software is great to get you potential employees to send resumes. |
| Depression and Bipolar Support Alliance Greater Houston | 4 Stars | Zip recruiter pushes your job posting to many other job sites on the internet. I was surprised to see all the platforms where our job posting was listed. My favorite feature is the ability to set minimum qualifications which automatically pre-screen applicants. It saved me a lot of time because I did not have to review resumes where candidates did not meet the minimum qualifications. I could also easily identify which candidates I wanted to interview. |
| Pathfinders Counseling and Consulting | 5 Stars | Solid and affordable recruiting system with integrated applicant tracking, screening, rating, and communication log at a price significantly lower than Indeed. |
| Powerfront | 2 Stars | I find that ZIp Recruiter is an amazing tool. Even when you are using a trial it gets you the numbers of applicants that you are looking for that meet my requirements. I love the fact that after setting up a trial that I received a call from a sales agent almost right away. |
| Flour Bakery + Cafe | 5 Stars | ZipRecruiter is pretty easy to use and conveniently sends your job post to multiple job boards. Upkeep of job posts and checking on applicants is also very easy to use. |
ZipRecruiter Frequently Asked Questions:
What's the difference between a standard and premium ZipRecruiter account?
The cost for ZipRecruiter goes up a bit for premium but with the price increase, you get additional users on the employer side, access to the ZipRecruiter resume database, and placement on the first page of job search results on ZipRecuiter's job board.
What is a ZipRecruiter job boost?
ZipRecruiter job boosts send your postings out in an email alert. ZipRecruiter estimates a posting gets 3x more applicants with a boost. Boosts start at $95.00, and get less expensive with each one.
Do you have to pay for ZipRecruiter after the free trial?
Yes, you have to pay for Ziprecruiter for employers. The free trial is 4 days. After the free trial Ziprecruiter fees start at $249 per month for a basic plan with 3 active job postings.
How long is ZipRecruiter free trial?
The trial lasts for 4 days and you will be billed automatically on the 4th day unless you cancel your subscription.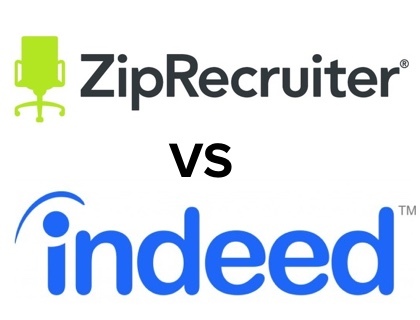 ZipRecruiter vs. Indeed
A lot of employers compare Indeed vs. ZipRecruiter. Indeed is the most heavily trafficked job board in the U.S., and it allows for totally free postings for an unlimited time. ZipRecruiter posts to its own job board, and many other (excluding Indeed) but does cost money after the 4-day free trial.
Does ZipRecruiter cost money to try out?
No, not for the first four days. You can try the ZipRecruiter free trial for that amount of time. After that, you'll need to pay according to the package you selected on signup.
How does ZipRecruiter work for employers?
ZipRecuiter allows candidates to find your job openings on ZipRecruiter job boards and sends your posting out to several other ZipRecruiter partners. Candidates can then apply and will appear in your ZipRecruiter dashboard.
How do you contact ZipRecruiter?
For a live chat with a representative click "Contact Us!" tab in the lower right corner of the screen on any employer page. You can also call the ZipRecruiter phone number at (877) 252-1062. The ZipRecruiter address is 11th Floor, 401 Wilshire Blvd, Santa Monica, CA 90401.
How does ZipRecruiter make money?
ZipRecruiter is free for job seekers, but it charges employers for posting jobs depending on the number of jobs they post, the number of users they need, and other features they may want access to.
How much does it cost to post on ZipRecruiter if I just have 1 job?
After the free trial, the ZipRecruiter cost starts at $249 for a basic plan that allows you to post 1-3 jobs. There doesn't appear to be a special ZipRecruiter price for just posting one job at a time.
How much does it cost to use ZipRecruiter for job seekers?
ZipRecruiter is free for job seekers. Most sites like ZipRecruiter do not charge people who are seeking jobs, although there are a few ZipRecruiter competitors that charge job seekers, rather than employers.
How much does ZipRecruiter charge to put your posts at the top of the results?
ZipRecruiter traffic boosts will put you in the top 3 results and add a fee to your package. For example, if you're on the premium starter plan at $349 per month, 1 boost raises your fee to $424 per month.
How much does ZipRecruiter cost if I want to post more than 10 jobs?
The ZipRecruiter job posting cost for more than 10 jobs starts at $576 per month. This allows you to post up to 20 active jobs.
How much is ZipRecruiter just to try out?
ZipRecruiter is free to try out for 4 days. People also ask "is ZipRecruiter free for employers?" It is, but just for the 4-day trial.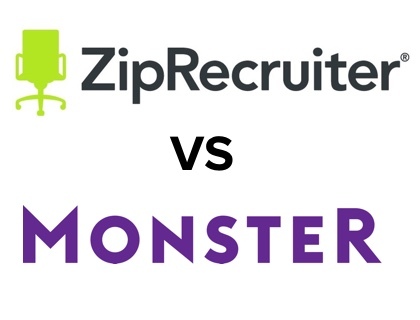 ZipRecruiter vs. Monster
A lot of employers compare Monster vs. ZipRecruiter. With ZipRecruiter, you get a free 4-day trial, and they'll post your job to their board as well as others. With Monster you post on their board and others may syndicate your post. The cost of ZipRecruiter starts at $249 per month, Monster at $375.
Any tips for how to sign up for ZipRecruiter outside of the U.S.?
ZipRecruiter can be used in Canada and the U.K. Just add the location information when you go through the ZipRecruiter sign up process and you should be set.
Do you know how to use ZipRecruiter to post to other job boards?
ZipRecruiter will automatically post your jobs to other boards and websites like ZipRecruiter. There is no extra step involved to get this done.
Is ZipRecruiter good for any type of job?
Because it posts to multiple job boards, ZipRecruiter will get your jobs in front of a fairly diverse audience, as far as abilities, so it's good for most industries, except for maybe highly specialized ones where you'll want to post to a niche board.
Is ZipRecruiter legit?
ZipRecruiter is a legitimate business based in Santa Monica, California.
Is ZipRecruiter really free for job seekers?
Yes, job seekers can really use ZipRecruiter free to search for jobs.
Is ZipRecruiter safe to post my resume to?
It can be helpful to post your resume to websites like ZipRecruiter when you're job hunting, but you should use basic caution. Don't put anything in the resume that you wouldn't like widely distributed. Also, be careful when approached about jobs from any source. Research the company and the position before offering additional personal information.
Where can I find an independent review of ZipRecruiter?
You can find Zip Recruiter reviews on sites like Capterra, HighYa, GetApp, TrustPilot, and TrustRadius. Many of those contain a ZipRecruiter free trial review, and ZipRecruiter complaints as well.
What does ZipRecruiter do for companies that only need to post jobs occasionally?
ZipRecruiter offers a subscription plan, so if you're only posting jobs a couple times a year, it may not be right for you, but the site does say you can cancel at any time, so if you think you'll be advertising the job for more than a few days, it may be worth it. To find out, you may want to try the 4-day ZipRecruiter free job posting option. You'll see that offered as part of the ZipRecruiter employer sign up.
Will ZipRecruiter post a job to Indeed?
At one point jobs from ZipRecruiter were automatically posted to Indeed. Now ZipRecruiter does not post jobs to Indeed as of this writing.
I read that there is a ZipRecruiter 30 day free trial. How do I get that?
Some ZipRecruiter reviews mention a 30-day free trial, and it looks like one may have been offered in the past, but we don't see any place during the ZipRecruiter sign up process to register for one at this time.
What is ZipRecruiter like as an ATS?
ZipRecruiter has a basic ATS that covers most of the requirements for small and medium businesses. A Larger business may be better with a more feature rich ATS like Lever or Greenhouse.
What job boards does ZipRecruiter post to?
ZipRecruiter posts to a number of popular job boards, besides its own. This includes Job.com, Patch, Topix, Yakaz, Trovit, JustJobs, Adzuna, CareerJet, Jobsler, Mitula, JobDash, and Jobsra.
What sites does ZipRecruiter post to outside of the U.S.?
There are several sites, including Wowjobs, Adzuna, JobKoreaUSA, JobRapido and others that attract job seekers from outside the U.S. If you're not hiring in the U.S., U.K., or Canada, you may want to consider ZipRecruiter alternatives that are focused on your market.
Where does ZipRecruiter post jobs that I can't post to myself?
It looks like anyone can post to most of the job boards that ZipRecruiter posts to, but posting to each of the ZipRecruiter partners one at a time would be a time-consuming project.
Was there a ZipRecruiter price increase?
Several websites, including Aimgroup reported a ZipRecruiter pricing increase of as much as 600 percent for some ZipRecruiter plans in 2016. Before that the ZipRecruiter cost to post a job was reportedly $50 per month.