Looking for a job has become easier with access to online job boards that feature vacancies from employers across the globe. We have compiled a list of the best job boards for job seekers based on their popularity, ease of use, and filter options.
Special Offer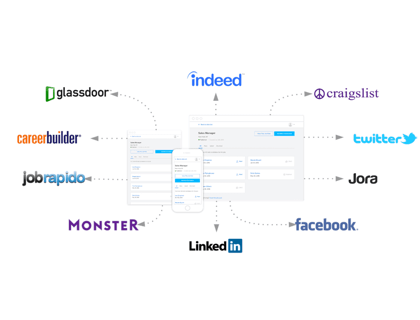 Post Jobs for FREE
Completely free trial, no card required.
Reach over 250 million candidates.
Why We Chose Indeed, LinkedIn, and Simply Hired:
Indeed is one of the most widely-used job boards by job seekers and employers. As the go-to job board for employers, you are guaranteed to find a wide variety of vacancies. You can refine your search based on location and contract type, and there is a company review section to find out what the work environment at some large companies is like.
LinkedIn is a social network aimed at facilitating professional connections, and users can follow companies to get updates when new positions become available. Users can search the "Jobs" tab for vacancies that are relevant to their profiles and previous experience.
Simply Hired is part of a network of job boards and will share posted vacancies to over 100 job boards for more exposure to qualified candidates. They offer job description writing tips, applicant tracking tools, and resources to help you with the hiring process.
The Best Job Search Sites:
| Rank | Site | Review |
| --- | --- | --- |
| 1. | | Indeed is a standard job board with the ability to enter keywords and location, with the option to filter results by date, contract type, and location. It is the most trafficked job board in the United States. |
| 2. | | While LinkedIn is also an excellent platform for connecting with professionals, many companies post job vacancies that can be saved to your profile. |
| 3. | | Simply Hired takes keyword input to find available jobs, but allows users to filter jobs by proximity, contract type, and date posted. |
| 4. | | In addition to displaying jobs, CareerBuilder also offers a salary tool to compare salaries for similar jobs in your area. |
| 5. | | Monster allows users to browse job by location or company, or to enter keywords manually for a more refined search. |
| 6. | | For a general search, users can search for vacancies by keyword and location. Users can also create a profile for more relevant suggestions. |
| 7. | | With a ZipRecruiter profile, employers can reach out to you directly and invite you to apply for a job. |
| 8. | | Ladders aims to show the most well-paying positions and companies available. |
| 9. | | Users upload their resume and Robert Half's staffing experts reach out to hiring managers. |
| 10. | | Craigslist is not a dedicated job board, but it has a basic yet effective filter for finding jobs by location and type. |
| 11. | | The site allows you to upload your resume and contact employers directly regarding the hiring process. Using AI matching technology, the site recommends new vacancies. |
| 12. | | LinkUp has no categories for searching, but uses job title and location input to filter results. |
| 13. | | This job board specializes in, but is not limited to, jobs in the tech industry. |
| 14. | | USAJobs.gov allows users to apply for positions in the federal government. There are categories for students, military spouses, the National Guard, and veterans. |
| 15. | | The jobs featured on this board are aimed at students and recent graduates looking for internships and entry-level positions. |
| 16. | | Cleverism features advanced AI search filters to match employers and job seekers. |
Indeed vs. LinkedIn vs. Simply Hired:
Indeed, LinkedIn, and Simply Hired are some of the most well-known job boards, and are equally matched in terms of features offered.
Indeed is one of the most widely-used job boards and has slightly more features than LinkedIn and Simply Hired. It has both a resume upload feature and job categories that LinkedIn lacks. However, since Simply Hired is a publishing partner of Indeed's, jobs posted to Simply Hired will also be shared to Indeed.
While LinkedIn is a platform for connecting with other professionals, it also has a job tab that displays vacancies based on your LinkedIn profile information, keyword inputs, and location filters. The platform has also released a salary tool for select countries, allowing users to see the average salary for different roles.
Like Indeed, Simply Hired offers some advanced features, such as job description writing tips, applicant management, and hiring resources. Simply Hired also sends your job posts to a large network of over 100 additional job boards, including Indeed, giving employers a wider candidate pool to draw from. Neither Indeed nor LinkedIn offers this service.
Indeed vs. LinkedIn vs. Simply Hired:
| Feature | Indeed | LinkedIn | Simply Hired |
| --- | --- | --- | --- |
| Keyword Entry | ✔ | ✔ | ✔ |
| Resume Upload | ✔ | x | ✔ |
| Salary Tool | ✔ | ✔ | ✔ |
| Job Categories | ✔ | ✔ | ✔ |
| Location Filter | ✔ | ✔ | ✔ |
FAQs:
What is the best site for job searching?
What are the top 10 job search websites?
What are the best online job search sites?
What job sites do employers use most?
What is the best way for an executive to find a job?
An executive can find higher-paying vacancies on job boards like Ladders and Robert Half.
What are the best job search engines?