Pricing:
Pricing for job postings on Craigslist varies by location and ranges from $10.00 to $75.00 per job post. For a complete list of pricing by area, see the download below.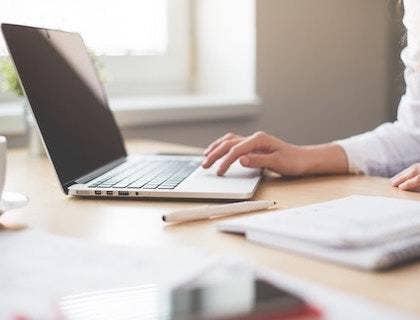 Craigslist Job Posting Prices — Download:
Discover the costs associated with posting a job advert in over 400 U.S. regions.
Download Now
Review:
Craigslist is a popular online classified advertisement site that attracts large volumes of traffic. The platform features city and region-specific sites where users can post a range of ads, including job listings, to reach a local audience. While Craigslist does not offer free postings in the U.S., its pricing is very competitive.
Despite many negative reviews, the site remains one of the most popular online classifieds platforms and is great for advertising local and freelance jobs. However, if you're looking to fill positions that require specialized skills and qualifications, dedicated career platforms like LinkedIn and Indeed are better options.
Pros:
The site is easy to use.
The platform offers competitive pricing and is more affordable than some competitors.
Craigslist is great for advertising blue-collar jobs.
Users can target audiences by location.
The platform is well-known and receives large volumes of website traffic in the U.S.
It is free to search resumes.
Cons:
There is no free posting option in the U.S.
The platform is not suited for posting executive-level jobs. For this, users should rather look to competing platforms like LinkedIn.
Craigslist is not BBB accredited.
In reviews, several U.S. users report coming across suspicious posts and receiving dubious or nonserious responses to ads posted on the platform.
Reputation:
Craigslist is not accredited by the Better Business Bureau and has been given an F rating. Most of the reviews on the BBB website are negative, giving it an average customer rating of 1.12 out of 5. Themes dominating the negative reviews include complaints about suspicious user activity and dissatisfaction with customer support.
These negative points are echoed by reviewers on Trustpilot and Sitejabber, where Craigslist has a rating of 1.3 and 3.4 out of 5 stars, respectively. While Quora users also report coming across nonserious and suspicious user activity on Craigslist, the site is still regarded as a popular and easy-to-use platform for local classifieds.
Craigslist Job Posting and Recruiting Tips:
Use a specific job title.
Prominently state your company name.
Check your spelling and grammar.
Clearly state the job skills, duties, and requirements.
Don't use vague or generic wording.
Remove non-essential responsibilities and qualifications.
Send all candidates a set of screening questions.
Check communication skills by having them answer questions via voicemail.
How to Post a Job on Craigslist:
Six easy steps for posting a job on Craigslist.
1.
Posting a Job on Craigslist.
1.1
Go to Craigslist.org.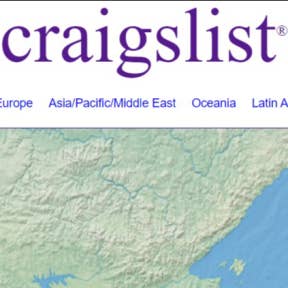 Navigate to the Craigslist home page.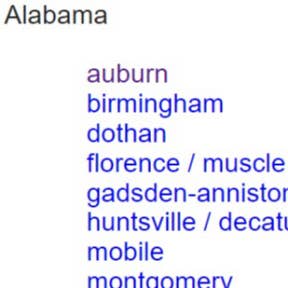 Choose the state and city you want to target with your job post.
1.3
Click on "create a posting."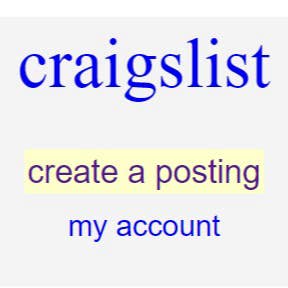 The "create a posting" button is in the top-left corner of the page.
1.4
Choose a posting type.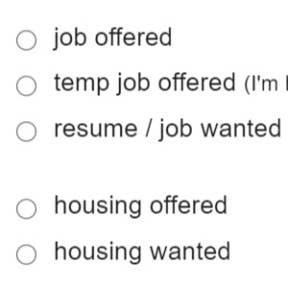 Choose one of the job posting options and click on "Continue."
1.5
Choose a job category.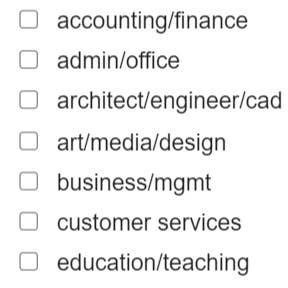 Select one or more categories for your job post.
1.6
Fill in your job details.
Add information like the title, description, compensation, and more.
Once you've created your job post, review it, click on "publish," check your email, and confirm. You will need to log in to your Craigslist account or create one in order to pay and confirm your job post.
How to Find Employees on Craigslist:
Navigate to the "jobs" section of the Craigslist home page.
Select an industry from the list provided.
Once you are on the results page, change the search filter from "jobs" to "resumes" or "services" to view posts by job seekers.
How to Search Resumes for Free on Craigslist:
Navigate to craigslist.org.
Select your city.
At the bottom of the page, click on "resumes."
You can browse all the listed resumes in your city.
If you want to search within resumes, enter a few keywords or a job title in the search bar.
Select your preferred availability and education level on the left (optional).
Click on "enter."
Craigslist vs. Indeed:
Unlike Craigslist, Indeed allows for free job posts in the U.S. While Craigslist is great for reaching local communities and filling blue-collar positions. Indeed, a dedicated job site with a range of useful recruitment tools is the better choice for finding candidates with specific skill sets and qualifications across a range of industries.
Craigslist vs. LinkedIn:
While Craigslist is a great platform for local jobs and freelance work, LinkedIn, a global social network for professionals, is best for finding candidates for senior roles.
Craigslist vs. Monster:
Monster is a general job board that is great for recruiting candidates across a range of industries, while Craigslist is more suited for posting local and freelance jobs. Craigslist offers a low-cost posting option from $10.00 per post, while Monster's pricing starts from $12.00 per day for the pay-per-click package.
Key Information
| | |
| --- | --- |
| Legal Name | Craigslist, Inc. |
| Founder | |
| Founding Date | Mar 01, 1995 |
| Address | 1381 9th Ave., San Francisco, CA 94122 |
| Number of Employees | 50 |
| Website | |
FAQs:
When did Craigslist start charging for posting jobs?
Craigslist started charging for job postings in all U.S. regions on November 1, 2016. At that time all cities and regions that allowed free postings changed to $7.00 postings.
What is the difference between paid and free Craigslist job posts?
Paying for a Craigslist job post allows you to access features, including HTML formatting options, that can make your post look a bit nicer. These days paying is a requirement to post Craigslist jobs in the United States. There are still some places that allow free posting outside the U.S.
Are there lists of free cities to post jobs on Craigslist?
You can find lists of free cities to post jobs on Craigslist in the U.S., but these are out of date. There are also articles with instructions for posting a free job on Craigslist, but if there were any workarounds, they no longer exist. If you want to post a job on Craigslist in the U.S., you'll need to pay.
How much does it cost to post a job on Craigslist in my state?
The cost to post a job on Craigslist ranges from $10.00 to $75.00 per job. Craigslist does do pricing by state in Maine, Delaware, and Wyoming, and also in larger state regions.
Can you post jobs for free on Craigslist?
You cannot post jobs for free on Craigslist within the continental United States, Hawaii, or Alaska. Only the U.S. territories of Guam and the U.S. Virgin Islands still allow for free job postings in the United States. Outside of the United States, there are still some places you can post for free.
How does the Craigslist job posting fee work?
Craigslist costs from $10.00 to $75.00 per job posting in the U.S. depending on the city you want to post in. Unlike many other job posting services, there is no pay-per-click fee on Craigslist and no way to place your posts above others by paying extra.
What does the cost to post on Craigslist include?
The Craigslist posting cost, from $10.00 to$75.00, just covers your basic post. Unlike job boards such as Indeed, you don't get access to applicant tracking, data about your posts, or cross-posting to any other websites for your posting on Craigslist.
Is the Craigslist cost to post worth it?
Generally, paying $10.00 to $75.00 to post a job is pretty cheap, although there are free job posting sites like Indeed. It may be worth trying out a Craigslist post to see if it's worth it for your hiring needs.
How many Craigslist posts can you make?
The general rule, according to Craigslist, is that you can post to one category in each city every 48 hours. Your ads may also be blocked if you post two ads that are very similar in the same geographic area even after 48 hours have passed. Removing similar ads should allow you to post a new one.
How long does a Craigslist job posting last?
Paid Craigslist job postings last for 30 days. A free job posting on Craigslist lasts 45 days, but you can't post jobs on Craigslist for free in the United States anymore.
Does Craigslist's charge for job postings include tax?
At this time there does not appear to be a tax on these types of online services in the United States, so no, they don't include tax.
Where is it free to post an ad on Craigslist?
Posting a job on Craigslist for free is still possible in many countries outside the United States. This includes parts of Canada, England, and the rest of Europe.
How do you post a job on Craigslist if your jobs get ghosted?
"Ghosted" refers to Craigslist allowing it to seem like your post has gone live, while not actually posting it because it is suspected of being spam. If this happens, review what you're posting and make sure you are providing a clear, grammatically correct description of a real job.
Do you know how to post a job opening on Craigslist in other countries?
This is quite easy. Just go to www.craigslist.org/about/sites and look for the country, and then the city you want to post in and go through your normal process of posting a job on Craigslist.
Is there any advice on how to post a job on Craigslist that gets better applicants?
The best advice on how to post a "help wanted" ad on Craigslist is to write a great post that attracts a lot of applicants. However, posting jobs on Craigslist this way will get you plenty of applicants, including low-quality ones. Screen candidates by sending them an email with a series of questions and then conduct a phone screening interview.
How do I post a job on Craigslist for executive-level jobs?
This is uncommon, Craigslist is mostly used to post blue-collar jobs. You might want to consider posting elsewhere first. That said, the key would be convincing potential applicants that the job is real, and not too good to be true. Include as much detail as possible and triple-check your grammar.
How do I post a job on Craigslist for free outside the United States?
Posting jobs on Craigslist for free is still allowed in many countries outside the United States, including some places in Canada and Great Britain. You can go to the Craigslist countries list and click on the country you want, then find the city or region and make your Craigslist free job posting.
Does it make sense to post a job for free on Craigslist outside the U.S.?
If you're hiring for a local job in a U.S. city, and there's hardly a chance of someone relocating to take it, it's probably not worth it. If you're hiring for a remote role, it can be a great way to reach people. Expats will often look out for jobs on Craigslist and are interested in earning dollars because it goes further for them locally.
Is there something like Craigslist for employers that is still free in the U.S.?
Is Craigslist free to post jobs in any major English speaking cities?
Yes, major English-speaking cities in Canada, including Calgary, are still available for Craigslist free job postings.
Can I search resumes for free on Craigslist?
What are some Craigslist alternatives?