The Best Blue-Collar Job Boards:
| Rank | Job Board | Description |
| --- | --- | --- |
| 1. | Indeed | Indeed is a general job board with the ability to enter keywords and location, and the option to filter results by date, contract type, and location. It is the most trafficked job board in the U.S. |
| 2. | Craigslist | Craigslist offers a great platform for local jobs and freelance work. Craigslist has begun charging for job postings in most regions, which has improved posting quality from a job seeker's perspective. |
| 3. | Google for Jobs | Google for Jobs uses the Google search engine to find and display available job postings using searched keywords and job titles. |
| 4. | LinkedIn | While LinkedIn is also an excellent platform for connecting with professionals, many companies post job vacancies that can be saved to their profile. |
| 5. | CareerBuilder | In addition to displaying jobs, CareerBuilder also offers a salary tool to compare salaries for similar jobs within the user's area. |
| 6. | ZipRecruiter | With a ZipRecruiter profile, employers can reach out to job seekers directly and invite them to apply for a job. |
| 7. | Monster | Monster is a great job board for a wide range of jobs, and has a great resume database. Employers have a choice of three monthly posting plans as well as pay-per-click and custom posting solutions. |
| 8. | SimplyHired | SimplyHired takes keyword input to find available jobs, but allows users to filter jobs by proximity, contract type, and date posted. |
| 9. | Nexxt | Nexxt is a job search platform linking hundreds of job sites. Users can search for jobs by category, keyword, or location. |
Blue-Collar Job Aggregators:
Origin of the Term Blue-Collar:
The term "blue-collar" first appeared in the 1920s in reference to trade workers. The phrase comes from the image of tradesmen wearing blue denim or canvas shirts as part of their uniform. The idea is that the dark blue color would conceal dirt or grease, helping them appear cleaner.
Blue-Collar vs. White-Collar Workers:
White-collar jobs usually require some sort of formal education with a bachelor's degree in a related field, in contrast to blue-collar jobs, which typically do not. Unlike blue-collar workers, white-collar workers don't do manual labor.
The Top 10 Blue-Collar Jobs for 2023: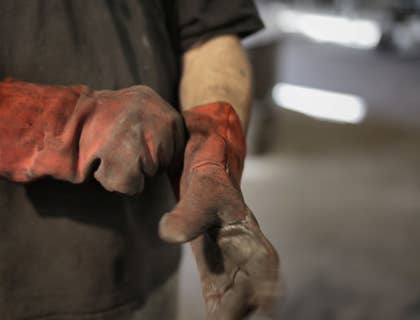 A complete guide on how to find laborers, with informative tips and frequently asked questions.
FAQs:
What does the term blue-collar mean?
In the U.S., blue-collar refers to the working class who perform manual labor outside of an office environment.
What education is required for a blue-collar job?
Most blue-collar jobs require no formal education. However, training is required either through apprenticeship programs or via a trade school.
What is the difference between a blue-collar and white-collar worker?
Blue-collar workers perform manual labor outside of an office environment, while white-collar workers are office professionals who perform desk, administrative, and managerial duties.
What are some of the best blue-collar jobs in 2023?
What are the best blue-collar job boards?