How to Find Maintenance Workers: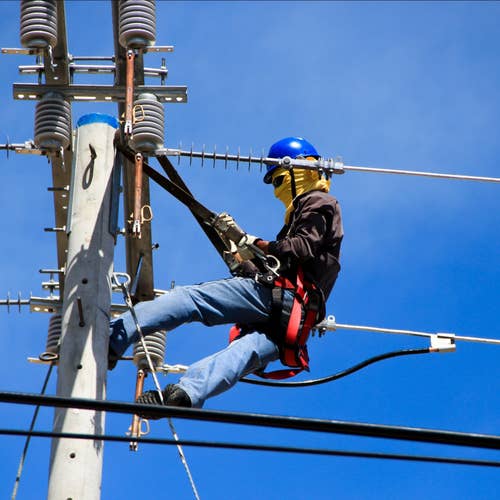 A step-by-step guide to finding top-performing maintenance workers for your business. Includes a full hiring process that will help you find and hire the best maintenance workers fast.
1.
Write a compelling job posting.
1.1
Outline the responsibilities and requirements of the role.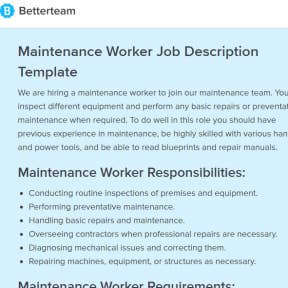 Prepare a well-constructed maintenance worker job description that clearly outlines the characteristics, responsibilities, and requirements needed to excel in the role. When drafting your requirements section, keep in mind that some maintenance workers are also required to complete specific training and be in good physical shape.
With a clear and concise outline of each job expectation, you'll be able to automate your screening system and identify incompatible candidates faster.
1.2
Sell the position by highlighting the benefits.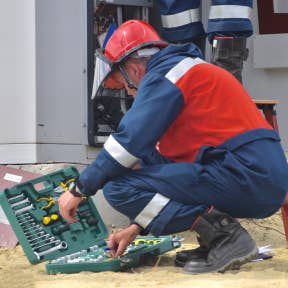 For the best results, you'll need to sell the position. You can do this by learning about what maintenance workers look for in a job posting. Typically, job seekers will look for benefits like health insurance, employer-paid life insurance, and a retirement plan, as well as longevity pay and on-the-job training.
1.3
Provide on-the-job training.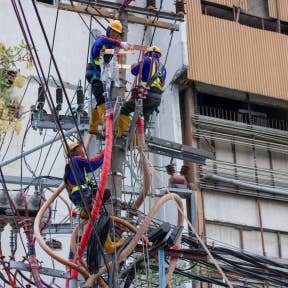 It's wise to consider the long-term benefits of upskilling applicants. Maintenance work may require extensive knowledge of welding, heating systems, metalwork, carpentry, flooring, plumbing, or mechanics. While these skills can be taught at trade schools and community colleges, additional on-the-job training in these fields can help foster a skilled and loyal workforce.
Create an in-house training program. Consider placing new applicants under senior maintenance workers who are able to share their knowledge of niche maintenance tasks. You also have the option of providing internships or apprenticeships. This is a great way to appeal to young applicants who are eager to pick up or expand their skills.
2.
Post your job ad on multiple sites.
2.2
Target niche job boards that's dedicated to the maintenance industry.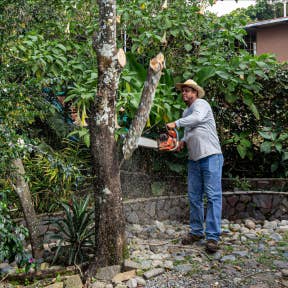 Post your job ad on smaller, niche job boards that cater to those who are already looking for maintenance work. Sites like these are useful if you're looking to hire maintenance workers with specialized skills and extensive work experience.
2.3
Advertise on your company website and social media.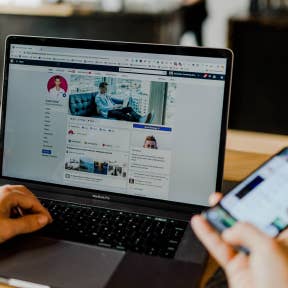 Customers and job seekers alike visit your social media accounts and company website each day, making this the ideal opportunity to showcase your latest vacancies. Add a careers page to your website and post links to the page on your social media sites.
Make sure that you regularly update the page to ensure there is no confusion or unnecessary applications.
3.1
Shortlist potential candidates.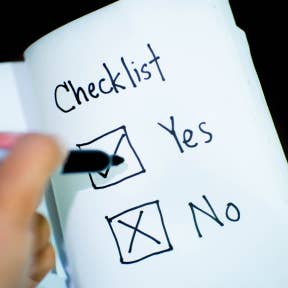 Once you've closed applications, you'll be left with multiple resumes and cover letters that each deserve a fair chance. To help streamline the screening process, use the criteria listed in your job description to prepare a checklist of requirements and characteristics to look out for.
You can then start organizing the applications into separate piles that represent the candidates who failed to meet all the requirements and those who exceeded your expectations.
3.2
Send screening questions via email.
Another great way to screen applicants is by asking basic screening questions via email or telephone. This can help filter your list of potential candidates and weed out those who are not suited for the role.
Possible screening questions for maintenance workers:
What experience do you have working with HVAC systems?
What type of maintenance work have you performed in the past?
Do you have experience with repair work?
How do you keep track of maintenance records?
4.1
Conduct phone interviews.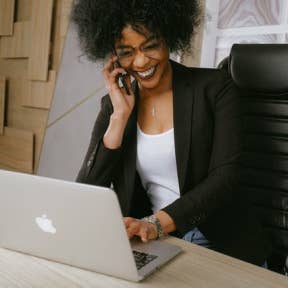 Depending on the type of maintenance work, some maintenance positions may not require extensive experience. Therefore, maintenance work is often looked at as entry-level, especially when it comes to jobs like garden maintenance or handiwork. This may lead to an influx of applications that meet most of your requirements.
Phone interviews can help further filter your candidate pool and avoid a lengthy in-person interview process, ultimately saving you time and money. Make sure that you maintain the same level of professionalism you would in a face-to-face interview and ask each candidate the same questions to help you better measure their responses.
Example phone interview questions:
Are you available to work on weekends and in cases of emergency?
What have you done to improve your skills in order to stay relevant in the maintenance market?
What safety gear do you use on the job?
What are your salary expectations?
Make a note of any red flags that could hinder the candidate's ability to perform the job. These may include a lack of maintenance work knowledge and experience, previous workplace issues, and notable weaknesses.
In addition, you'll also want to ensure that the candidates' job expectations meet yours. For instance, they may be interested in flexible hours or expect certain benefits that you're unable to provide.
4.2
Invite candidates for in-person interviews.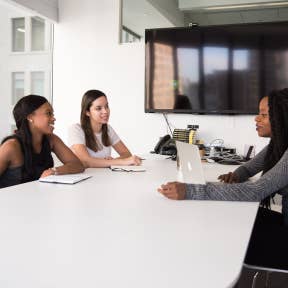 Once you've identified a good list of qualified maintenance workers, you can start requesting in-person interviews.
Look for candidates who are punctual, respectful, and well-prepared. Because maintenance workers typically work alone and outside of an office setting, consider asking personality and situational interview questions.
Example interview questions:
How do you diagnose any issue during maintenance checks?
How would you handle a maintenance issue that you're unable to fix?
What was the hardest maintenance project you've ever worked on? What did you learn?
How would you organize and prioritize your work if we're short-staffed?
Take the time to clearly outline the job's functions and daily responsibilities. This will encourage the candidate to ask questions, which may help them feel more at ease and confident about their abilities.
In addition, interviews are also your opportunity to sell the position, explain your work culture, and introduce your employer brand.
5.
Hire a new maintenance worker.
5.1
Make a formal job offer.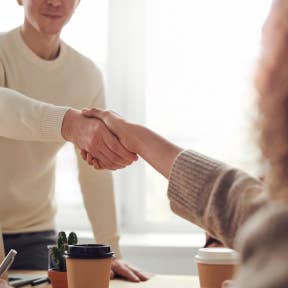 When you find a good maintenance worker who meets all your expectations, you can make a formal job offer. Start with an informal phone call and follow up with an official job offer letter. Your letter should include the start date, compensation, benefits, and expected work attire. Encourage them to thoroughly review the job offer and ask any questions that may help them make a final decision.
5.2
Onboard your new maintenance worker.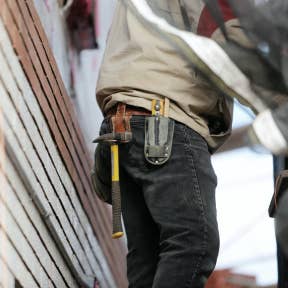 Onboarding is a key final step in the hiring process that is not to be overlooked. Make a good first impression and get a new hire up and running fast by having a detailed and organized onboarding process.
FAQs:
How do I find a good maintenance worker?
How do I find a good local handyman?
Create an ideal candidate persona.
Prepare a compelling job description.
Post on local job boards and community platforms.
Conduct a telephone interview to filter applications.
Invite candidates for in-person interviews.
Make a final job offer.
What makes a good maintenance worker?
Strong time management and organizational skills.
Good written and verbal communication skills.
The ability to work alone and in a team setting.
Great at solving problems quickly.
A qualification from a technical college or trade school.
At least one year of job experience.