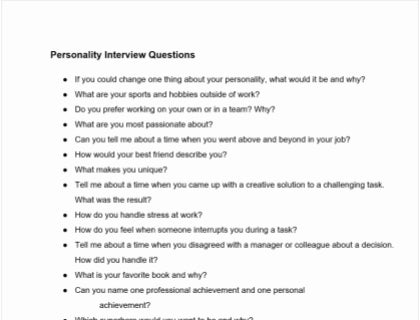 Personality Interview Questions Template
Download a list of personality interview questions in MS Word format.
Download Now
Personality Interview Questions:
If you could change one thing about your personality, what would it be and why?
What are your sports and hobbies outside of work?
Do you prefer working on your own or in a team? Why?
What are you most passionate about?
Can you tell me about a time when you went above and beyond in your job?
How would your best friend describe you?
What makes you unique?
Tell me about a time when you came up with a creative solution to a challenging task. What was the result?
How do you handle stress at work?
How do you feel when someone interrupts you during a task?
Tell me about a time when you disagreed with a manager or colleague about a decision. How did you handle it?
What is your favorite book and why?
Can you name one professional achievement and one personal achievement?
Which superhero would you want to be and why?
What is your greatest fear?