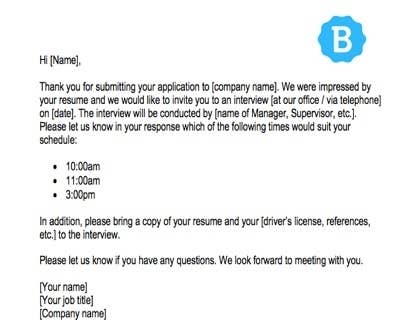 Interview Request Email Sample Template Download:
Download this free interview request email sample template and be ready to send it in minutes.
Download now
Sample Template:
Hi [Name],
Thank you for submitting your application to [company name]. We were impressed by your resume and we would like to invite you to an interview [at our office / via telephone] on [date]. The interview will be conducted by [name of Manager, Supervisor, etc.]. Please let us know in your response which of the following times would suit your schedule:
In addition, please bring a copy of your resume and your [driver's license, references, etc.] to the interview.
Please let us know if you have any questions. We look forward to meeting with you.
[Your name] [Your job title] [Company name]
Best Practices:
Include your company name in the opening paragraph.
Your candidate might have applied to several different companies, so be sure to identify yourself right away.
Specify the location or mode of the interview.
It sounds like a no-brainer, but be very clear about where or how the interview will take place. If you need to conduct a Skype interview, make sure that the job applicant has a good internet connection.
Specify who will conduct the interview.
You may not always know in advance who will be conducting the interview, but if you do, it is nice to be able to tell your job applicant so that they can address the interviewer by name when they arrive.
Give the candidate several times to choose from.
Most companies try to schedule all of their interviews within a short period of time when they are filling an open position. Pick several time slots within this period for your candidate to choose from. This will allow them to fit the interview into their schedule.
Include details about what the candidate should bring to the interview.
If you would like your job applicants to bring along a copy of their resume, references or any other information, make sure you specify this in your email.
Final Thoughts:
A courteous and detailed interview request email will encourage the top talent in your search to respond to your request and show up for an interview. Including all of the right information in the email will demonstrate to your candidate that you value their time and sincerely want to learn more about them.
If you are having trouble finding the right job applicants, check out our job description template.
FAQs:
How do you ask for an interview via email?
You can email a job applicant and ask them to choose from several times that might suit them for an interview. If they choose a time and express interest, you can arrange a meeting.
How do you schedule an interview by email?
You can use an interview request email template and send a personalized version directly to a candidate's personal inbox.
What online tools should I use to schedule an interview?
If you schedule an interview using Google Calendar, you can send your candidate an invitation that they can either accept or decline. If they accept, the interview time will automatically be added to their calendar.