An interview confirmation email is sent to a potential employee to remind them about an upcoming interview and to confirm their attendance. The email typically contains the proposed date and time of the interview, the estimated duration, and where the interview will be taking place.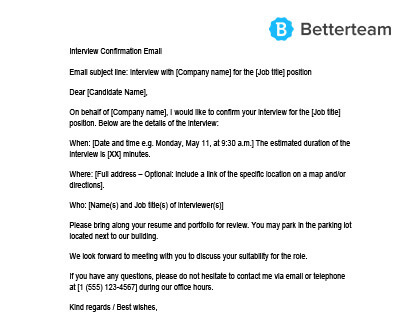 Interview Confirmation Email Template:
Download a free interview confirmation email template in Word format.
Interview Confirmation Email Sample:
Email subject line: Interview with [Company name] for the [Job title] position
Dear [Candidate Name],
On behalf of [Company name], I would like to confirm your interview for the [Job title] position. Below are the details of the interview:
When: [Date and time e.g. Monday, May 11, at 9:30 a.m.] The estimated duration of the interview is [XX] minutes.
Where: [Full address – Optional: include a link of the specific location on a map and/or directions].
Who: [Name(s) and Job title(s) of interviewer(s)]
Please bring along your resume and portfolio for review. You may park in the parking lot located next to our building.
We look forward to meeting with you to discuss your suitability for the role.
If you have any questions, please do not hesitate to contact me via email or telephone at [1 (555) 123-4567] during our office hours.
Kind regards / Best wishes,
[Your name]
[Signature]
FAQ's:
What is included in an interview confirmation email?
After phoning the candidate and sending an interview invitation email, you will need to send the candidate a follow-up email to confirm that he/she will be attending the interview on the proposed date. This email is also known as an interview schedule email.
An interview confirmation email should have a clear subject line and should be brief. It should contain key information, including the proposed date and time of the interview, the location, estimated duration, the names and job titles of the interviewers, and the topic and format of the interview.
What other information should I include in an interview confirmation email?
You can also use the interview confirmation email to remind candidates about what to bring along with them e.g., their CV or portfolio. If the candidate has not visited your company before, it is courteous to attach a map (or link) and directions to the office, and to let them know where to park.
When do I send a confirmation email?
Ideally soon after the notice of interview, which is often in the form of a phone call or an email.
How do you ask for a receipt on an interview confirmation email?
You can politely ask the applicant to confirm the email was received. Alternatively, you can turn on your email receipts. However, some email providers do not offer a delivery confirmation option.