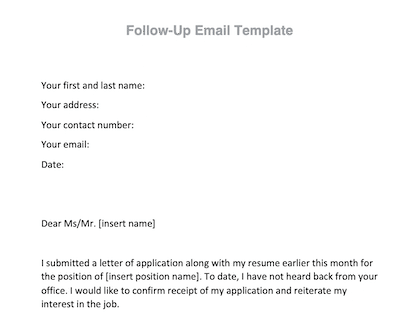 Follow-Up Email Template Download
Download this follow-up email template in MS Word format and start using it straight away.
Download now
When Is The Right Time to Follow Up?
Once you have sent in your job application, it is best to give the employer at least two weeks before sending a follow-up email. Depending on the type of job application, the hiring manager may be reviewing dozens of candidates for the role and will need some time to sort through the list of cover letters and resumes.
If you contact the hiring manager too soon, you might find it difficult to create a strong professional relationship with the company. However, if you wait too long before following up, you may just miss your opportunity to be considered for the role. A good rule of thumb is to wait a minimum of two weeks but not longer than three weeks.
Things to Consider When Writing a Follow-Up Email:
Use a clear subject line.
The email subject line should include your name and the title of the job you are applying for. Keep the subject line short and to the point.
Be professional and polite.
You will want to come across as professional and polite in your follow-up email. Don't accuse the hiring manager of ignoring you or forgetting about your application. Thank the employer for taking the time to consider your application and assume he or she has not had the time to respond.
Keep it brief.
Keep your email as concise as possible. Make it easy for the hiring manager to skim through the contents and respond to key points. Focus on who you are and why you are writing.
Take the opportunity to reinforce your skills.
This is an opportunity to reinforce why you are a good fit for the company. Briefly remind the employer of your skills and why you will be an asset to the company. Remember to keep your info short and to the point.
Proofread your email before sending.
A follow-up email is another opportunity to make a good impression on the employer. Make sure your email is professional, concise, and thoroughly checked for spelling and grammar mistakes.
Follow-Up Email Example:
Your first and last name:
Your address:
Your contact number:
Your email:
Date:
Dear Ms/Mr. [insert name]
I submitted a letter of application along with my resume earlier this month for the position of [insert position name]. To date, I have not heard back from your office. I would like to confirm receipt of my application and reiterate my interest in the job.
I am very interested in working at [insert company name] and believe my experience and skills would be beneficial to the company. In particular, my [x number of years] experience as a [insert role] would make me a good fit for this position.
Please let me know if you require any further information. I can be reached at [insert contact details]. I look forward to hearing from you.
Thank you for your consideration.
Best Regards,
[Insert name]
What to Do if You Don't Hear Back?
If you don't hear back after sending a follow-up email, you should try contacting the employer again. Wait at least a week before making contact. Rather than sending multiple emails, choose a different contact method, possibly by phone or through the company website.
If you don't hear back after this, you should consider your application unsuccessful. It is important to remember that employers focus on candidates they think will be an asset to their company. Pursuing the hiring manager with endless follow-ups will not get your application reconsidered.
FAQs:
When should I send a job application follow-up email?
If you haven't heard back from the employer after two weeks, you should send a follow-up email.
How do you follow up without being annoying?
Keep your follow-up email brief.
Be professional and polite.
Wait for a response before trying to contact the company.
What should I include in a job application follow-up email?
A subject title with your name and the position you are applying for.
An introduction paragraph stating why you are writing.
A second paragraph reiterating your interest in the position.
A mention of your skills and experience.
A sentence thanking the reader for their consideration.
Your contact details.
What should I do if I don't get a reply to my follow up email?
If you do not get a response from your follow-up email, you should look for an alternate way to contact the employer. Try phoning the hiring manager directly or contacting the employer through their company website.