Once you've written that stellar Resume, you'll want to make sure it ends up in the right person's inbox and that your email piques the Hiring Manager's interest enough to review your application. Sometimes you'll have to submit your resume via an online platform, but emailing the Hiring Manager directly shows initiative.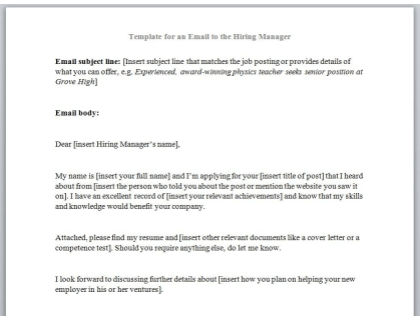 Template for an Email to the Hiring Manager
Download our template for an Email to the Hiring Manager and tailor it to your requirements.
Download
Instant download. No email required.
Template for an email to the Hiring Manager: (text version)
Email subject line: [Insert subject line that matches the job posting or provides details of what you can offer, e.g. Experienced, award-winning physics teacher seeks senior position at Grove High]
Email body:
Dear [insert Hiring Manager's name],
My name is [insert your full name] and I'm applying for your [insert title of post] that I heard about from [insert the person who told you about the post or mention the website you saw it on]. I have an excellent record of [insert your relevant achievements] and know that my skills and knowledge would benefit your company.
Attached, please find my resume and [insert other relevant documents like a cover letter or a competence test]. Should you require anything else, do let me know.
I look forward to discussing further details about [insert how you plan on helping your new employer in his or her ventures].
Sincerely,
[Insert your full name]
[Insert your current job title if relevant]
[Insert link to your LinkedIn profile/another relevant website]
[Insert email address]
[Insert contact number]
Get Hired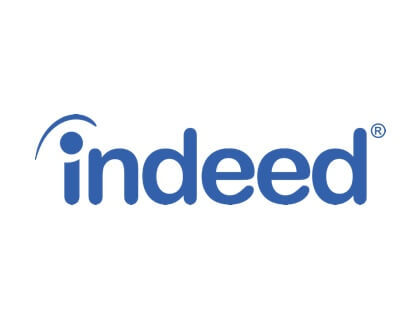 Build a resume that employers will notice. Completely free, no signup required, and instantly downloadable with one click.
Build Your Resume
Choose from 6 different resume templates.
Easily change fonts and colors.
Completely free to use.
How to Email the Hiring Manager.
There are a few essential things to keep in mind before sending your email to the Hiring Manager. The guidelines below will help you.
Make sure you have read and re-read all the job posting's requirements and prepared the relevant documents to the Hiring Manager's specifications.
Address your email to the Hiring Manager. If they haven't provided the name of the Hiring Manager in the job posting, try contacting the company to find out who to send your resume to, or searching for the HR team online.
Personalize your email. Don't send the same one out to every Hiring Manager.
Once you have formulated your email, send a test email to yourself to make sure the format, font, and attachments display correctly.
Send the email from a professional email address.
Once you have ticked off each of the above points, it's time to write the email to the Hiring Manager.
Follow the steps below to help you get that job interview:
Formulate an appropriate, concise, eye-catching subject line. Hiring managers get thousands of emails, and you'll want to make sure yours stands out.
Send the email on a weekday, preferably between 7 am and 10 am.
Address the Hiring Manager by name, if possible. It's a great personal touch, and might convey that you've done your research.
Do not include a full cover letter in the body of your email, unless instructed to do so. Simply give the Hiring Manager enough to want to keep reading.
Make sure you are polite and concise.
Without resorting to flattery, convey your enthusiasm for the position and the company. You can do this subtly in the way you express how you plan on adding value. Do your research and suggest ways you can use your skills to the company's benefit.
In your sign-off, include your current position and contact details.
Below is an email template you can use to send your resume to the Hiring Manager. You can also download the template in MS Word format.
Should I send a follow-up email?
You may want to send a follow-up email two or three weeks after you've sent your resume. Be courteous, mention the date you sent your resume, and ask if they require anything else.
Next Steps:
If you get an interview, you'll want to consider preparing a follow-up email.
FAQs:
How do you start a professional email?
Always begin a professional or formal email with 'Dear', followed by the recipient's name or their title and their last name. For example, "Dear Peter", or "Dear Professor Marx."
If you don't know the name of the person, it is also acceptable to use their job title, for example, "Dear Professor", or "Dear Hiring Manager."
What shouldn't I include in a professional email?
Remember to always be polite and respectful in your professional correspondence. Refrain from using the following:
Emojis.
Slang.
Informal greetings or familiar language.
All capital letters or all lowercase.
Incorrect grammar and spelling.
Acronyms used in text messages, like LOL.
Jokes.
Sensitive information that should be discussed in person.
What do you say to the Hiring Manager on an application?
Your correspondence with the Hiring Manager will be determined by what you have read in the job posting. Be concise, clear, and professional. Remember that Hiring Managers are inundated with emails. You can use our template to help you craft the perfect email.
Should you email the Hiring Manager directly?
Unless stated otherwise, it is almost always a good idea to communicate directly with the Hiring Manager. Take care when constructing your email and get someone to look over your application before you hit send.
How do you convince someone to hire you with no experience?
Most Hiring Managers value experience, but it's not impossible to land a job without any. Do your research on the company and impress the Hiring Manager with your passion, knowledge, and ideas. Using a Functional Resume will help you to foreground your skills instead of your work experience.
How do you ask about your application status?
You can send the Hiring Manager a follow-up email two or three weeks after you've applied.
How do you impress the Hiring Manager?
You can impress the Hiring Manager by crafting a great resume and adhering to all the job posting's requirements. Be polite and courteous in all your correspondence with the Hiring Manager, and go the extra mile when you complete your job application. Passion, insight, and an excellent work ethic usually makes a good impression.
How do I contact the Hiring Manager directly?
If the Hiring Manager's contact details are not included in the job posting, check the company's website, LinkedIn profile, or social media pages. If you cannot find the Hiring Manager's details, you could give the company a call and ask them directly.
What should I write in the subject line for a job application?
Write an eye-catching title that conveys what you want. Be sure to reference the position you are interested in as well.
Is it okay to follow up on a job application?
Yes, but give them two or three weeks to review your application first.