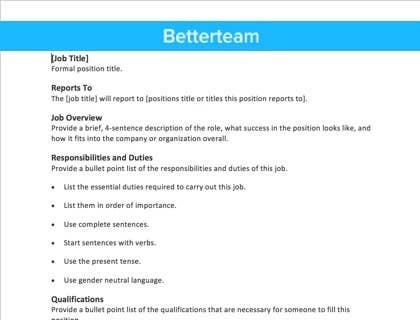 Job Description Template Sample Download:
Download this job description template in Word and have a job description created in just a few minutes.
Download Template
A great job description template should make it simple to list the job duties and responsibilities for every job in your company. Our job description format is great for describing a position internally and can be used as the basis to create a job posting template as well.
How To Create A Job Description Template:
Create a space for the job title using square brackets with the "Job Title" placeholder in bold.
Leave a space open under the title, then create the heading "Reports To" in bold.
Under your "Reports To" heading, type out a generic sentence stating who the role reports to. Use square brackets with placeholders for the job title and the position being reported to.
Create the heading "Job Overview" in bold and leave a blank space under the heading where a brief description can be written.
Create the heading "Responsibilities and Duties" in bold with 5-7 bullet points below it.
Create the heading "Qualifications" in bold, also with 5-7 bullet points below it.
Save your template with a clear title where authorized personnel can access it.
Looking to create yours from scratch? Try our guide on how to write a job description.
Job Description Sample Template:
[Job Title]
Formal position title.
Reports To:
The [job title] will report to [position title or titles this position reports to].
Job Overview:
Provide a brief, four-sentence description of the role, what success in the position looks like, and how it fits into the company or organization overall.
Responsibilities and Duties:
List the essential duties required to carry out this job.
List them in order of importance.
Use complete sentences.
Start sentences with verbs.
Use the present tense.
Use gender-neutral language.
Qualifications:
Education level.
Experience.
Specific skills.
Personal characteristics.
Certifications.
Licenses.
Physical abilities.
FAQs:
How do you define a job description?
A job description lists the requirements, responsibilities, and skills needed to perform a specific job. A good job description should be simple to understand and should list all the necessary application duties and requirements.
How do you write a good job description?
Use an accurate job title.
Write a brief summary paragraph that provides an overview of the job.
Define what success looks like in the position after 30 days, the first quarter, and the first year.
Write only the job responsibilities that are necessary for this job, not every job.
List essential qualifications.
Have someone proofread it.
Get HR and the hiring manager to sign off on it.
Publish it where employees can get easy access to it.
What should I write in a job description?
Job title.
Job brief.
Responsibilities and required tasks.
Qualifications and abilities.
What is the purpose of a job description?
To advertise an open job position.
To establish a job summary.
To list the responsibilities of the job.
To list the required expertise and qualifications for the job.
How can I improve my job description?
Clearly define what is expected of the employee at different intervals, such as the first 30 days, 90 days, 180 days, and the first year. Make this part of your sample job description template across your company to get everyone creating job descriptions that set expectations.
How do you write job roles and responsibilities?
Do your research on the role and list all key responsibilities.
Make use of action words.
Provide sufficient details.
Thoroughly communicate your expectations.
Explain your company's standards.
What makes an effective job description?
An effective job description is concise, short, and detailed. To ensure that the candidates understand and feel compelled to apply, the job description should leave no or little room for further questions or confusion on the jobs' KPIs and requirements.
How do you write an appealing job description?
Write up a short and engaging summary of the job.
Avoid superlatives.
Ensure the focus is on the responsibilities and development requirements.
Ask current employees for advice on writing job descriptions.
Any advice for writing a job description for a job I've never done?
Writing job descriptions when you've never done the job can be a bit intimidating. You'll want to be sure to talk to anyone at your company who is more familiar with the job, especially for help writing the description of responsibilities. You can also check out the job descriptions we've created for hundreds of jobs that will get you started with a sample job description format.
How do I create a job description in PDF format?
You can start with our job description template Word format download. Click "File" and select "Save As." Then look where it says "File Format:" and select "PDF," then click "Export."
What job requirements should I include in my job description?
Include traits that a successful applicant must have in order to succeed in the job. For ideas, check out our job requirements guide.
Do you have any job description templates that I could use?
We've got job posting templates that are aimed at helping you write descriptions that attract potential employees on job boards.