Pricing:
It is free to post a job on Facebook's public job board. Users can opt to promote their job post by boosting it as an ad. The cost of running your ad will vary depending on the target market and ad duration. Pricing is based on a pay-per-click model and users can set their own budget.
How to Post a Job on Facebook: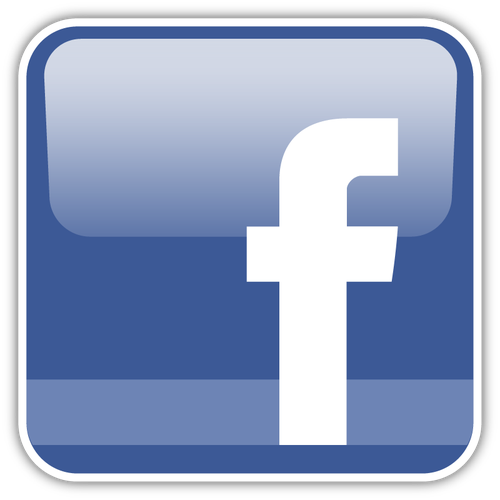 A step-by-step guide on how to attract qualified candidates by posting a job on Facebook.
1.
Posting a job on Facebook.
1.1
Log in to your company's Facebook page.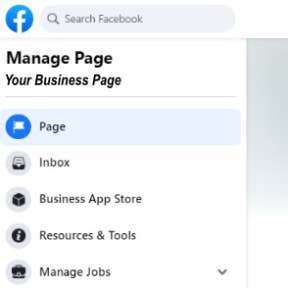 Facebook's job posting feature is only available via Facebook business pages. You'll need to sign in to your company's Facebook page.
If your business does not have a Facebook page, you'll need to create one. Go to facebook.com and log in to your personal account or click "Create New Account," if you don't have one.
Once you're logged in, click the "+" button in the top right corner of the page.
Select "Page" from the drop-down menu.
Complete your page information.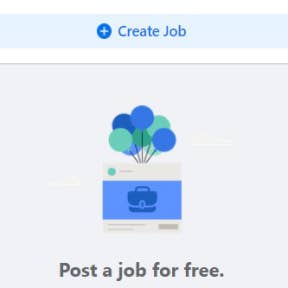 In the "Home" tab of your business Facebook page, locate and click the "Job" button below the "Create Post" function.
Alternatively, select "Manage Jobs" in the "Manage Page" menu on the left side of the page and click the "+ Create Job" button on the next page.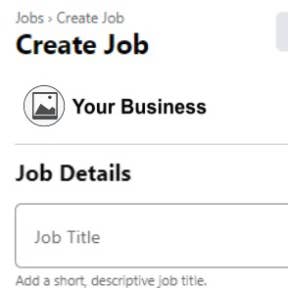 Create your job post by completing the online form with the job title, work location, job type, and job description. You can also add a salary range, screening questions, and an image, as well as refine your application settings by adding an email address for receiving applications and turning on the "Require Past Employment or Resume" settings.
As you enter information to create your job post, the information is also displayed in a live preview on the right. Once you've completed your job ad, click "Next" at the bottom of the form.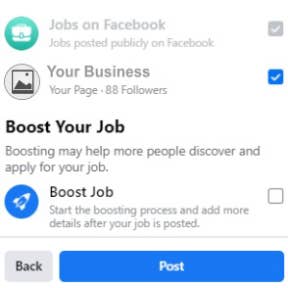 In this final step, you can choose to post your job ad only on the Jobs page or on both the Jobs page and your business's Facebook page. Click "Post" to publish your job ad.
Select "Boost Job" to start promoting your job post once it's been published. If you don't want to do so right away, you can leave this option unchecked for now.
1.5
Promote your job post.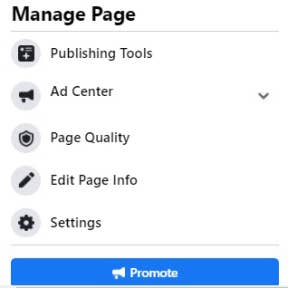 Boost your job post and add a budget to get your ad in front of a larger or more targeted audience. If you didn't check "Boost Job" when creating your listing, you can access the Ad Center from your Facebook business page to promote your job post.
From your Facebook business page, click the "Promote" button below the "Manage Page" menu.
On the Ad Center page, click the "Create Ad" button to the right.
Select the job post you want to promote.
At this point, you can make some edits to the post.
Facebook ad expert Amy Porterfield suggests that if you're running an ad, you should start the text with a question that someone reading it will answer "Yes" to.
Define your target audience.
Facebook offers a number of ways to help you target the most relevant candidates. You can include and exclude groups of people based on pages they have liked, interests, education, locations, and more. Think carefully about your ideal candidate and structure your targeting to suit.
Set the duration and a budget for your ad.
Select whether you want people to be able to see your ad on Instagram and Messenger in addition to Facebook.
When to Use Facebook to Post Jobs:
Recruit candidates who are loyal to your brand.
Facebook offers a great way to reach candidates who are already fans of your business. People who "Like" your business's Facebook page may see your job post in their news feeds.
Define your audience.
If you want to be in control of the audience your ad reaches, Facebook is the place to post. Not only does the platform offer access to an incredibly large audience, but it also allows offers excellent ad-targeting features. When you create paid ads or boosted posts, you can clearly define the audience your ad should reach.
Find passive candidates.
Facebook offers a very effective way for employers to reach and attract the attention of passive candidates. The highly social aspect of the platform also makes it more likely for candidates who are not interested in your vacancies to go ahead share them with individuals they believe may be perfect for the job.
Recruit on a budget.
Depending on your budget, you might only use free job posts and encourage your fans to share these in order to reach potential candidates or you set a budget that suits you to run highly targeted ads. Either option delivers a relevant audience for your job post and won't break the budget.
5 Tips for Recruiting on Facebook:
1. Create an attention-grabbing post.
There are a lot of companies competing for your ideal candidate's attention on Facebook. So how do you compete?
To get started, you'll want to do some quick research: Talk to your colleagues and find out what they love most about the job. This could be the relationships they have with coworkers, the location, the equipment, the benefits, etc. Now go to Glassdoor's reviews and look at what people in the position you're hiring for complain about.
Now, take everything you've learned and make that the focus of your Facebook recruitment strategy.
2. Create an event ad to promote your job fair.
If you're preparing to do a lot of hiring, a job fair or a smaller job event may be right for you. But how do you make sure it's well attended?
Facebook also offers event-specific ads. To create these, first, you'll need to create an event with Facebook. When you run the ad, Facebook will automatically create a call to action that allows people to say if they're interested in attending the event and confirm if they plan to attend or not. People can also like, sharek, and comment on it.
3. Make a video ad that candidates and Facebook will love.
The word is that Facebook has been giving video posts a lot of love in feeds, showing them more often than other posts. So video content should be part of your efforts.
Does producing video sound expensive and scary? It used to be much harder than it is now. But these days we've got great little cameras tucked into all our phones. Following a few simple tips, you can create videos to promote your jobs and company work culture on Facebook.
4. Tap into your employees' network of friends.
People tend to build networks of friends with similar interests. By getting your employees to like your Facebook page, you're connecting yourself to a network of people who work in your industry.
The most manually intensive method involves inviting them individually by going to your Facebook home page, copying and pasting the website address (the URL), and emailing it to employees. If you're friends with employees or colleagues on Facebook, you can use the "Invite Friends" feature.
If you're not connected to people you work with on Facebook, you may want to consider using your email account to connect with them.
5. Use Facebook Live to meet potential candidates.
Would you like to be able to connect with potential candidates live, via video? You could show them what a few minutes on the job are like, introduce some coworkers, or do a question and answer session about a job opening.
Facebook has just come out with a tool that allows you to broadcast live videos right in your Facebook feed. To use it, you'll need to have Facebook set up on your phone.
When you're finished, a recorded version of the video will automatically be added to your timeline. Big companies that are on top of their social recruiting game, like UPS, have already started using this tool. Give it a try and see if it works for your company.
FAQs:
Is Facebook job posting free?
Yes, it is free to post jobs to your company's home page and Jobs on Facebook. You may want to consider paying to boost your post if it's not getting enough responses.
Can you advertise jobs on Facebook?
Yes, you can do paid ads for jobs. To do this, you'll create a job ad from your Facebook business page and then "boost" it.
Can I post jobs on Facebook Marketplace?
When you create a new listing on Facebook Marketplace, you can select the type of listing you want to advertise. Here, you can select "Job Opening." You can then create and post your job listing. It will be listed on Facebook's jobs page.
How do I boost a job on Facebook?
To boost your job post, go log in to your business page on Facebook.
Click "Promote" at the bottom of the page beneath the "Manage Page" menu.
Click "Boost a Post."
Select the job post you want to promote.
Set the target audience of the ad.
Choose the ad duration.
Set your budget.
Review all of the details and click "Boost Post Now."
How can I create a Facebook event for a job fair?
Log in to Facebook.
Click "Create Event" under "Events" on the left side of the page.
Add basic event information.
Add a 1920 x 1080 pixel image.
Mark the event "public."
To boost attendance, promote the event with a Facebook ad.
How do I use Facebook for live recruiting?
Start promoting the day and time of the live session on social media a week before.
When you're ready for the event, open the Facebook app on your phone.
Navigate to the Facebook page you're posting to, and tap "Publish."
Tap "Live Video."
Tap the blue "Go Live" button.
Let visitors know you're answering employment questions.
Watch for questions and comments to appear below the video feed, and answer them with your voice.
How do I advertise jobs on Facebook?
Share your post with professional groups.
Send the post directly to candidates and recruiters who might be interested.
Share the post with your network of Facebook friends.
Share the post on all your company's other social media accounts.
How much does it cost to post a job on Facebook?
Posting a job on Facebook only costs money if you opt to "boost" your post through paid advertising. Costs vary based on the size of your target audience, and how long you would like to run an advertisement for. You can set up a customized budget and pay as little as $1 per day to boost a post.
Can I search Facebook by job title?
Is recruiting with Facebook a good idea for small businesses?
Yes, the Facebook recruitment process can be very effective for small businesses. Partially because the cost of testing it is free, plus you can set the budget very low on ads if you decide to test them. The targeting features that let you narrow your ad's reach to people who really fit your ideal employee profile also make using Facebook attractive for recruiting for small businesses.
Do you have any advice for how to recruit employees on Facebook for hard to fill jobs?
Recruiting through Facebook for hard to fill jobs can be very effective. The key is knowing as much as you can about your ideal employee, so that your Facebook job posting is well-targeted to them.
What are some Jobs on Facebook alternatives?