Whether you're making a first hire, or want to hire better employees, we've got a proven process you can use, and resources to help you.
Special Offer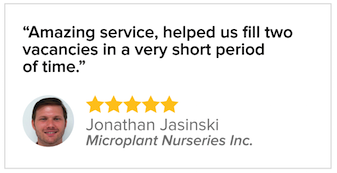 Post Jobs for FREE
Completely free trial, no card required.
Reach over 150 million candidates.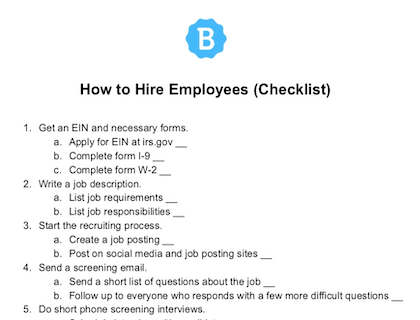 How to Hire Employees - Checklist
Use our PDF hiring checklist as a guide for hiring new employees.
How to Hire Employees:
1. Get an EIN and necessary forms.
Before you hire an employee, your business will need to have an Employer Identification Number, or EIN. You can see instructions from the IRS for obtaining one here.
You'll also need I-9 and W-2 forms, at a minimum. For more, check out our complete list of new hire forms.
2. Write a job description.
This is not the job posting, but a description of what the successful candidate will be doing. It should include essential tasks and skills as well as goals for the first 30, 90, 180 and 360 days.
Check out our guide on how to write a job description to help you get started. Going through this process will help you get clear on just what to look for in an ideal employee.
3. Start the recruiting process.
This is where you get the word out that you're hiring. You'll want to post your jobs to social media, make sure all your current employees know that you're hiring, and write up a great job posting that you can post to job boards.
You can use our job posting template to help write a posting that really works, then check out our guide to free job posting sites to get the word out to a broad audience.
4. Send a screening email.
Once your posting is out you should start receiving some applications. The fastest, most effective way we've found for dealing with a flood of applications is being prepared with an email to send out to each candidate.
This email should ask them 5 questions about the job that take at least 20 minutes, some thinking, and the skills you're requiring to answer.
Typically low motivation candidates won't even respond to your email. From the responses you do get, it should be pretty easy to see who put in a solid effort and who did the bare minimum. You should be able to narrow things down to a few great candidates from this process.
One caveat. The best candidates will likely see their time as valuable. If you don't put the time in to write a great job posting that sells them on working at your company, it's unlikely they'll take the time to respond to your request to answer the questions.
5. Do short phone screening interviews.
With a short 15-minute interview you can confirm a candidate's credentials, make sure that salary goals match up, and get a general sense of them as a potential employee.
Check out our full guide to phone interviews for more.
6. Do a paid test.
When it comes down to it, there's only one way to know what it will be like to work with someone, and that's to actually do some work with them.
Once you've got a couple solid candidates, start inviting the best of them to do a paid test of their work. What this paid test entails can vary quite a bit, but it's doable for almost any job. Ideally, they'll be doing the real, day-to-day work of the job.
In some industries this is standard, in others it may seem unusual, but it's always worth seeing how someone works before hiring them to do the job.
7. Conduct full length interviews.
At this point the person has been screened. The longer interviews are more about gauging how well they'll work with you and the team, or determining if there is a "fit."
8. Make an offer, hire, and do orientation.
Once you've narrowed it down to your top candidate, it's time to make a job offer. If you need help with that, we've got a complete guide to job offer letters.
If they accept, you'll need to through a new hire process with them to be sure you've done all the paperwork and necessary training. We've got the full guide to new hire forms as well as orientation.
FAQs: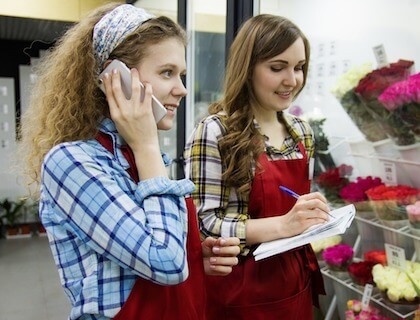 What is the cost of hiring an employee?
The average cost of hiring an employee is $4,129 according to a SHRM survey. Costs for individual employers who participated in the survey ranged from $500 for the lowest quarter, to $4,500 for the highest.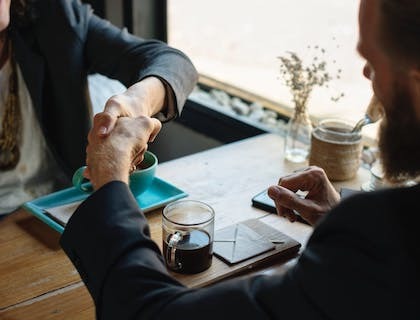 How do I hire my first employee?
Review your budget to be sure hiring makes economic sense.
Get a federal EIN number.
Get W-2 and I-9 forms.
Develop a job description.
Recruit candidates.
Follow a candidate selection process.
Make a job offer.
Onboard new employees.
Can you give me some advice on how to hire employees for start-up companies?
You'll want to find people that are suited to the day-to-day life of a startup. This means they'reflexible, self-motivated, can work with limited supervision and can handle a little chaos. If your candidates haven't worked at a startup before, look for candidates with previous jobs that required a lot of self-discipline with low supervision and high expectations.
How do small businesses hire good employees?
This can depend on the job a bit, but the method outlined above should give you a good template for hiring great employees. Above all, find ways of testing their skills for yourself, rather than relying on interviews and resumes. Involve other staff as well, so that you can get more feedback on your hires, and they can learn how to start hiring employees too.
How do I hire employees online?
Start with free job boards as a way to get the word out widely and effectively. This is a good way to keep the cost of hiring an employee down. You can do interviews with Skype or Google Hangouts, and all of the paperwork you need can be sent electronically these days.
How do I hire new employees for seasonal work?
It can be tough hiring year after year for the same jobs, but at the same time you get to practice and learn how to hire employees effectively. Follow a hiring process, and note when you make changes to it to see if your changes improve hiring. If you're having trouble getting applicants, check out our guide to finding employees. It also has tips on how to hire seasonal employees.
How much would it cost me to hire an employee for the first time?
There shouldn't be too much extra cost for hiring your first time. Keep in mind that the biggest cost to worry about overall isn't the cost of finding the right person, it's the cost of hiring the wrong one. It may be better to hold off on making a hire than bringing on someone you're unsure of.
Any tips on how I can hire overseas employees?
If you don't have an overseas office, but need to hire someone in another country, it may be good to try a contract employment site like Upwork. Otherwise, it's a lot like hiring employees online - you can handle everything via email and video conferencing these days.
How do I hire an employee for a job I don't know very well?
If there's anyone in your company that does know the job, get help from them. If possible, do the job yourself for a while. If you can't do that, try hiring contract employees to do some of the work until you get an idea of what success looks like for the job. Also, learn as much as you can from people you interview about who they respect in the field and why.
Any advice on how to hire within a competitive market?
Hiring is competitive in general now, so this problem is becoming more and more common. Do some research on your competitors and see what you can offer to make working at your company more attractive. Can you offer more vacation time? A flexible schedule? Include details in your job postings about what makes working for your company great, and really try to sell your jobs to potential candidates.
How long does the hiring process usually take?
This can vary quite a bit regionally and by industry, but in the last few years, it's taken a record amount of time to hire new employees, with an average of around 25 days.
How can I hire an employee quickly?
Can an LLC hire employees?
Yes, an LCC can hire permanent employees and independent contractors.
How can I hire an employee with no money?
Offer stock in your business.
Hire interns.
Employ contractors, part-time workers or students.
Exchange work for services.
Ask close friends and family for assistance.