Thank You for Applying Email Template
Download this free thank you for applying email template and start using it straight away.
Download Now
Thank You for Applying Email Example:
[Applicant Name],
Thanks for taking the time to apply for our position. We appreciate your interest in [company name].
We're currently in the process of taking applications for this position. We will begin taking interviews [time frame i.e. in the next two weeks]. If you are selected to continue to the interview process, our human resources department will be in contact with you by [date, or estimated date].
Thank you,
[Your Name]
[Your Position]
That's the basic email. You might want to try out Betterteam's screening email as an alternative. It acknowledges that the application has been received, but it also gets the ball rolling on the hiring process.
The idea is to send applicants 5 questions that take about 20 minutes to answer. This will automatically filter out unmotivated applicants because they won't even bother answering. Furthermore, you'll be able to pick out the good candidates quickly because they've all answered the same questions, making responses easy to compare.
Our sample email includes 5 generic questions that you can use, although we recommend that you tailor them to the particular job as much as possible.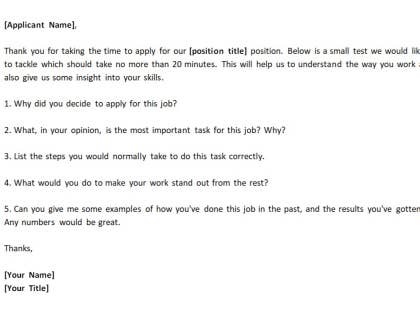 Application Screening Email Template
Download our application screening email template and start using it straight away.
Download Now
Application Screening Email Example:
[Applicant Name],
Thank you for taking the time to apply for our [title] position. Below is a small test we would like you to tackle which should take no more than 20 minutes. This will help us to understand the way you work and also give us some insight into your skills.
Why did you decide to apply for this job?
What, in your opinion, is the most important task for this job? Why?
List the steps you would normally take to do this task correctly.
What would you do to make your work stand out from the rest?
Can you give me some examples of how you've done this job in the past, and the results you've gotten? Any numbers would be great.
Thanks,
[Your Name]
[Your Title]
FAQs:
How do you respond to a job application email?
You thank the applicant for applying in an email that also contains a few screening questions to judge the applicant's level of interest.
How do you acknowledge receipt for a job application?
Also known as an application acknowledgment email, a "thank you for applying" email is a courteous way to thank candidates for their application and can provide further details about interview dates and times.
Should I use a thank you for applying auto response?
Yes, we think so. An acknowledgment gives applicants a good impression of your company. It can also save you from having to follow up with emails asking when applicants can expect to hear back, and checking to see if you received their resume.
Should my company use the thank you for applying email for screening?
We recommend that any company should use a screening email, with one caveat. You'll want to write a really solid job posting that gets potential applicants excited about the job.
How do you end a thank you email?
You can choose to provide details about the interview process and when the candidate can expect to hear from HR, should they pass the screening stage. Alternately, just sign off with your name.