The Employee Onboarding Process is the practice of integrating a new employee into an organization. Onboarding processes vary from industry to industry but the main objective is to help an employee acquire the necessary knowledge and behaviors to perform effectively.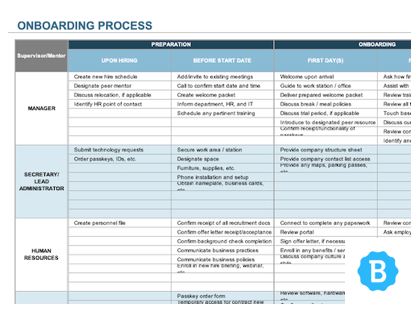 Onboarding Process Template - Free Download
Use our employee onboarding process template in Excel format to create your own onboarding spreadsheet for new hires.
Special Offer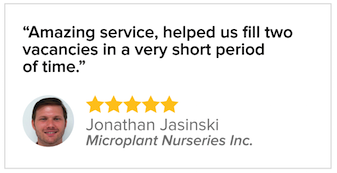 Post Jobs for FREE
Completely free trial, no card required.
Reach over 150 million candidates.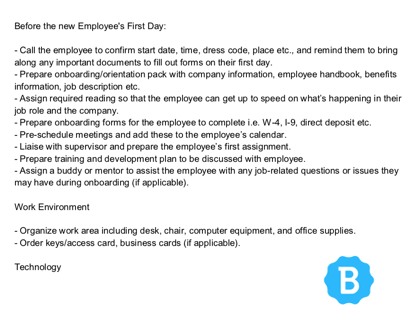 Employee Onboarding Process Checklist
Download this free employee onboarding process checklist in PDF format.
FAQs: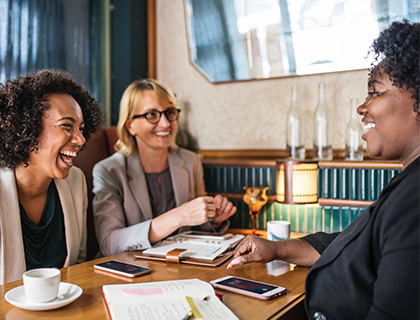 What is the process for onboarding a new employee?
Set-up the new employee's work area.
Make sure they have access to the company network.
On their first day, introduce them to the team.
Ensure that he/she fills out all important documents.
Ensure that your employee starts on a training plan.
Check-in after 30, 60, and 90 days.
Ask for feedback about the onboarding experience.
What's the difference between employee onboarding and orientation?
The employee onboarding process is a long-term structured plan that enables employees to learn about their responsibilities, performance goals, and acclimatize to their new work environment. Orientation is a part of onboarding and is usually a one-day event.
How long does the onboarding process take?
The onboarding process typically ends after 90 days, after which the new employee should be properly integrated into the work environment.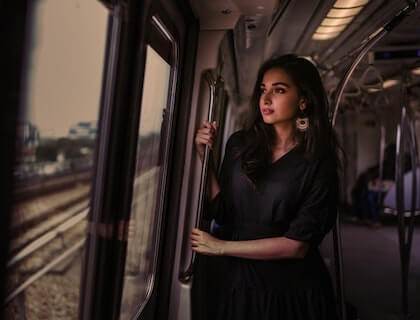 How can I make the onboarding process better for new employees?
Make it interactive.
Develop a schedule that is personalized.
Give the new employee something special to remember their first day by.
Communicate what will make them successful.
Ask for feedback.
What are the key benefits of the employee onboarding process?
New hire onboarding is essential to assist new employees in becoming productive members of the company in the shortest time possible, ensuring a higher rate of employee performance, engagement, and retention.
How long should new hire onboarding last?
The process of onboarding new employees is different for each company and depends on an organization's size, culture, and industry. There are different time frames for employee onboarding processes that can last anywhere from one day to a year. To determine the best HR onboarding practice for your organization, be sure to collaborate with management whilst ensuring that you comply with labor laws for a successful staff onboarding process.
Is onboarding the same as training?
No, onboarding is the process of integrating the new employee with the rest of the employees, management and the organizational culture, while training is the process of educating the new employee on the tasks, duties, and responsibilities of the job. Onboarding and training are separate yet must coexist and complement each other to successfully integrate the new employee into the organization.
Does the new hire need a "buddy" or mentor?
It is helpful, but not completely essential to assign an office buddy. This depends on the industry you're in and team structure. In larger organizations, a buddy is often assigned to help a new employee build rapport with their colleagues, learn the ins and outs of the business, and set them up for success.