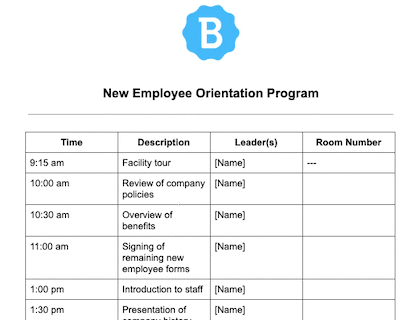 New Employee Orientation Program Sample Download:
Use this job orientation program template to create your own job orientation schedule.
Download Now
How to Prepare for a Job Orientation:
1. Know who they need to meet.
Make sure they know who will be handling their orientation on the first day. Ideally, this person will be waiting to greet the new hire when they arrive, but if not, at least they'll know who to ask for. If you want to take this a little further, help them connect on social media beforehand.
2. Tell them what to wear.
Save them the embarrassment of showing up in the wrong clothes on the first day. Let them know what clothes they'll need to wear or bring to the job orientation. You can help them to prepare by sharing your company's dress code policy.
3. Tell them what to bring.
Find some way of letting them know what they'll need for the first day. If you provide everything, let them know that too.
4. Know how the job supports the company mission.
Even the most basic jobs contribute to the overall purpose of the organization in some way. Let your new hires know what the mission of your company is, and connect their job to that mission.
Employees who have a strong overall sense of purpose connected to their jobs are easier to retain, happier, more forward-thinking, and optimistic. You can get new hires started with a sense of purpose on the first day by explaining exactly how their job fits into the big picture.
5. Do paperwork outside of the orientation.
Don't make someone spend their first day filling out stacks of forms. It's a terrible, boring way for someone to get a first impression of what it's like at their new job. You can save time, money, and trees by scanning the paperwork and emailing it to them. If that doesn't work for you, just give them a packet to take home and fill out.
FAQs:
How long does a job orientation last?
Job orientation programs range from a single day to an entire week. Usually, this depends on the complexity of the job and it is at the discretion of the employer to choose the duration of the orientation period.
How do you conduct the orientation of a new employee?
Give employees a tour of the building/workplace.
Introduce them to key colleagues and supervisors/managers.
Get them set up with the necessary equipment.
Review their schedule.
Review initial projects and expectations.
Conduct a team-building exercise.
Introduce them to your employee handbook.
Answer any questions they have.
What is the purpose of employee orientation?
The purpose of job orientations is to give new employees important information about their workspace, equipment, pay, benefits, and dress code. Orientation also introduces new employees to their coworkers and integrates them into the company culture.
How should the job orientation process be administered?
Provide a tour of the workplace.
Review company policies.
Wrap up administrative details.
Introduce the new employee(s) to co-workers.
Explain company history and values.
Set up an office or workspace.
Make time for on-the-job training and mentoring.
Do employers typically pay employees for a new hire orientation?
In most cases, orientation takes place during normal working hours and attendance is mandatory. For these reasons, employers have to pay employees for the time they spend in orientation. Furthermore, many new hires will only be successful if they have an adequate orientation period. Voluntary and non-mandatory orientation events do not legally require compensation.
What is a pre-employment orientation?
Pre-employment orientation takes place before a candidate officially becomes an employee. The candidate may have received a job offer, but it is contingent upon their attendance at a series of orientation sessions and the successful completion of a number of different tests.