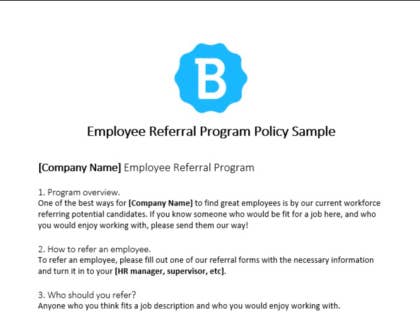 Employee Referral Program Sample Policy Download
Get an employee referral program up and running at your company quickly with this easy to use sample policy. Download it in Word and customize it to your needs.
Download Policy
Employee Referral Program Sample Template:
1. Program overview.
One of the best ways for [Company Name] to find great employees is through our current workforce referring potential candidates. If you know someone who would be fit for a job here, and who you would enjoy working with, please send them our way!
2. How to refer an employee.
To refer an employee, please fill out one of our referral forms with the necessary information and turn it in to your [HR manager, supervisor, etc].
3. Who should you refer?
Anyone who you think fits a job description and who you would enjoy working with.
4. Referral bonus program.
To thank you for sending us referrals, [Company Name] offers a bonus of [$500] (less taxes) for each referral that successfully completes [90 days] of employment.
5. Additional employee referral rules.
If more than one employee refers the same candidate, [they shall share the bonus, and the first referrer will receive the bonus].
Employees will be paid referral bonuses within [30 days] of their referral meeting qualifications.
The employee who makes the referral must still be employed at [Company Name] to receive a bonus.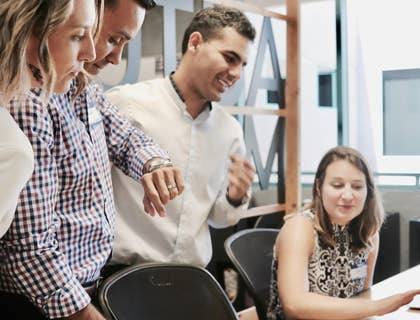 FAQs:
Do employee referral programs really work?
Yes. Research has shown that employee referral programs reduce the time to hire, when compared to using career websites, and encourage employees to spread the word about your brand. When employees refer people they know are capable of doing the job, this improves the overall quality of hires in your organization.
How much is a referral bonus?
It varies quite a bit, depending on which survey you look at. One survey places the number at $100.00 and less or $500.00 and more, without many bonuses falling in between. Another survey found that average referral bonus programs paid between $1,000.00 and $2,500.00 per successful referral.
What are the best ideas for a employee referral program?
Ask employees who they'd like to work with again.
Do a referral coffee, lunch, or happy hour when employees can invite referrals to meet the team.
Think beyond cash bonuses. What would most help your employees get excited about referrals?
Ask employees what the best teams were they worked on, and get in touch.
Target Facebook ads at your employees that encourage them to share info about roles.
Make sure your careers page is one employees will be proud to share.
Email pre-written social media updates about jobs and ask employees to share.
How do you promote an employee referral program?
Attach it to emails when you ask employees to refer talent.
Collaborate with your marketing department to promote your program.
Educate your HR staff on its value.
Keep it simple.
Offer staff incentives for referring talent.
Highlight your program's success, which will promote employee interest.
Tap into your ATS's employee referral technology.
How does an employee referral program work?
An employee referral program, or referral bonus program, encourages existing employees to share job openings with potential candidates by offering them a referral bonus. Oftentimes the bonuses are monetary.
What is an employee referral?
A employee referral is where existing employees refer job candidates.
Is employee referral important?
Yes, because it reduces the time to hire, and it improves the overall quality of hires in your organization.
Is an employee referral bonus taxable?
Yes, if it is cash. If it is non-cash, it is probably tax-free.
Why do referral programs work?
Employee referral programs work because they reduce the time to hire, and they improve the overall quality of hires in your organization.
How do you encourage employee referrals?
Award cash.
Put up a referral leaderboard.
Try non-cash rewards e.g. tickets to an event, or a meal or shopping voucher.
Show recognition for referral efforts.
What is an employee referral bonus?
An employee referral bonus is given to employees who refer suitable candidates for open positions in your company.
What is a job referral form?
A job referral form is used to pass information about a potential candidate along to a hiring manager, an internal recruiter, or HR, and is also used to give credit to the referrer for any potential bonus.
Are employee referrals a viable way for a small business to recruit?
Yes. Bigger companies may be able to cast a wider net for a job referral, but at a smaller company hiring managers can have more direct contact with rank and file employees, where they can help keep referrals at the top of their mind.