The Role of a Hiring Manager:
Requesting the acquisition of new hires.
Planning the hire.
Reviewing resumes.
Conducting phone interviews.
Determining details of the position and making the job offer.
Updating job requirements and job descriptions for all company positions.
Conducting orientation and training programs.
Conducting periodic pay surveys and maintaining a payment plan.
Recruiters vs. Hiring Managers:
While a hiring manager oversees the recruitment process from inside the company, a recruiter is an external consultant brought in to help with company recruitment. Typically known as consultants, agents, or headhunters, recruiters work for an agency that assists companies in finding the right talent.
Top Five Questions to Ask a Hiring Manager:
1. How does this position support management and contribute to the goals of the company?
This question will give you an idea of the larger goals of the company and the role you will play in achieving these goals.
2. How would you measure my success in this role?
This question establishes your potential job expectations in concrete terms and demonstrates that you are not afraid to be held accountable for your goals.
3. How is your feedback process structured?
Feedback is essential to be able to perform well in a position. Understanding how and when feedback is given will give you an idea of what to expect if you are hired.
4. What opportunities will I have to grow in this position?
This question will give you an idea of your growth potential within the company and if the company offers any mentorship or continuing education programs.
5. What are some of the biggest challenges I might face in this role?
This question shows that you are envisioning yourself in the role and planning for potential hiccups.
What Hiring Mangers Look For:
Hiring managers read through hundreds of CV's and interview dozens of candidates every month. If you want to impress the hiring manager and ensure your name is at the top of the candidate list, you need to understand what a hiring manager looks for in a top-class candidate.
1. Candidates who are professional and well prepared for interviews.
Hiring managers look for organized and professional candidates. If you are well-prepared for your interview with your research prepared, your questions listed, and your CV on hand, you will make a good impression. You should also maintain a professional manner and be presentable, even if you are doing a video interview.
2. Candidates who ask insightful questions.
Hiring managers always ask candidates if they have any questions during the interview process. Here, they are looking for candidates that ask insightful questions about the position and how it relates to the company and its goals.
3. Candidates who already have ideas about how they will approach the position.
Hiring managers look for self-starters who can hit the ground running. Have an idea of how you will approach the position as if you already have the job. Provide research-driven goals for your first month at the company.
4. Candidates who can relate their experience to the role.
Experience counts a lot with hiring managers. Always use the opportunity to relate your previous work experience with the position you are applying for.
5. Candidates who know their worth.
Hiring managers look for candidates that are confident and know what they are worth. If you are qualified for the position and have the experience to back you up, you should present yourself as an asset to the company without coming across as arrogant.
Reaching Out to The Hiring Manager:
Reaching out and making a personal connection with a hiring manager can be hugely beneficial. However, you should never circumvent the application process outlined by the employer. You should only reach out to a hiring manager about a specific role after you have followed the instructions listed on the job application.
If you have not heard back from the company, or if you feel your application has been lost in the mix, you may want to speak to the hiring manager directly. Your first point of contact should always be via email with a friendly and professional cover letter with your CV attached.
Contacting the hiring manager via the company recruiter is always a good idea as he or she will be able to direct your inquiry and assist with any questions you might have. If you want to call the hiring manager directly, the best time is between 8 am and 10 am during the workweek.
Cover Letter Addressing the Hiring Manager:
Cover letters are important as they provide context to your resume. A cover letter addressing the hiring manager should state the position you are applying for, why you are qualified, and what valuable experience you will be bringing to the company. If you don't know the name of the hiring manager, you can use the template below to accompany your resume.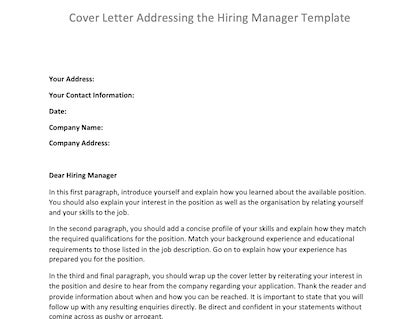 Cover Letter Template:
Download this free MS Word cover letter to the hiring manager template and start using it straight away.
Download Now
Cover Letter Sample:
Your Address:
Your Contact Information:
Date:
Company Name:
Company Address:
Dear Hiring Manager,
In this first paragraph, introduce yourself and explain how you learned about the available position. You should also explain your interest in the position as well as the organization by relating yourself and your skills to the job.
In the second paragraph, you should add a concise profile of your skills and explain how they match the required qualifications for the position. Match your background experience and educational requirements to those listed in the job description. Go on to explain how your experience has prepared you for the position.
In the third and final paragraph, you should wrap up the cover letter by reiterating your interest in the position and desire to hear from the company regarding your application.
Thank the reader and provide information about when and how you can be reached. It is important to state that you will follow up with any resulting inquiries directly. Be direct and confident in your statements without coming across as pushy or arrogant.
Sincerely,
Physical or digital signature: