Free job posting sites allow employers to post jobs free and still reach a large audience effectively. There are still a number of free job boards, or job boards that have a free posting option, that can bring you great candidates.
Not in the United States? See our free job posting site lists for 🇨🇦Canada, 🇬🇧UK, and 🇦🇺Australia.
Special Offer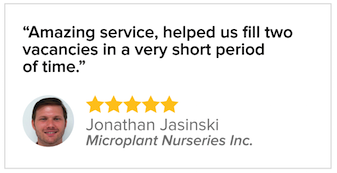 Post Jobs for FREE
Completely free trial, no card required.
Reach over 150 million candidates.
Free Job Posting Sites - USA:
| Our Rank | Job Board | Description |
| --- | --- | --- |
| 1. | | Highest traffic job board in the U.S. Allows totally free job postings, with the option to boost visibility with pay per click ads. It is often the first place businesses go to post job ad for free. |
| 2. | | High traffic, and attracts great candidates because of its prominent employer rating system. Allows 10 days of free job listings. It is often ranked as the best place to post jobs for free. Glasdoor is a welcome addition to our free job posting sites list. |
| 3. | | Your jobs can be included in Google search results if formatted correctly. |
| 4. | | Free online job postings are available on Jora a relatively new free job posting site. By offering free job posts for employers Jora is looking to build a similar business to Indeed. |
| 5. | | Connect with students and young alumni from over 500 colleges across the US. |
| 6. | | Another great place to list jobs for free online. Offers a free tier, and paid postings to boost applicants, much like Indeed. |
| 7. | | Totally free job postings that tend to reach people in the tech/startup world. |
| 8. | | While you can't post a job for free here, you can search for potential candidates on your own and get in touch with them for free, if your network is big enough. While not normally consider one of the best free job posting websites for employers it is actually a very effective way to hire employees for minimal cost. |
| 9. | | A US centric free job posting site with a focus on hiring paid interns or interns paid with academic credit. |
| 10. | | A goldmine among free places to post jobs, this free job post site lets you post up to 20 for free over 6 months. Post all 20 at once if you like. |
| 11. | | The name of the company says it all. Go to their site at postjobfree.com and find out how to post a job for free. As one of the first free job post sites it ranks well on Google for many job searches. |
| 12. | | Job board focused on remote hiring. Offers totally free job posting. |
| 13. | | This site won't let you post free job ads, but it will let you browse resumes for free, up to 10 per day. Tiered pricing plan does allow for posting and reviewing more resumes. |
| 14. | | General job posting site that uses a mix of human and artificial intelligence to make matches. |
| 15. | | One of the top free places to post jobs. This site is run by the National Labor Exchange, and helps you to quickly post to state-run job boards. US.jobs is one of the most reputable free job sites for employers. |
| 16. | | A full recruitment platform with free job posting options. Allows users to build talent pools and manage candidates. |
| 17. | | Startupers is a Craigslist-style posting site for tech companies. Posting is free, and every post is reviewed by a human being to prevent spam. |
| 18. | | With Scouted, you can find emerging talent based on algorithmic matches to your job posting. It's free to post on the site, but there is a fee if you end up hiring though Scouted. |
| 19. | | Users can post jobs in any industry across the US and opt for free or paid posting options. |
| 20. | | Job Spider is a small job board inspired by Craigslist. Traffic to this site declined in 2017 and it is now more of a niche job board. |
FAQs:
Where can I post job opportunities for free?
What are the best free job posting sites?
In terms of total candidate visits per month Indeed and Glassdoor are the clear leaders. Google for Jobs is rapidly increasing its marketshare but is still a distant third to Indeed and Glassdoor.
How can I post a job online for free?
The quickest way is to use Indeed. They have a very fast approval process (during US business hours). Simply head to their website and then click on "Post a Job".
Who are the largest free job posting sites in the USA?
Indeed is the largest free job posting site in the USA by a significant margin. Glassdoor is number two. Both of these sites are owned by Recruit Holdings but operate independently.
Are there any free job posting sites with no credit card required?
Many free job posting sites will ask for a credit card to help with verifying you as a legitimate employer. Indeed and Google for Jobs do not require a credit card to post a job.
Are there any free job posting sites without registration requirements?
All free job posting sites require you to register and be verified as a legitimate employer. The exact requirements vary for each job board but the process can be completed in less than one day in most cases.
I heard that all the free job boards force you to pay so are not really free. Is this true?
No, you can always post your jobs for free by going to job boards like Indeed, Glassdoor, and local state and government boards. You can also post free jobs on social media sites like Facebook and Twitter, and you can add jobs on your careers page to post to Google for Jobs for free.
What is the best way to find an employee for free?
Talk to all of your very best hires and ask them who the best people they worked with were, and where those people work now. Get in touch with their former favorite co-workers and make them offers, and you can essentially duplicate your best hires. If you do actually have money to spend on hiring then a free online job posting may not be the best place to start. Consider using a paid job board that is specifically focussed on your location or candidates and then try a job post free.
What are some free diversity job boards for employers?
None of the top diversity job boards are free as diversity is something companies are willing to spend big money on. Indeed can work if you want to post job ads online for free, as it is a job board with an incredibly wide reach. Looking just at job posting sites for free diversity hiring is starting at the wrong end of the process. Diversity issues are often caused by harder to fix issues not just posting your jobs in the wrong places.
Are free post jobs as good as paid post jobs?
Yes, free post jobs can be as good as paid. Sometimes writing a great job posting can bring in a lot of candidates, when the competition is writing boring posts. But with high-competition positions, if you've already optimized your post, you may want to try paid.
Is Craigslist free to post jobs on?
craigslist have been gradually adding and increasing the fees to post jobs so is no longer considered a free job posting site in the U.S. As of our last check in March 2019 there were no local US craigslist sites that allowed free job posts.
All Job Posting Sites by Country (Free & Paid):
Job Posting Sites by US State (Free & Paid):
US Job Posting Sites by Job Type (Free & Paid):