Glassdoor is an online job board as well as an employer review website. It is different from other job boards because of the prominent role that reviews employees leave for employers have. Job seekers visiting Glassdoor see written reviews, ratings, and salary information about companies before they apply.
Glassdoor Pricing:
| Tier | Up to 3 Job Posting Slots | Up to 10 Job Posting Slots |
| --- | --- | --- |
| Tier 1 - Includes San Francisco and New York | $349 per month | $599 per month |
| Tier 2 - Includes Chicago and Los Angeles | $299 per month | $599 per month |
| Tier 3 - Includes Atlanta and Boston | $249 per month | $599 per month |
Glassdoor FAQs:
Is a Glassdoor job posting a good choice for me?
It depends. Glassdoor's site places a lot of emphasis on employer reviews. If your company has a lot of Glassdoor reviews, it shows that people who work for you use it. If the ratings are positive, it's a good indication that you should post on Glassdoor. Of course, you'll want to check Glassdoor employer pricing and make sure it's within your budget.
How much does it cost to post a job on Glassdoor for a one-time posting?
The Glassdoor job posting price for a single job posting is between $249 and $349, depending on which market tier you fall into. New York and San Francisco are in the most expensive tier. After that, generally the smaller the population, the less you pay. The Glassdoor cost is similar for the subscription plan, but you can swap jobs as you fill them.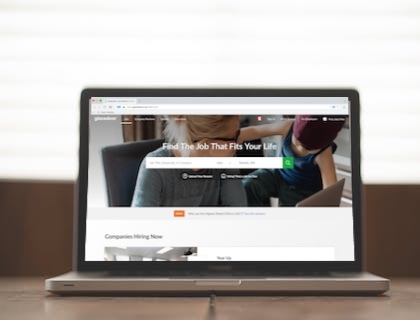 How to Post a Job on Glassdoor:
Create a Glassdoor account, or login.
Start the post creation process.
Add basic job post information.
Create your Glassdoor job posting.
Choose a plan.
Add payment info.
Confirm your job posting.
Do you have to pay for Glassdoor?
Glassdoor is free for job seekers. If you are an employer trying to find out "Is Glassdoor free to use?" you will find that Glassdoor for employers is not free, although they can create a Glassdoor account for free to manage the company profile there. The Glassdoor free employer account does not have quite as many features as a paid one. Employers can also use a 7-day Glassdoor free trial to test the service with a Glassdoor free job posting.
Does Glassdoor post a job to other job boards too?
No. Some job boards will syndicate your jobs to other job boards, but Glassdoor jobs mostly stay on their own board, with the exception that your jobs will appear in Google for Jobs organic searches.
Where can I find a Glassdoor.com review?
If you're looking for reviews of a company, or your company on Glassdoor go to Glassdoor.com's home page and click "Company Reviews " in the navigation, then enter the company name. If you're looking for independent reviews of Glassdoor you can find some here.
How can I contact Glassdoor?
Glassdoor does not appear to have a publicly available phone number, but they do have a live chat feature you can use on their site. The physical Glassdoor address is 100 Shoreline Highway, Building A, Mill Valley, CA 94941-3645.
How does Glassdoor work?
Glassdoor is a job board that charges employers for posting open positions. It also allows employees to post reviews of employers and salary information, and employers to manage their profiles on the site.
How can I figure out the Glassdoor price for my job postings?
Glassdoor prices vary by city. Generally smaller cities and areas with lower populations fall into the less expensive Glassdoor job posting price tier. Jobs offered in more populated cities will pay more for their Glassdoor job postings.