Social recruiting (also known as social hiring and social media recruitment) is using social media platforms such as Twitter and LinkedIn to advertise jobs, find talent, and communicate with potential recruits about company culture. It is effective for finding passive candidates.
We've reached the point now where social recruiting isn't just a novelty - it's a must-have for any successful recruiting strategy.
A full 94% of professional recruiters network on social media and use it to post jobs to an extensive community. Fifty-nine percent of employees say a company's social media presence was part of the reason they chose their workplace.
There are plenty of good things about social recruiting. But there's room for error as well. Get the facts about social recruitment, and see what happens when the world's worst boss tries to make use of it.
Special Offer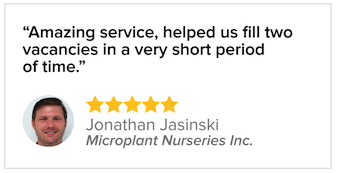 Post Jobs for FREE
Completely free trial, no credit card required.
Reach over 150 million candidates.

Our step-by-step guide below will help you get started using social media for recruiting, make it easier to bring in high-quality applicants that stay in their positions longer, and improve your hiring process. We've also got tips to help you improve employer branding and social recruiting examples.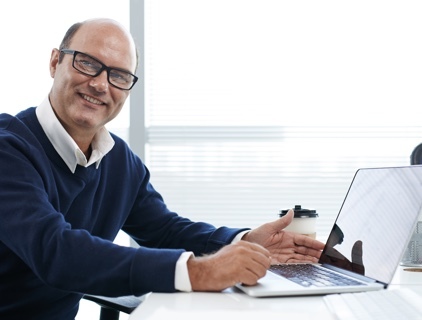 How to Get Started Using Social Recruiting for Hiring:
Create social media accounts specifically to recruit with.
Get employees involved in sharing posts on social media.
Use LinkedIn to find potential recruits.
Share your employer brand with photos on Instagram.
Use Facebook insights to study your audience.
Host a Live Q&A Via Periscope to Meet Applicants:
Periscope allows you to set up a live video stream from your phone anywhere you can connect, and give others access to that live stream.
Clever companies like UPS have been using Periscope to hold live Q&A sessions to prospective employers, and recruiters are catching on too. Besides Q&As, you could also use Periscope to share your company culture with potential applicants by broadcasting company events or a live video stream of your workplace.
1. Download Periscope on your phone.
Periscope only works on phones with iOS or Android installed, and must also be paired with Twitter.
2. Promote your Periscope Q&A.
UPS makes sure to promote theirs on Facebook and Twitter a few days before the event so people prepare (see example below).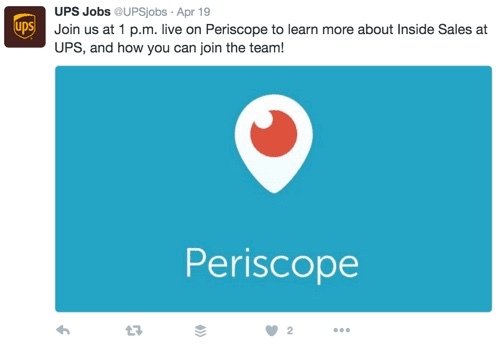 3. Make sure you're set up right on launch day.
Before broadcasting, you'll want to get your settings right to share with the maximum number of people. To start a broadcast, click the third icon to the right.

4. Get familiar with the controls.
Above the Start Broadcast button, you'll see four icons. The first shares your exact location, the second changes privacy settings, the third changes comment settings, the fourth shares your Periscope stream to Twitter.
You'll want to set these to make it easy for the widest audience to participate, so share location, allow anyone to view and comment, and share to Twitter.
5. Practice.
Try a brief broadcast before the actual event to get the hang of it. You'll type in a brief description of what viewers will see, then tap "Start Broadcast."
If people join, you'll see their comments in the lower left corner of the screen. Your first inclination may be to respond to text with text, but remember, they can hear you. Respond with your voice.
6. Broadcast!
Get the phone you'll be using set up and steadied, make sure there is plenty of light in front of you, and not so much background noise that people can't hear you.
Watch for questions to appear in the lower left corner of your screen and answer them.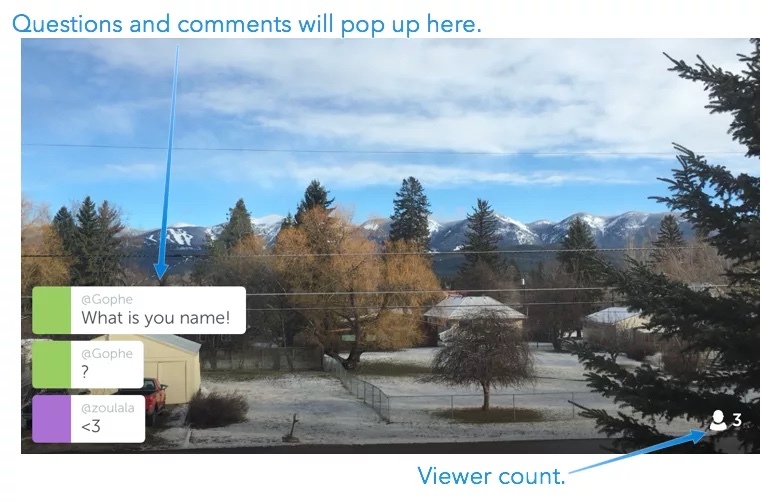 Developing a Social Recruiting Strategy:
A social recruiting strategies look at your goals and the big picture. The main goal is hiring through social media, so plan out each step, from how applicants will first hear about your company via social media, to how they find an open position and apply. It's very similar to a sales funnel.
Use Twitter Hashtags to Help Recruits Find Your Message:
Hashtags are a great way to help people find and share your content on any social network. Not familiar with hashtags? Take a look at the tweet below.

The hashtag is #ValentinesDay. You'll notice that it's got no punctuation, just a # followed by text only - no spaces or symbols.
Clicking a hashtag will show you more tweets that use the same hashtag.
How is this useful?
It broadens your potential audience by allowing people who aren't following you to easily find tweets that interest them.
Here's how to get started with hashtags:
1. Brainstorm a recruiting hashtag.
It should be simple, unique, memorable and relevant to your brand. Use this with social messages that specifically promote your employer brand. Starbucks uses #sbuxjobstalk. Disney uses #LifeAtDisney.
2. Create a hashtag for job openings.
This will make your jobs easy to find. Most companies use their brand and the word "jobs." For example #sbuxjobs and #disneyjobs.
3. Research your hashtag ideas.
Do a quick search to make sure your hashtags are not in use for some other purpose. You never know what might be out there.

4. Use existing hashtags.
When you post a job, add some existing broad hashtags to help it reach an even wider audience. There are several hashtags used specifically by job seekers, including #job, #jobs, #jobsearch, #jobhunt, #careers, #employment, #jobopening and more.
Add hashtags that are career-specific, such as #engineers, #designers, or #baristas to help people interested in that career find you. Finally, a location hashtag will help people from your area locate the job.
So, an ideal Twitter posting of a job may end up looking like this: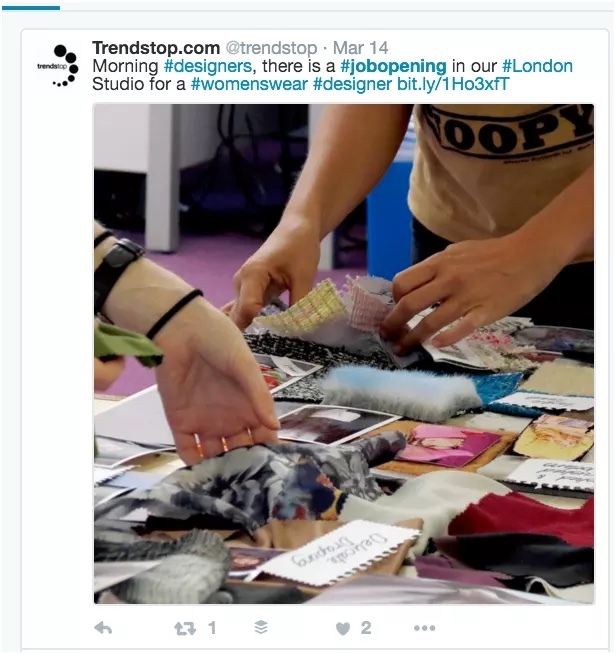 Trendstop used the location hashtag, career-related hashtags, and an employment specific hashtag to help job seekers find this job ad online. The photo also helps catch people's eye and gives Trendstop a lot more real estate in the Twitter feed.
Time Your Social Media Posts for Maximum Engagement:
The time that you post to social media tends to have a large effect on how many people see your posts.
There are some good general rules for when to post and when not to post to social media, but every audience is a little different.
We'll show you how to use Buffer, a popular tool among social media managers, to get the timing right on your social media presence for maximum engagement.
1. Sign up for Buffer.
It's pretty easy. Just sign into your existing company social accounts, create a Buffer account, and you'll be instructed on how to connect everything. If you use Chrome as your web browser, add the extension as well. It will make it very easy to share content as you surf the web.
2. Create a schedule.
The best bet is to look at the general rules for posting each social network and start off by adding posting times that fall within these hours.
Try a few outside of these hours, based on what you know about the schedules of your ideal hires.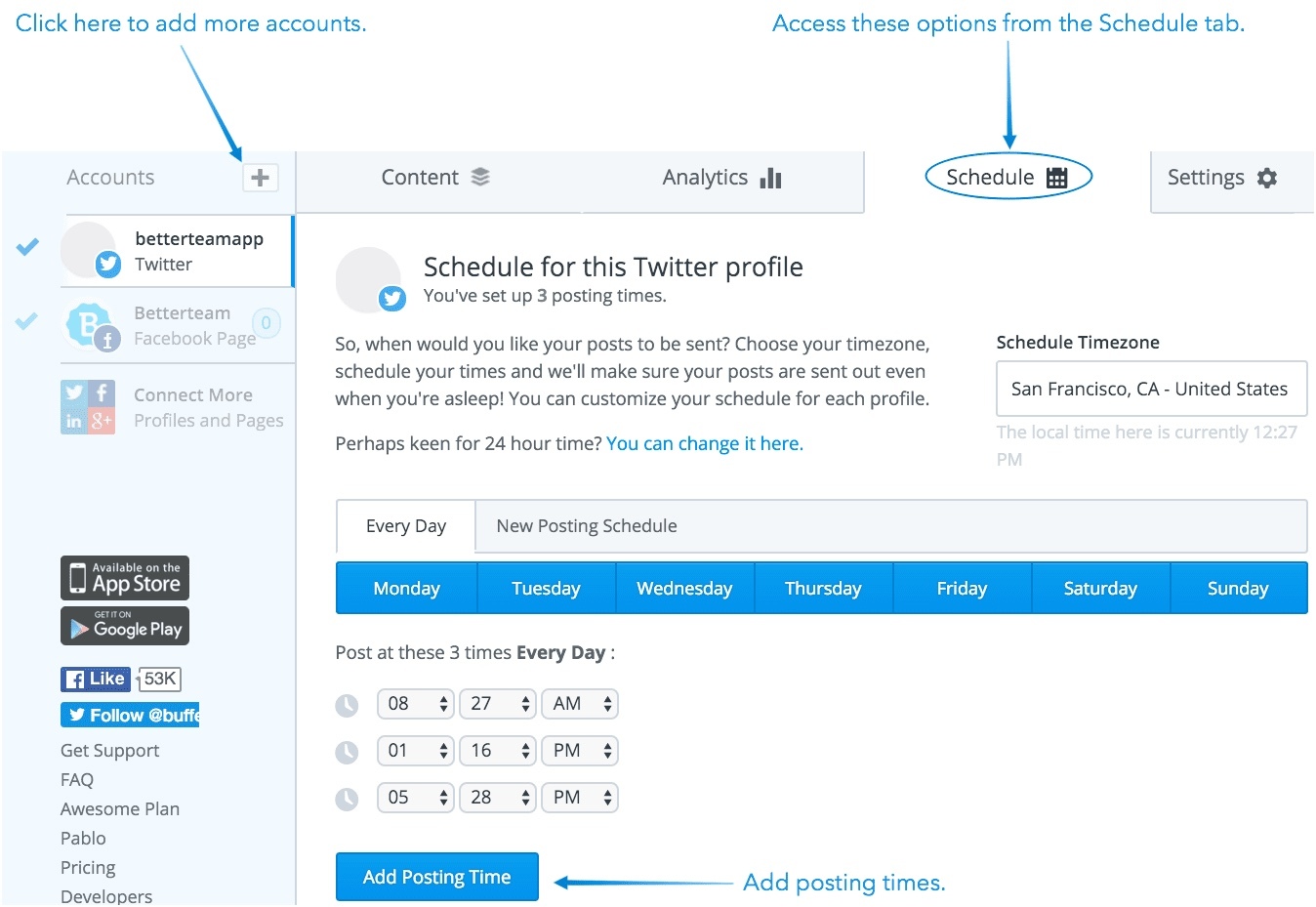 3. Fill 'er up.
Fill your Buffer queue with a combination of your original content and content from around the web that will be relevant to your audience.
By using an app like Buffer, you can be sure that you're always sharing at the right times, and there's never a wide gap in your sharing activity.
4. Watch and learn.
Over time, you'll be able to see patterns of when people tend to click on your posts. Experiment with different schedules and make adjustments as you observe.
Create a LinkedIn Company Page:
LinkedIn is probably the first social media platform everyone thinks of when they're thinking about social recruiting, and for good reason.
A full 93 percent of companies use LinkedIn for recruiting.
If you're not there yet, you need to be. If you are, skip to the section on optimizing your LinkedIn page.
1. Login, hover over "interests," click "companies."
2. Click "Create" in the right sidebar.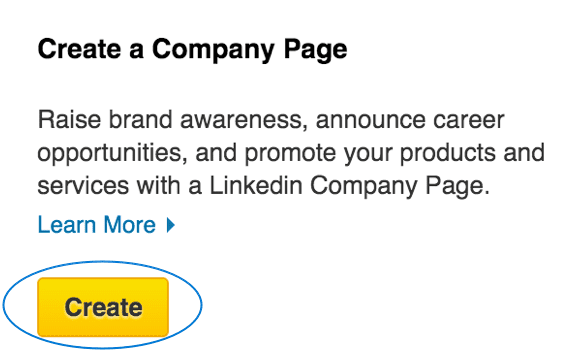 3. Name your page and URL.
From there you'll be asked for a company email and the name of your company. The name you enter will be used to create your page's URL.
So, if you enter Some Company, the URL will read https://www.linkedin.com/company/some-company/. You cannot create a LinkedIn page with a generic email address, ie gmail.com, hotmail.com, etc.
Once you've got the profile created, go to our next tip to optimize your company page.
Optimize your LinkedIn Company Page for Search:
LinkedIn uses the text you write when you create your account to help people find you, and Google uses text from LinkedIn pages to decide where they'll show in search results.
1. Write a brief main message.
LinkedIn will only show the first 200 characters of your description above "See More," and when your company page shows up in search, Google only shows the first 154 characters. Focus on what you want your message to be, and get it down to 154 characters.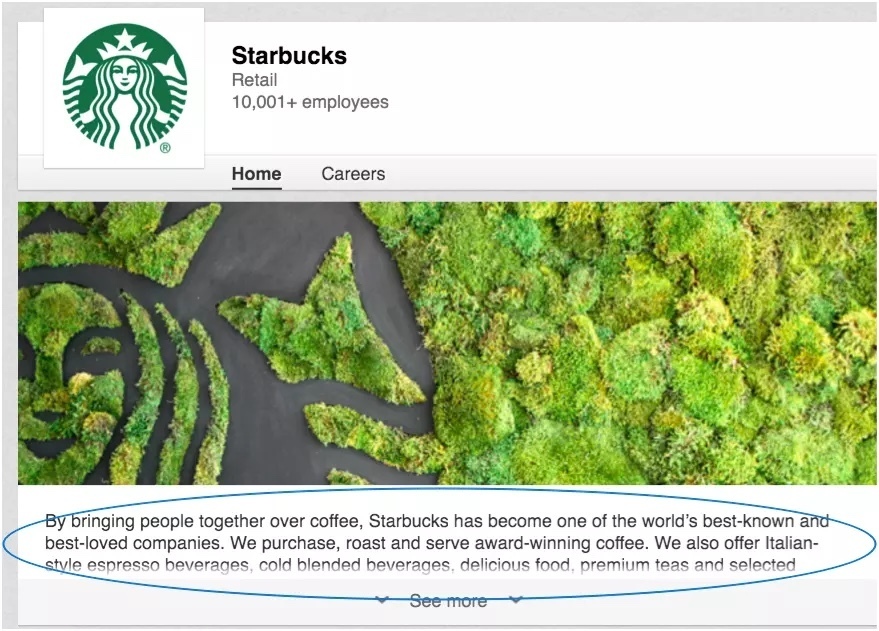 2. Fill out your description.
Be sure to use the remaining 1,846 characters LinkedIn gives you for the description. All of this is searchable text for Google, so you'll want to include keywords people would use to find your company in search, and you may need to balance it out with social media marketing needs - not just recruiting.
3. Fill out the "Company Specialties" section.
Once again, this area is indexed by Google, so you'll want to have search keywords in here while keeping in mind that its main purpose is to tell people on LinkedIn what your company does.
So, if you're looking to hire software engineers, don't fill one of the boxes with "software engineers" as a specialty, unless you somehow manufacture them. Instead, try "Software Engineering."
Check out our article on how to post a job to LinkedIn.
Create Custom Images for More Social Engagement:
Did you know that just having images on LinkedIn makes your company page 14x more likely to be viewed?
On social media in general, content with images is 650% more likely to be viewed.
Furthermore, when text is paired with a relevant image, people are about 8 times more likely to remember the message. And the good news is, you can create a good custom image on your own for nothing, as we'll show you.
1. Register with Snappa.
Go to Snappa and click "Design a Graphic Now" and register.
2. Choose an image type.
Click on the type of image you need to create. Snappa helps you by automatically sizing the images for most types of social media images.
3. Now create your image.
Snappa provides some cool templates to help you get started, or you can click "Create from Scratch" to create custom images.
Note: Snappa does not include a template for LinkedIn company pages. The current ideal dimension for a Linkedin company page image is 646 x 220. You can enter that in the Custom Size area.
Get Employees to Help Share Your Culture:
The people who form your company are in the best place to share company culture authentically on social media.
In a case study on Sodexo's successful social recruiting efforts, Marion Muller notes that "employees are the face of your brand as an employer."
To help them get comfortable talking about the brand, create a social media policy. Knowing the boundaries for using social media at your company allows employees to creatively promote your brand because they're not constantly worried about making mistakes.
You can find some great tips for creating a social media policy here. You may want to add it to your employee handbook
Once you've got a company social media policy in place, it's time to use the most authentic social recruiting resource tool you have - your team.
Encourage them to share honestly on social media about what your workplace culture is like. Be sure to have them use the company culture hashtags you created if you followed the second tip.
Finally, follow them with your company accounts, and share their content.
Prepare for Social Media Mistakes to Avoid Disasters:
So you've encouraged your employees to start talking about your company on social media with branded hashtags. What could possibly go wrong?
Rather than fearing what could possibly happen, be prepared. As Rebekah Radice notes on her website, if there's no plan, we just react, and "reaction leads to overreaction, which can quickly spiral from bad to worse to all-out catastrophe in a matter of moments."
Having a slip up on social media that is quickly corrected is one thing. A drawn out social media crisis is another. If you prepare for problems, you'll handle them better and won't live in fear of hitting the "Tweet" button. Here are 3 steps for handling a social disaster.
1. Acknowledge the problem.
When an issue appears, the first thing you should do is let people know you're aware of it (following the next tip should help you become aware quickly).
Acknowledgment isn't an admission, it's just letting people know that you're paying attention to their concerns and that they can expect answers. When you don't acknowledge a problem, expect the call for a resolution to get louder and louder.
2. If a mistake was made, own up.
Don't pretend it didn't happen, and don't pretend you got hacked either, that will just make it worse. Either way, you're inviting the controversy to get bigger. The only way to help things wind down is to give people resolution. Acknowledge the mistake, let them know what steps you're taking to correct it, and move on.
3. Learn from the mistake.
Once things have quieted down, go back and do a post-mortem. How did this happen? Was something not communicated in your social media policy? If you do this, you'll only improve. If you don't, your mistakes will start to look like an embarrassing pattern.
Monitor Social Media for Brand Issues and Opportunities:
There are several tools out there that can help you monitor social media presence for opportunities to connect with employees and potential employees, look for relevant content to share, and look out for problems.
We think one of the easiest to use is Hootsuite. Here's how to get started.
1. Register with Hootsuite, add social accounts.
2. Create basic streams to monitor.
In Hootsuite, click "AddStream." For each account, you'll see a list of instant options. For the Twitter account in the screenshot below, for example, you can monitor mentions (when people directly mention your Twitter account using the @ symbol), retweets, likes and more.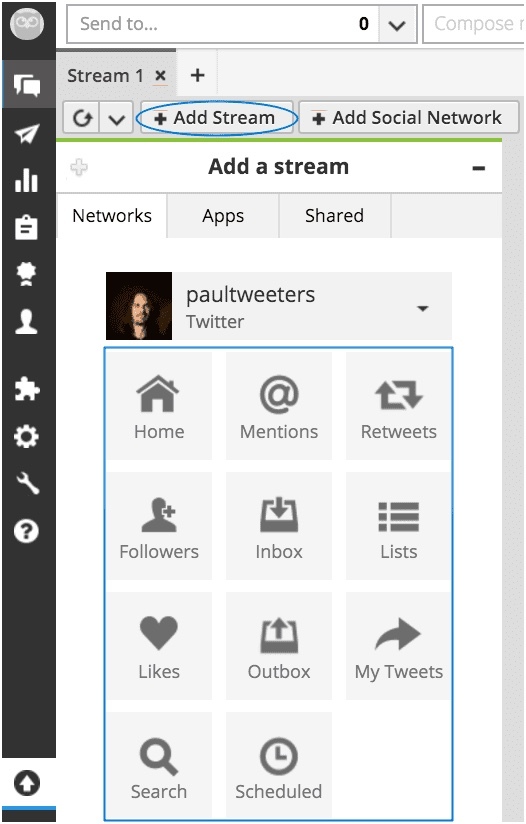 3. Create custom streams in Hootsuite.
This is where Hootsuite and other social monitoring tools get powerful, especially with Twitter.
In Hootsuite click "AddStream" then "Search."
Create searches for all your branded hashtags. This includes your brand name, industry influencers, and topics that will be interesting to your audience.
Click "Show Examples" to see other ways this can be used.
How to Find Great Candidates on LinkedIn:
One of LinkedIn's great features is its powerful search tool for prospecting recruits. Use it to really home in on potential employees, and automatically keep an eye out for new candidates. Overall, LinkedIn is a fantastic social media marketing tool for recruiters.
1. Search for candidates.
Start by typing in a broad description of the candidate you're searching for, such as "VP Marketing" or "Marketing Manager"
2. Narrow your search.
Just searching for VP Marketing returns almost a half million results. But if you click "Advanced" next to the search button, you'll be able to filter results by current company, location, industry, school, past companies and more.
3. Search on!
Have LinkedIn send you a weekly or monthly update of your search. After you've narrowed down the search with filters, click "Save Search." It's a little hard to find - see the screenshot below. After you click, you'll have a few options.

Stay on Message with Career Specific Facebook and Twitter Pages:
There's a good chance your customers and your employees are two totally different groups of people, with different interests.
While you may want to occasionally share hiring information on your customer-facing social media and product information on your employee-facing social media, it's best to keep them separate most of the time with separate pages.
It's what the big companies do, it doesn't cost anything extra, and when it comes to social recruiting Facebook career pages are really effective. On top of that, it's really easy, so there's no reason you can't do it as well.
1. Login to Facebook and set up a new page.
If you're logged into Twitter, log out and create a new account.
2. Name the accounts.
Make them easy to find by giving Facebook, Twitter and any other social accounts focused on recruiting the same usernames. UPS, for example, uses UPSJobs on Twitter and Facebook. "Your company name" + "jobs," or "careers" are good possibilities.
3. Focus your social recruiting efforts.
Make these accounts the focus of your social recruiting efforts with content that specifically relates to employment at your company.
If you want to go more in-depth, check out our article on Facebook recruiting.
Create Easy Employer Branding Videos to Share:
If you spend any time checking out social media branding for large enterprises, you'll notice they have a lot of videos.
This probably sounds like something you need to hire a professional to do, right?
Turns out the powerful little cameras on our phones, combined with the right light and sound, can produce surprising results. Watch the video below, and you'll be amazed at what you can accomplish with just a phone and the right techniques.
Here are six steps toward creating your first recruiting video with your phone, a few employees, and no budget.
1. Find a quiet space.
Don't let background noise ruin your video! Look for somewhere reasonably quiet.
2. Find something to brace the phone.
Don't give your viewers motion sickness. See if you can brace your phone on something and keep the image smooth.
3. Record horizontally, never vertical.
Just about every screen you look at except your phone is always positioned horizontally.
4. Have subjects face a window.
Natural light will help people look their best.
5. Keep it simple.
For an easy first video, introduce a few employees, and ask them why they like working at your company.
6. Use multiple takes.
Try multiple takes until you get one ready to go, without the need for editing, and upload to YouTube directly from your phone.
Find some more great tips in this short video from Wistia.
Make Passive Candidates and Social Recruiting Work for You:
If you're using social media to recruit, you're going to end up with a lot of passive candidates, people who weren't out actively looking for a job.
There's considerable research that says passive candidates don't fare as well as active ones.
According to the research, 51% of businesses say passive candidates fail because of lack of passion or commitment, 40% because they can't adapt to their new position, and 63% because they were not a good fit/couldn't adapt to culture (it adds up to more than 100% because there is usually more than one reason).
So, if you're considering a passive candidate, try to find out what is motivating them to consider your position.
Are they passionate about the work? To avoid hiring candidates that don't adapt, present them with an accurate picture of what it's like. Don't sugar coat the job.
Finally, if you hire a passive candidate, make sure you've got a great onboarding process to help them fit in with the culture.
Attract Candidates to your Employer Brand with Instagram:
Sharing on Facebook isn't what it used to be.
These days, it's pretty hard to get attention on Facebook without paying for it.
Instagram, on the other hand, has the highest user engagement of any of the top social media, with about 10X more than Facebook and 100X more than Twitter.
That's 10 - 100 times more clicks, likes, shares, etc. per post. It's a great place for building your employer brand, especially with the future in mind, as 55 percent of its users are under 29.
1. Set up an Instagram work account.
Instagram is a mobile app - you'll need to have a phone running Android or iOS to use it. Download the app from Google Play or Apple's App Store, then fill out your profile.
If you already have a personal Instagram account, you'll want to go to Settings, then Add account.
Set up the business account with an email address (rather than your phone number), so that you can share it with others from your company. Where it asks for a name, put in your company's name.
Your username should match the usernames you've used for other social media accounts if possible. Instagram recommends using your company logo as your company profile photo.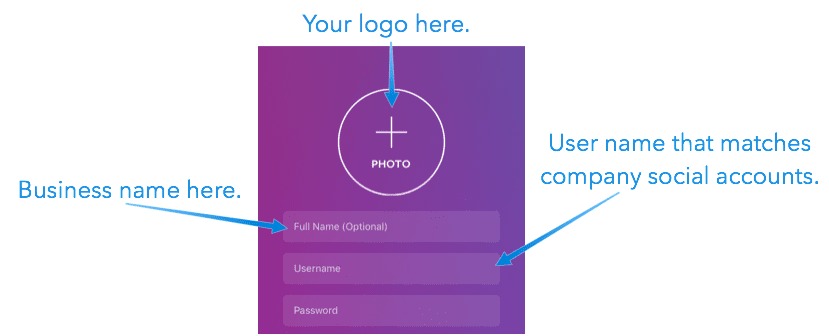 2. Get the goods.
Take real photos and video of your product and employees, and give people an idea of what it's really like at your company. The hard work, the play, and everything in between.
3. Create Instagram hashtags.
As you did with Twitter in the second tip, create hashtags specific to your company culture and use existing ones to help people discover your account. Check out the image from Zappos' Instagram account below for an example of company culture related hashtags, existing hashtags, and a great image related to the company's culture.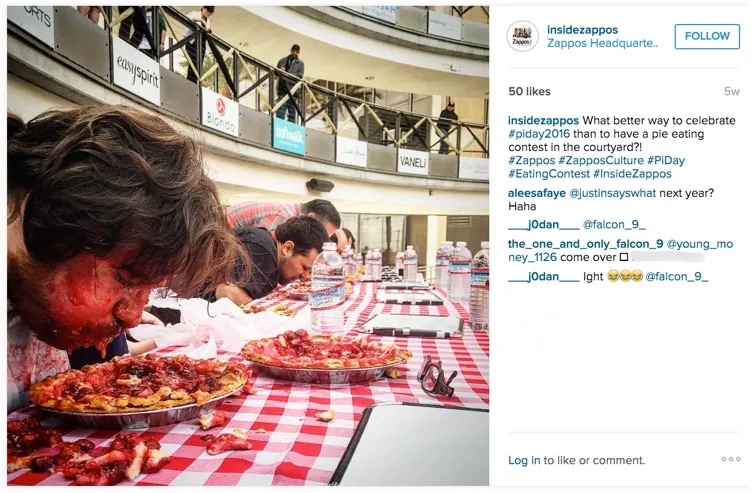 4. Turn on notifications.
You'll want to know when someone engages with your images or mentions your account so that you can keep up your end of the conversation. Instagram lets you choose notifications for ten different types of interactions, such as when you get new likes, comments, followers, etc.
Try starting off with all of them set to "From Everyone." If it gets annoying, fine tune it a little.
5. Engage real people.
Follow clients, employees, people whose work you enjoy, and accounts important to your industry. For some inspiration from other brands, check out Zappos, UPS, and Yelp.
Learn About Your Facebook Audience to Improve:
You can use Facebook's own, built-in insight tools to learn what content is getting traction on your Facebook page.
If you created a Facebook page just for employer branding this will give you data specific to people interested in employment, rather than your company's general followers.
1. Login to your Facebook business page and click "Insights."
2. Click reach.
Here you'll be able to see a graph that shows the daily reach - the number of people who saw your content each day.
3. Look for the spikes and click on them.
When you click, you'll see the content that appeared on your Facebook page that day and the number of impressions, clicks, comments, and shares each piece of content got. Seek out all your top-performing posts and look for patterns.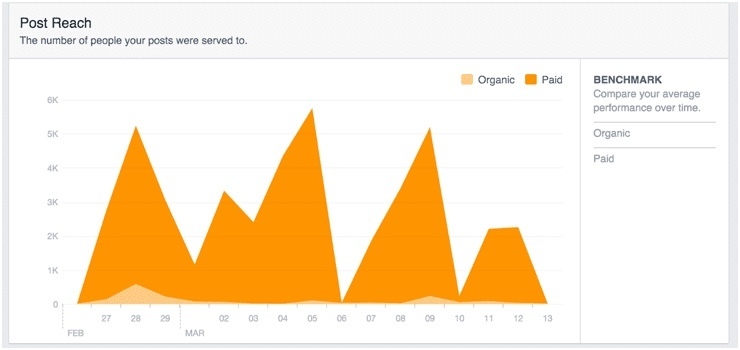 Social Recruiting FAQs:
Do you have any social recruiting tools you recommend?
A tool that lets you schedule posts, get metrics, and work with several social media sites at the same time will save you time and help you be more effective. Hootsuite, Buffer, or eClincher are some social media recruiting tools you'll want to check out.
What are some best practices for using social media as a recruitment strategy?
In general with recruiting, whether you're someone using social media to hire employees or a hiring manager posting to a job board, you'll want to look at things from the candidate perspective. Why should the best candidates want to work at your company? Why should they want the job you're promoting? Make that your focus.
Beyond that, you'll want to make sure your social media and hiring practices stay aligned - think twice before putting something in a social post that you wouldn't put into a job posting.
Are smaller companies using social media for hiring?
Yes! It's not just for popular tech companies or big corporations. As the starting price is free, it's often a good way for small companies to try to reach potential candidates on a budget.
Next Steps:
Social media really can help you with recruiting. Did you know it can bring in 30-50 percent more applicants?
Hootsuite's CEO Ryan Holmes says it can dramatically cut the time and costs of social recruitment, and also believes it plays a part in his company's amazing employee retention rate - they have just 2 percent turnover.