Flexjobs is one of the leading free posting sites for employers in the United States. It advertises legitimate telecommuting, remote, and flexible jobs around the world that have been vetted by the Flexjobs team.
Flexjobs Pricing:
Flexjobs offers two subscription plans - FlexJobs Basic and FlexJobs Pro. The basic plan is free. The Pro package (quote only) offers additional branding and recruiting options such as premier placement job postings, customized marketing packages, and more.
Special Offer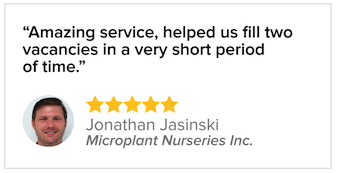 Post Jobs for FREE
Completely free trial, no card required.
Reach over 150 million candidates.
How to Post a Job on Flexjobs:
Go to flexjobs.com.
Click on "Employer" in the right-hand corner.
Click "Request an Invite Today."
The Flexjobs team will vet your company to ensure it matches up well with their job seekers' needs.
If your organization is approved, you will receive an invitation to use FlexJobs' free services including unlimited job postings and candidate sourcing.
Flexjobs Key Information Table:
| | |
| --- | --- |
| Founder | Sara Sutton |
| Founded | 2007 |
| Headquarters | Boulder, CO |
| CEO | Sara Sutton |
| Number of Employees | 97 |
| Phone | 1 (866) 991-9222 |
| Address | 4845 Pearl East Cir Ste 101 #23790 Boulder, Colorado 80301-6113 |
| Website | www.flexjobs.com |
Flexjobs FAQs:
How can I edit a Flexjobs job posting?
When you log into your account, you will be directed to the Flexjobs dashboard. By selecting "Account Settings," you'll be able to manage your Flexjobs job postings.
How can I delete a Flexjobs job posting?
You can delete your job posting in account settings on the dashboard.
How do I create a Flexjobs account?
You can only create an account if your organization has been approved by the Flexjobs team.
Is Flexjobs legit?
Yes, Flexjobs is not a scam. Jobseekers are required to pay a small monthly fee to browse job postings, ranging from $14.95 per month to $49.95 per annum. Employers can post jobs for free.
Flexjobs Reviews:
| Reviewer | Rating | Review |
| --- | --- | --- |
| Pat B. | 5/5 | Mostly I found serious job offers for global companies and I feel happy that a website like this exists to connect people to remote jobs worldwide. User-friendly and worth the money. |
| Rachel H. | 5/5 | Flex Jobs was super easy and that lead me to the two online positions I now have! It was only thanks to Flexjobs that these two excellent companies were able to find my profile to match me to the positions I now possess! |
| Kara K. | 5/5 | Great experience. Fantastic resource for remote work and 1-stop shop job search engine. Saved me a lot of time. |
| Cathy M. | 5/5 | I used Flexjobs for about a year. I probably could have found a position sooner, but I only applied to postings that I thought were a great fit for me and me for the job. I was recently hired for a 100% telecommuting, semi-flexible schedule, full-time with benefits position in the field of education. |
| Asterisk L. | 4/5 | FlexJobs was an excellent option when I decided to pursue a full remote position. The searches, resume profiles, and email updates made the job search manageable and exciting. |
| Heather P. | 4/5 | I'm an at-home mom returning to the workforce after 12 years. I was searching for a part-time telecommute project management position. I was surprised at the volume Flexjobs presented that matched all or most of my criteria. Within three months I had two interviews resulting in two offers. |
| Marty G. | 2/5 | Unlike nearly every other world class job site, they don't have a 'smart resume parser ' that reads your resume and fills in such things as work history and tech skills. I would have expected that having made me pay they would have invested in that kind of tool. |
| Brenda D. | 5/5 | I am an RN and was seeking something flexible, part time that would fit with my full time employment. I found what I was looking for very quickly. Worth the fee I spent! |
| Todd B. | 5/5 | It took me a couple months, but i got a good job on Flexjobs.com. I was looking for something remote with flexible hours and I found a video editing position perfect for my needs. There was a lot more on Flexjobs than I expected, job postings for a lot of the big cities for the creatives like, San Fran, LA, NYC etc. Lots of salaried job posting in those locations, but also a lot of postings for freelance and remote jobs. |
| Andi J. | 5/5 | FlexJobs is pretty great. I have had great luck with them and recommend them to everyone I know. It's cost effective. I think the price is very reasonable, especially since it has so many features on top of just searching for a job. No scams. Every job listed is a real job from a real employer. |