Pricing:
| Plan | Pricing |
| --- | --- |
| 45-day Job Posting | $199.00 |
| 3 job pack | $507.00 |
| 5 job pack | $796.00 |
| 10 job pack | $1,393.00 |
Review:
NoDesk has a simple but attractive interface that is designed to make it easy for remote workers to find new opportunities in their field. For employers, the process of posting a job is simple and requires no sign-up. Features include company branding, social media sharing, transparent pricing, 45-day job posts, and great customer service.
While NoDesk is a remote work job board that reaches an international audience, you can choose geographic restrictions. However, the platform lacks candidate matching, applicant tracking, and screening. Employers are not given access to a resume database and once a post has been published, it can't be edited without help from NoDesk support staff.
Highlights:
Toptal, Tidepool, Argent, and GitHub have all used NoDesk to hire remote workers.
Companies can create their own profile pages.
Employers can brand job postings with their logos.
Postings are shared by NoDesk on Twitter.
There is dedicated customer support.
NoDesk attracts over 100,000 remote professionals.
The platform uses an email newsletter to reach more people.
NoDesk has transparent pricing with no tiered plans or hidden fees.
NoDesk does not use a tiered model and so all features are available to users.
Job posts stay active for 45 days.
There are volume discounts of up to 30%.
Job posts last longer than on We Work Remotely and FlexJobs.
NoDesk is more affordable than FlexJobs.
Jobseekers can filter vacancies by location, making your posts more targeted.
Shortcomings:
There are no built-in applicant screening tools.
Support is offered through email and social media only.
There is no candidate matching feature.
Employers can't edit a job post once it's been posted.
Competitors such as FlexJobs offer access to additional features such as a resume database and data analytics.
Reputation:
Very little third-party information for NoDesk is available. The company does not have a Better Business Bureau profile or rating. We could not find independent reviews of the platform.
NoDesk is, however, used by major companies such as Automattic, Gitlab, Buffer, and Toptal. Representatives of these companies have been quoted on the platform's testimonials page, celebrating the good service offered and the quality of candidates attracted.
How to Post a Job on NoDesk: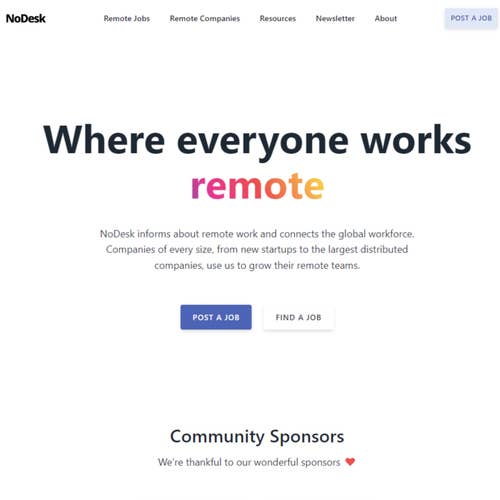 Four easy steps for posting a job on NoDesk.
1.
Posting a job on NoDesk.
1.1
Click "Post A Job" on the home page.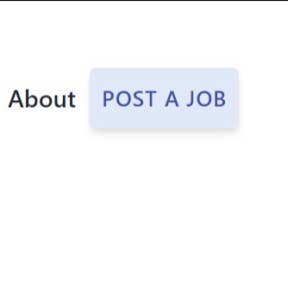 Navigate to the NoDesk home page and click "Post A Job" in the top-right corner of the page.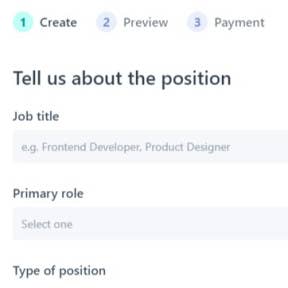 Click "Post Remote Jobs" or simply scroll down to the last section of the page and enter details about the job.
Then, click "Continue To Preview Your Listing."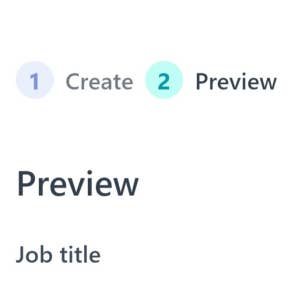 Next, you will see a preview of your job listing. Ensure that the information in your post is correct.
Click "Make Changes" to make any adjustments.
Click "Looks Great! Continue To The Last Step."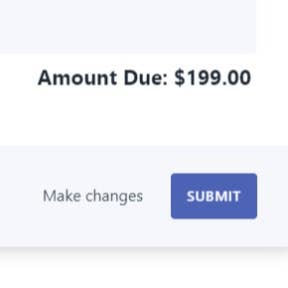 In this last step, you will need to provide your company, contact, and billing information. Click "Submit" to make the payment and post your job ad.
NoDesk vs. We Work Remotely:
NoDesk only has one job posting option while We Work Remotely allows for a certain level of customization as employers can add options to promote their listings. NoDesk does allow postings to remain active for 45 days compared to WWR's 30-day posting, which means it could be better value for money depending on your needs.
NoDesk vs. Working Nomads:
Working Nomads and NoDesk are similar in the sense that both have basic platforms and both lack any features for promoting posts further or candidate filtering tools. Working Nomads does attract more monthly visitors than NoDesk, but it doesn't allow company branding as NoDesk does. Both are well-used job boards.
NoDesk vs. FlexJobs:
FlexJobs is more costly than NoDesk, but does offer resume searches, data analytics, and dedicated account support. It is the better option if you do a lot of hiring. NoDesk is better for quickly getting an ad out to qualified candidates. Job posts on NoDesk are active for 45 days, whereas posts on FlexJobs last 30 days.
Key Information
| | |
| --- | --- |
| Legal Name | NoDesk |
| Email | |
| Website | |
FAQs:
How much does NoDesk cost?
A job post on NoDesk costs $199.00 and lasts for 45 days. Employers can pre-buy bulk packs of jobs at a discounted price.
Are there any alternatives to NoDesk?