Pricing:
| Plan | Pricing |
| --- | --- |
| Basic | Free.* |
| Plus** | $49.99 /mo. |
| Enterprise | |
*Upwork's basic plan is free to use, so employers only pay freelancers the confirmed fee, plus the standard 3% for admin and payment processing.
**The Plus Plan includes premium customer support, team reporting, 15 invites to freelancers instead of three.
Review:
Upwork is an online freelance marketplace that matches employers with a global pool of remote work freelancers. More than 30% of Fortune 500 companies have used Upwork to connect with talented, independent professionals.
Highlights:
Upwork is a reputable marketplace used by brands such as Airbnb, Dropbox, Microsoft, Samsung, and more to find quality freelancers.
There are more than 18M registered freelancers to choose from.
Over 5M registered clients use the site to find freelancers.
Employers can post projects at no cost or choose from paid options.
Employers can connect with a remote workforce representing 180 countries.
Millions of projects are posted on the platform with over 5,000 skills represented across more than 70 categories.
AI-matching technology instantly generates a freelancer shortlist based on your project requirements.
Employers have access to individual freelancer's profiles and can see their ratings.
You can receive invoices through Upwork's platform to easily pay for the work you've authorized.
Projects include social media visibility on Facebook, Twitter, and LinkedIn.
There are two local offices in the USA.
Shortcomings:
The basic plan excludes advanced candidate management tools.
Some freelancers might be deterred by having to pay a fee based on their earnings.
There are no options to search for projects by employer, which can make it difficult for freelancers to find you.
There are no multilingual site options, which may limit the number of registered users.
Reputation:
Although 140+ complaints were logged about Upwork on Better Business Bureau, most queries received attention from Upwork. On Sitejabber, 2.4K+ users positively rated Upwork with 4.3 out of 5 stars. On Trustpilot, Upwork received 4.5 stars based on the reviews of more than 5.8K users.
How to Post a Project on Upwork: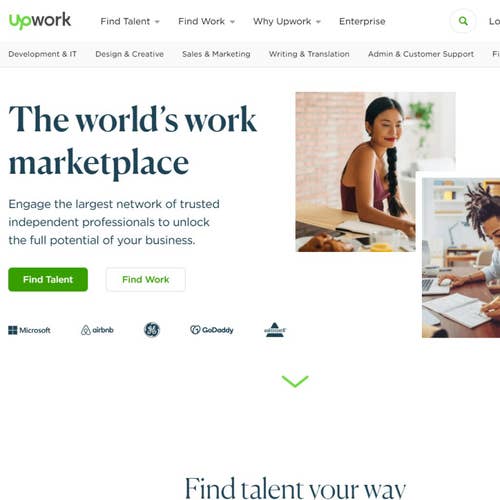 Five easy steps for posting a project on Upwork.
1.
Post a project on Upwork.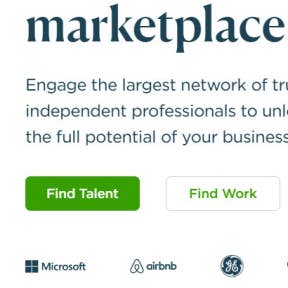 You'll find this green button on the left-hand side towards the center of the home page.
A pop-up window will appear. To log in with your Google credentials, click "Continue with Google."
Alternatively, enter your work email address, and first and last name, followed by a password of your choice. From the drop-down list, select your country. Lastly, check the box to agree to the terms and conditions, then click "Create my Account."
From the dashboard, click the green "Post a Job" button in the top-right of the page.
1.3
Select your job posting type.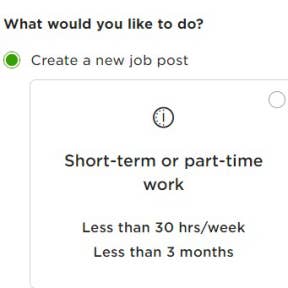 Check the applicable boxes to select the type of job post you'll be creating.
To make a new job posting, check the "Create a new job post" option, then select either the "Short-term or part-time work" or "Designated, longer term work" option.
Alternatively, click "Edit an existing draft" to make changes to a post you've already created.
Click "Continue" to proceed to the next window.
1.4
Complete your job posting.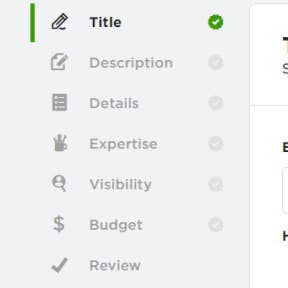 Starting with the title, complete all the required sections of your job posting. Click "Next" each time you are ready to proceed to the following section.
Choose an eye-catching, descriptive title for you job posting, then select a category, and click "Next."
Craft a job description that outlines the duties of the job and also highlights the qualifications and skills required. Click "Next" when you are done.
Provide additional details pertaining to the role. Add screening questions or request a cover letter, then click "Next."
Select the skills and expertise that are important to the job. Click on the applicable options from the different categories to add them to your list. Choose the level of experience required for the role, then click "Next."
In the "Visibility" section, choose who should be able to view your job post and select the number of hires for the role. If applicable, add the required qualifications. Click "Next."
In the "Budget" section, add any information related to remuneration, then click "Next."
1.5
Review and post your job.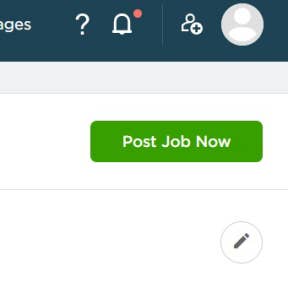 Read through your job post to make sure all the details are correct. When you are ready, click "Post Job Now."
To make changes, click on the gray pen icon on the far-right of each section. Click "Update" to save your changes.
Upwork vs. Fiverr:
Both Upwork and Fiverr provide platforms for employers to find talented global freelancers. Upwork offers free basic project adverts and paid plans that start at $49.99 per month. With Fiverr, employers choose from customized service packages to connect with qualifying freelancers, so prices vary. Both charge freelancers a fee based on their earnings.
Upwork vs. Toptal:
While Upwork connects global employers and freelancers across several industries, Toptal is a marketplace for the top 3% of freelance developers and coders. Upwork offers a free basic project advertisement and paid options starting at $49.99, whereas Toptal costs start with a deposit of $500.00 that serves as a credit on project-hour hiring invoices.
Upwork vs. Guru:
Both Upwork and Guru connect employers with talented freelancers. While Upwork offers employers a basic free plan and paid options starting at $49.99 per month, Guru doesn't charge for posting projects and employers only pay a small fee for each paid invoice. Only Guru offers freelancers a free option where no deductions from earnings are made.
Upwork vs. FlexJobs:
Upwork and FlexJobs both connect global remote-working freelancers with employers representing more than 60 professional categories. Upwork offers employers a basic free plan and paid options starting at $49.99 per month, while free project adverts on FlexJobs need to meet requirements. The latter's paid monthly membership prices start at $299.00.
Upwork vs. PeoplePerHour:
Both Upwork and PeoplePerHour match global employers with top freelancers. Upwork offers employers a basic free plan and paid options starting at $49.99 per month, while PeoplePerHour posts projects for free. Upwork freelancers pay an earnings-based fee, while PeoplePerHour freelancers can submit 15 proposals for free before they are charged.
Key Information
| | |
| --- | --- |
| Legal Name | Upwork Global Inc. |
| Founder | |
| Founding Date | Jan 01, 2015 |
| Address | 2625 Augustine Dr., Suite 601 Santa Clara, CA 95054 |
| Number of Employees | 570 |
| Telephone | |
| Website | |
FAQs:
What is Upwork?
Upwork is a leading freelance marketplace where employers can connect with a pool of independent freelancers from around the world.
What does it cost to post a project on Upwork?
Upwork's pricing options include a free basic plan and paid packages.
How can I edit a project on Upwork?
Click on the "My Jobs" tab from the Upwork dashboard.
Select the project you would like to edit under "Open Jobs."
Click on "Edit Posting" in the "Actions" menu.
Make your changes.
Is Upwork better than Fiverr?
Both Upwork and Fiverr offer platforms that connect employers with talented global freelancers. Upwork has both free and paid pricing plans, while Fiverr offers customized service packages. Both charge freelancers a fee based on their earnings.
What are some alternatives to Upwork?