Pricing:
| Plan | Pricing |
| --- | --- |
| Job Post | Free. |
| Candidate Contact Information | From $4.99 /candidate.* |
*The cost may vary, depending on the job title and location.
Review:
SimplyHired is a general job aggregator that gathers job postings from affiliated sites to share them on SimplyHired for free. The platform has a pay-to-contact model, and while posting a job is completely free, employers are charged a fee to unlock candidates' contact information.
SimplyHired offers some great features, such as applicant management, job description tools, a salary estimator, and a message board, but they have received many negative customer reviews, mostly citing a lack of customer support from the platform.
Pros:
SimplyHired allows for free job postings that are syndicated across its partner websites.
The platform features resources to assist with crafting effective job descriptions.
The site offers a range of services, including applicant tracking, interview scheduling, and candidate management.
Listings enjoy high visibility on SimplyHired and Indeed's job boards.
The site collects postings from third-party sites and shares them for increased exposure.
Cons:
The job board lacks social media sharing.
With such wide exposure, be prepared to receive too many responses to your job ads at times.
SimplyHired has received many negative customer reviews.
While posting a job is completely free, employers are charged for every candidate they want to contact.
Reputation:
While SimplyHired is not accredited with the Better Business Bureau, it does have a D- rating. There are also three negative customer reviews on BBB citing lack of support and numerous fake listings as problems with using SimplyHired.
On Trustpilot, SimplyHired has over 120 customer reviews with an average rating of 2.5 out of 5 stars. Many of the customer complaints seem to focus on a lack of customer support.
How to Post a Job on SimplyHired: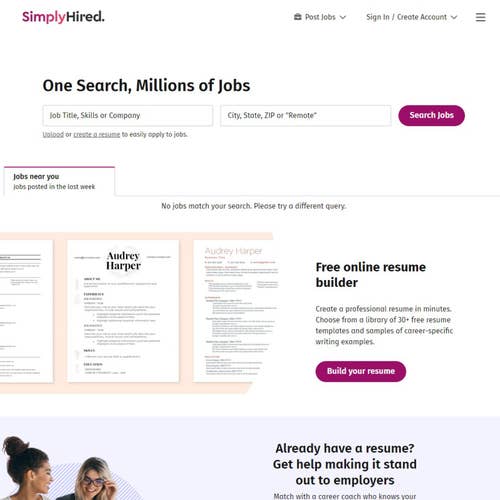 Four easy steps for posting a job on SimplyHired.
1.
Posting a job on SimplyHired.
1.1
Create an employer account.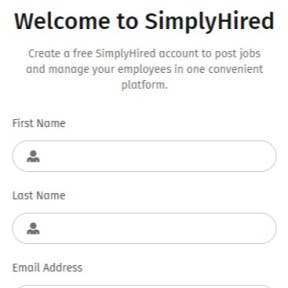 From the home page, click on "Sign In / Create Account" toward the top-right corner and select "Post Jobs Login" from the drop-down menu. Then, click on "Create an account today" toward the bottom of the sign-on form.
Enter your personal information and a password. Then, click on "Next."
Add your company details, including the name of your organization, your company website URL, company size, and industry. Then, click on "Create Account."
To activate your account, click on the verification link sent to your email address.
Once your account has been successfully activated, click on "Continue" and log in to your account.
Read and agree to the terms and conditions.
1.2
Create your job post.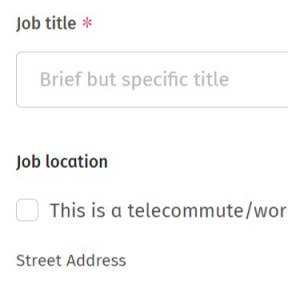 Complete a series of online forms with information about your job vacancy.
Enter the job information, including the job title, address, job type, and salary range. Then, click on "Continue."
Next, enter your job description and click on "Continue."
The next step allows you to set screening questions to auto-qualify applicants. Select your preferred options, click on "Continue," and create your screening questions. Once you've added these, click on "Continue."
You can now organize your hiring stages by using the SimplyHired Standard Workflow template or creating a new workflow using the "+ New Workflow" button. Once you're done, click on "Continue."
The last step allows you to add your hiring team and assign each individual a job-specific role which determines the permissions they will have, such as editing job posts. Then, click on "Review & Publish."
1.3
Review your job post.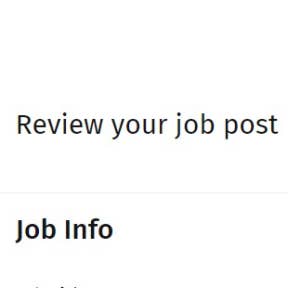 Preview your job post and check it for accuracy. You can edit the sections of the job post by clicking the "Edit" buttons next to the relevant sections.
When you're happy with your job post, click on "Publish."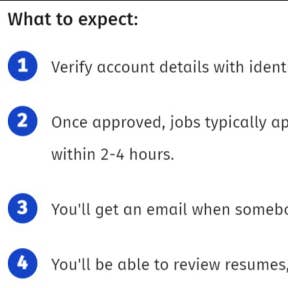 Your account and job post will be reviewed and, once verified and approved, your job post will go live on the site.
Click on "Verify Account."
You will be notified of job applications and can view resumes, cover letters, and answers to screening questions. However, applicant contact information is withheld and can be unlocked by paying a fee of $4.99.
SimplyHired vs. Indeed:
SimplyHired and Indeed are partner job boards and will often feature the same job vacancies. They both advertise general positions and have a global reach, but Indeed is the more affordable option, as it does not charge employers to obtain applicants' contact information.
SimplyHired vs. ZipRecruiter:
ZipRecruiter and SimplyHired are similar job sites with easy-to-use interfaces, but SimplyHired is more affordable, allowing for free postings compared to ZipRecruiter's $399.00 a month. However, ZipRecruiter features candidate-matching technology that helps employers find the best candidates, which SimplyHired lacks.
SimplyHired vs. Monster:
Monster and SimplyHired are both global, general job posting sites. SimplyHired features a free job posting plan, while Monster offers paid posting options starting from $12.00 per day. Monster also features an advanced candidate matching filter, which SimplyHired lacks.
Key Information
| | |
| --- | --- |
| Legal Name | SH Inc. |
| Founder | |
| Founding Date | Jan 01, 2003 |
| Address | 525 Almanor Ave., Ste. 100, Sunnyvale, CA 94085 |
| Telephone | |
| Website | |
FAQs:
Is SimplyHired the same as Indeed?
In 2016, Recruit Holdings, the Japan-based group that owns Indeed.com, acquired SimplyHired, but the platform still operates as a separate job search destination.
How can I create a SimplyHired account?
Visit SimplyHired's home page.
Click "Sign In / Create Account" in the top-right corner of the page.
Select "Post Jobs Login" in the drop-down menu.
Click on "Create an account today" toward the bottom of the sign-in form.
Follow the prompts to register as an employer.
How do I find the best freelancers on SimplyHired?
Always be very specific about job requirements when you post an ad. SimplyHired casts its nets wide, so you will get freelancers with varying skills and abilities applying. It is then up to you to employ your skills, resources, knowledge, and discretion to select the best of the bunch.
How long does it take for my post to go live on SimplyHired?
Once you've created your job post on SimplyHired, you will have to verify your account before your listing goes live. You can opt for instant verification which takes only around three minutes or manual verification which can take up to three business days.
When will SimplyHired charge my account?
Since SimplyHired switched to a pay-per-contact pricing model, employers will only be charged when they decide to reveal or unlock an applicant's contact information.
Is SimplyHired's account verification process secure?
SimplyHired states that both the instant and manual verification processes are secure and encrypted. They temporarily store the documents you uploaded for auditing and troubleshooting purposes, and permanently delete them after fifteen days.
Why do I have to verify my account on SimplyHired?
Account verification is an additional security measure SimplyHired has put into place to help them prevent fraudulent activity and scams on their platform.
What are some SimplyHired alternatives?