Pricing:
Users can post jobs on SimplyHired's Australian page through its partner Indeed and can either publish a free job posting or pay for a sponsored listing. To help you decide how much to spend, an estimator tool will give you an idea of how many applications you can expect. The higher your budget, the more applications you will attract.
Review:
SimplyHired is a general job aggregator that features country-specific pages, including one for Australia. The platform gathers job postings from affiliated sites across the country. Users can post to the site via its partner Indeed. Free job posts and post-distribution to more than 100 job boards make it an attractive option for Australian employers.
Through its partner Indeed, SimplyHired offers some great features, such as applicant management, job description tools, and a salary estimator. Despite negative reviews from U.S. customers, it is still a competitive option for recruiting in Australia. However, it does not attract as much traffic as leading local sites such as SEEK and jobactive.
Highlights:
The site features resources that help employers craft effective job descriptions.
SimplyHired offers a selection of useful features and services, including applicant tracking and management services, interview scheduling tools, and assessment services.
SimplyHired has a country-specific page for Australia.
The site collects postings from third-party sites and shares them.
SimplyHired is more affordable than Australia's leading job board SEEK.
Top companies that use SimplyHired in Canada include Quantas, Suncorp, and Telstra.
Shortcomings:
SimplyHired does not offer locally-based or Australia-specific customer support or resources.
SimplyHired has received many negative customer reviews. These are, however, mostly from U.S. users and not specific to the Australian page.
Reputation:
On Trustpilot, SimplyHired has 91 customer reviews, the majority of which are from U.S.-based users, and an average rating of 1.3 out of 5 stars. Many of the customer complaints seem to focus on a lack of customer support.
How to Post a Job on SimplyHired: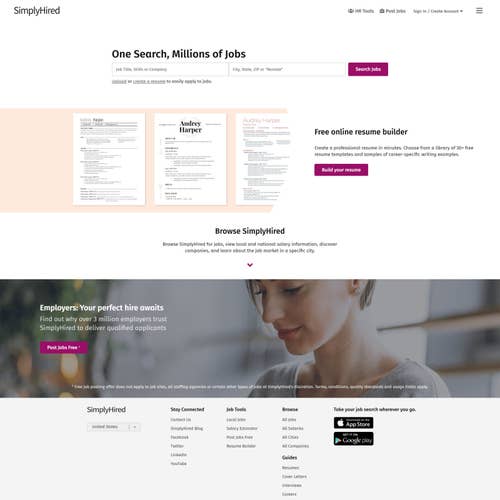 Seven easy steps for posting a job on SimplyHired's Australian page.
1.
Posting a job on SimplyHired.
1.1
Navigate to the SimplyHired's Australian website.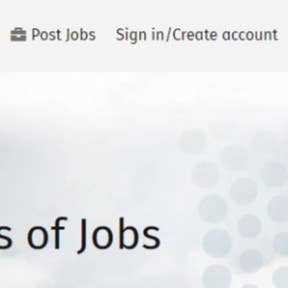 From the SimplyHired home page, click on "Post Jobs" in the top right corner of the page.
1.2
Click "Post jobs FREE."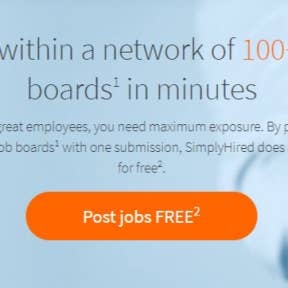 In the center of the page, click on the orange "Post jobs FREE" button.
1.3
Create an employer account.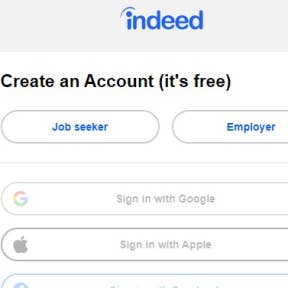 You will be redirected to Indeed. Select "Employer" and sign in using a social login or sign up using your email address.
1.4
Complete the online forms.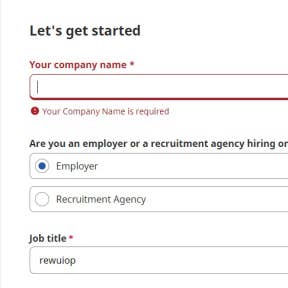 You will be prompted to enter your company information and details about the job you want to advertise. You can also refine application settings and set up automated skills assessments. Click "Continue" after completing each section.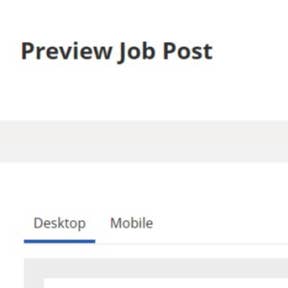 Next, you can view what your job post will look like when viewed on a desktop and on a mobile device. Check it for accuracy and click "Edit" in the top right corner of a given section to make any adjustments.
When you're happy with your job post, click "Continue" at the bottom of the page.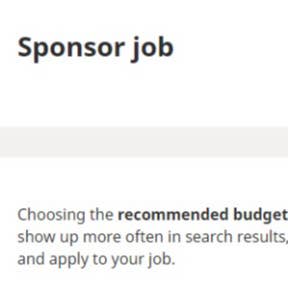 You can choose to sponsor your job for increased visibility by setting a daily budget and clicking "Save and continue.," following which you will need to complete your billing information. If you don't want to sponsor your ad, simply click "Don't optimize my job" at the bottom of the page and submit your job post.
1.7
Verify your identity.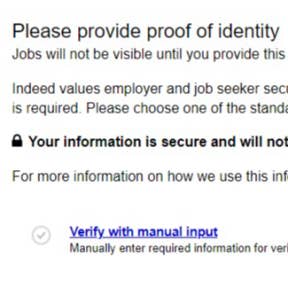 You will be prompted to provide proof of your identity. Click the "Verify with manual input" link to manually enter the information required for the verification process and follow the prompts.
SimplyHired vs. Indeed:
SimplyHired and Indeed are partners and will often feature the same job vacancies. They are both general and global job sites, but Indeed attracts far more traffic than SimplyHired. Since SimplyHired is essentially run by Indeed, users might as well create an account and post on Indeed directly.
SimplyHired vs. SEEK:
In terms of traffic received from Australia, SimplyHired doesn't compare to SEEK. SimplyHired also doesn't host a resume database, which SEEK does. However, although SEEK is one of the most popular and leading job boards in Australia, it is also among the more expensive ones, making SimplyHired a better option if you're on a tight budget.
SimplyHired vs. CareerOne:
Like SimplyHired's Australian page, CareerOne also allows for free job postings. Unlike SimplyHired, CareerOne is not a global job board and caters specifically to the Australian market. Both offer a range of useful features, including applicant tracking and distribution to other job sites. Both are great cost-effective options.
Key Information
| | |
| --- | --- |
| Legal Name | SH Inc. |
| Founder | |
| Founding Date | Jan 01, 2003 |
| Address | 525 Almanor Avenue, Suite 100, Sunnyvale, CA 94085 |
| Telephone | |
| Website | |