Pricing:
SimplyHired's U.K. website is powered by Indeed and users wanting to post on the platform are redirected to Indeed from where they can either publish a free job posting or pay for a sponsored listing.
To help you decide how much to spend, an estimator tool will give you an idea of how many applications you can expect. The higher your budget, the more applications you will attract.
Review:
SimplyHired is a cost-effective general job aggregator that U.K. employers can use to recruit both local and international talent. Through its partnership with Indeed, SimplyHired's U.K. portal allows employers to post jobs for free or set a daily budget to sponsor posts for more visibility.
Useful features for employers and recruiters include applicant tracking, interview scheduling, and candidate assessment services. While SimplyHired is more affordable compared to leading U.K. job sites, such as Reed.co.uk and CV-Library, it doesn't attract as much local traffic as these do.
Pros:
SimplyHired features resources to assist with crafting effective job descriptions.
The platform offers applicant tracking and management tools, as well as interview scheduling and assessment services.
SimplyHired collects postings from third-party sites and shares them.
Job posts are distributed to other job boards across SimplyHired's partner network.
The site is more affordable than local alternatives, such as CV-Library and Totaljobs.
Major U.K. companies, including Primark, Waitrose, and BP, use SimplyHired.
Cons:
The job board has no locally-based or U.K.-specific customer support.
SimplyHired has received many negative customer reviews, although these are mostly from U.S. users.
The site attracts far less traffic from the U.K. than local alternatives, such as CV-Library and Totaljobs.
Reputation:
On Trustpilot, SimplyHired has over 120 customer reviews with an average rating of 2.5 out of 5 stars. Many of the customer complaints seem to focus on a lack of customer support.
How to Post a Job on SimplyHired: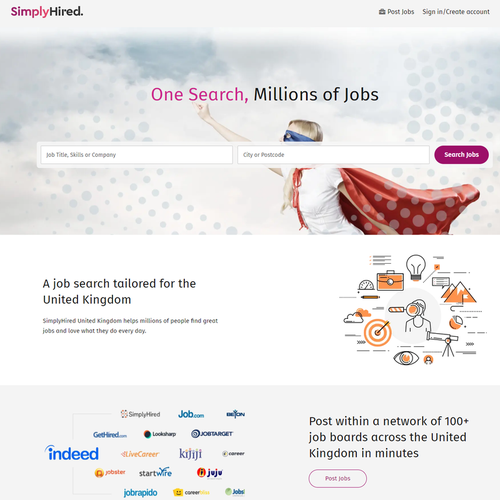 Seven easy steps for posting a job on SimplyHired's U.K. website.
1.
Posting a job on SimplyHired.
1.1
Go to the SimplyHired U.K. website.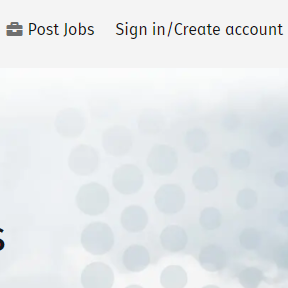 From the SimplyHired home page, click on "Post Jobs" in the top right corner of the page.
1.2
Start the job posting process.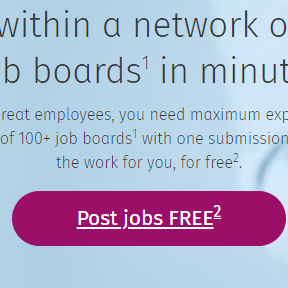 In the center of the page, click on the "Post jobs FREE" button.
1.3
Create an employer account.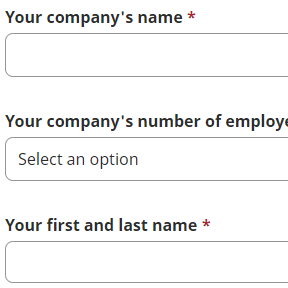 You will be redirected to Indeed. Fill out the online form with your company details and click on "Save and continue."
1.4
Create your job post.
On the next page, fill out the field with some of your company information and the listing you'd like to advertise. Then, click on "Save and continue." Follow the prompts to create your job post.
Add more details about your listing, such as the type and start date. Once you're done, click on "Save and continue."
Enter the listing's compensation and benefits, and click on "Save and continue."
Add the job description and click on "Save and continue."
You can preview your listing by clicking on "Show Preview."
Set your application preferences and communication settings. Then, click on "Save and continue."
Add pre-screening questions and click on "Save and continue."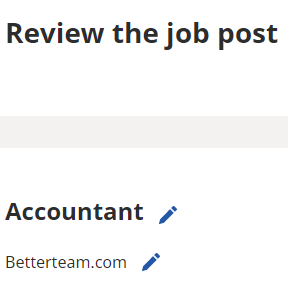 Next, preview your listing. Check it for accuracy and click on the pencil icon next to the fields you'd like to edit. When you're happy with your job post, click on "Confirm" at the bottom of the page.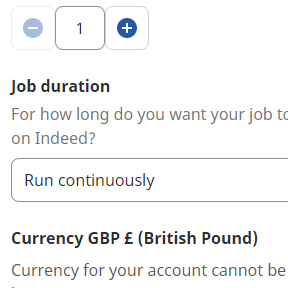 You can choose to sponsor your job for increased visibility by setting a daily budget and clicking on "Save and continue," following which you will need to complete your billing information.
If you don't want to sponsor your ad, simply click "Post without budget" at the bottom of the page and submit your job post.
1.7
Verify your identity.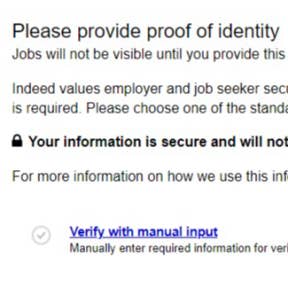 You will be prompted to provide proof of your identity. Click the "Verify with manual input" link to manually enter the information required for the verification process and follow the prompts.
SimplyHired vs. Reed.co.uk:
Like SimplyHired, Reed.co.uk advertises a wide range of general vacancies. The latter site, however, is more popular in the U.K., reaching over 21.7 million local candidates. Both platforms offer employer branding and pre-screening questions, but SimplyHired is more affordable with a free job posting option, which Reed.co.uk lacks.
SimplyHired vs. CV-Library:
Unlike SimplyHired, CV-Library is not a global job aggregator and does not offer free job postings. It does, however, attract far greater volumes of traffic from job seekers in the U.K. and has features SimplyHired doesn't, such as a searchable CV database for employers, a course directory, and career advice for job seekers.
SimplyHired vs. Totaljobs:
Totaljobs is better known and receives more local page visits in the U.K. than SimplyHired. While both platforms are international, only SimplyHired has region-specific websites. Despite being the more expensive option, Totaljobs is a great choice for U.K. employers as it offers both greater reach and better features, including a CV database.
Key Information
| | |
| --- | --- |
| Legal Name | SH Inc. |
| Founder | |
| Founding Date | Jan 01, 2003 |
| Address | 525 Almanor Avenue, Suite 100, Sunnyvale, CA 94085, USA |
| Telephone | |
| Website | |
FAQs:
What is SimplyHired?
SimplyHired is a job aggregator that features several regional websites, including one for the U.K.
Is SimplyHired good?
SimplyHired is an attractive option for U.K. employers looking for a budget-friendly job aggregator to reach U.K. job seekers. The site is partnered with Indeed and job posts are distributed across a partner network of more than 100 job boards.
Are Indeed and SimplyHired the same?
In 2016, Recruit Holdings, the Japan-based group that owns Indeed.com, acquired SimplyHired, but the platform still operates as a separate job search destination.
How can I create a SimplyHired account?
Visit simplyhired.co.uk.
Click on "Sign in / Create account" in the top-right corner of the page.
You can then use social login (either Facebook or Google) to register with SimplyHired.
How do I find the best freelancers on SimplyHired?
Always be very specific about job requirements when you post an ad. SimplyHired casts its nets wide, so you will get freelancers with varying skills and abilities applying. It is then up to you to employ your skills, resources, knowledge, and discretion to select the best of the bunch.
What are some SimplyHired alternatives?