Pricing:
| Plan | Description | Pricing |
| --- | --- | --- |
| Pay-per-click job posts | Job posts are promoted across LinkedIn and through email to matching candidates. | Pay per click. |
| Sales Navigator | For sales professionals. Offers 20 InMail messages, advanced lead search features, and real-time updates on leads. | From £49.99 /mo. |
| Recruiter Lite | For recruiters. Offers 30 InMails per month, advanced search features, smart suggestion, and unlimited profiles views up to 3rd degree connections. | From £79.99 /mo. |
| Premium Business | For companies. Offers 15 InMail messages per month, unlimited profile views up to 3rd degree connections, and business insights feature. | From £39.99 /mo. |
How to Post a Job on LinkedIn: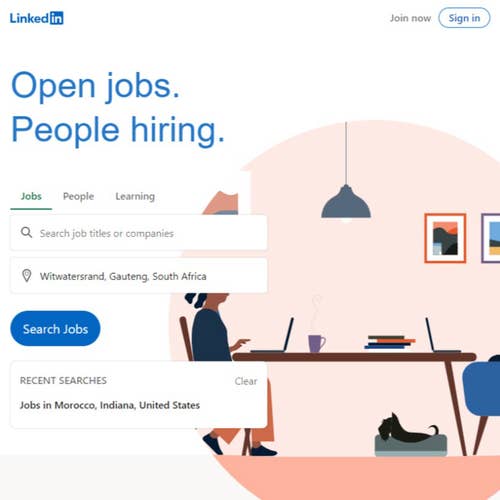 Five easy steps for posting a job on LinkedIn.
1.
Posting a job on LinkedIn.
1.1
Register or log in to your account.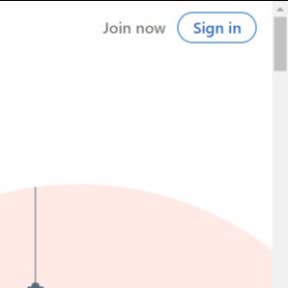 Click "Join now" or "Sign in" in the top right corner of the LinkedIn home page.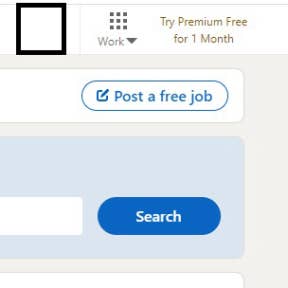 You can do this by clicking the tile icon in the top right corner of your LinkedIn page and then clicking "Post a job," or by clicking "Post a free job" just below the tile icon.
1.3
Complete the online form.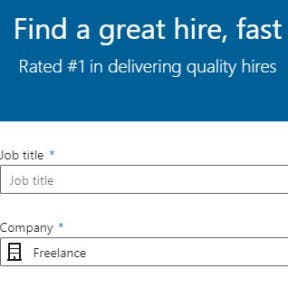 Enter some basic details about your job vacancy and click "Get started for free."
1.4
Add a job description.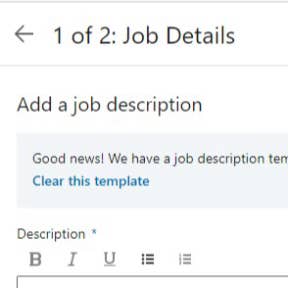 Depending on the role you are advertising, LinkedIn may have a template for you to use. You can edit the template, leave as-is, or rewrite it entirely. Once you are happy with your job description, add skill keywords and a "how did you hear about us" option, then click "Continue."
1.5
Add a way for applicants to contact you.
On the next page, you can edit how you want applicants to apply for your job, either by email or via an external website. You can also add some prescreening questions to your job ad. Once you are satisfied with your post, click "Post job for free."
FAQs:
How much does it cost to post a job on LinkedIn?
The maximum LinkedIn job post cost per day is 1.3 times your daily pay-per-click budget. So, if you set your daily budget at £100, you could be charged £130 per day. With pay-per-click, once you set the budget, you only pay when users click your posting.
Is there a standard cost to post jobs on LinkedIn?
No. Since all job advertising on LinkedIn is based on a pay-per-click model, there is no standard price. You set the amount that you want to bid for each click, a daily budget, and that will determine your cost.
Is there any way to track the applicants to my job post on LinkedIn?
Yes, LinkedIn has a Candidate Management feature that allows you to track all the applicants to your job post.
How do I share my job posts on LinkedIn?
Go to your LinkedIn account homepage.
Click the Jobs icon at the top right.
Click "Manage Job Postings."
Click the title of the job you want to share.
Go to the "Actions For This Job" box and click "Share."
Select your preferred sharing option and share away.
Does LinkedIn post jobs to other job boards?
Some job boards and other sites will syndicate your jobs or allow them to be aggregated on other job websites. At this time LinkedIn jobs do not get aggregated.
What sets LinkedIn job ads apart from posts on job boards?
One of the big differences is that people don't only go to LinkedIn to look for jobs. It's a place to connect with friends and colleagues, research businesses and potential clients, and catch up on industry news. LinkedIn job listings reach people that aren't necessarily looking for a job but may be interested in your position.
Can LinkedIn promote my job posts?
How can I post a job on LinkedIn company page for my business?
Make sure that when you post the job, you select the company name of the company whose page you want the post to appear on at the beginning of the process.
When is the best time to post a job on LinkedIn?
Ideally, you should post your job four months before the start date. This will give you sufficient time to screen and interview candidates, and enable a seamless recruitment and onboarding process.