At-a-Glance:
| Feature | LinkedIn |
| --- | --- |
| Price | Contact for quote. |
| Free offer | ✔ |
| Post duration | 30 days. |
| Job ad distribution | ✔ |
| Social media promotion | ✔ |
| Applicant tracking tools | ✔ |
| Resume database access | x |
| Customer support | Email. |
Review:
LinkedIn offers standard job posting services for employers to connect with and recruit talented professionals faster. Equipped with job ad customization tools and sponsored posts to increase visibility, LinkedIn serves as a valuable resource for employers looking to easily access a global network of candidates.
For local businesses looking to simply network with competitors or recruit new talent, LinkedIn's solid communication channels help ease the process, and its sponsored posts include impressive features, such as access to potential candidates' profiles and employer branding capabilities.
Pros:
LinkedIn offers a Basic option that includes free job postings and access to ad management tools.
Employers can tailor their target markets and categorize them by location, industry, and/or job function.
The platform allows employers to manage and track job ads' performance, metrics, and applicant data.
LinkedIn provides access to active and passive job seekers by allowing employers to view candidates' profiles.
Employers can create customized job ads that highlight the key aspects of their job opening and company.
The platform offers candidate messaging and tracking features to simplify the recruitment process.
To enhance brand visibility, sponsored posts can include company logos and branding elements.
Employers can share job ads on their social media networks to boost exposure.
There is a dedicated U.K. site available and pricing is available in pounds sterling.
Thanks to its various integrations and partnerships, job ads are distributed to a network of job posting sites.
Cons:
The free job posting option does not include the more advanced features, such as employer branding.
LinkedIn does not offer access to a traditional resume database. Instead, employers can only view candidate profiles.
Job ads have strong competition on LinkedIn, which advertises vacancies from across the world.
Reputation:
LinkedIn has a mixed reputation online, with many reviewers highlighting the benefits and disadvantages of its job posting services. On Trustpilot, LinkedIn received a rating of 1.5 out of 5 stars based on more than 1,200 reviews. Customer reviews that centered around job postings praised its customization abilities and targeted hiring.
That said, some reviewers felt that the system's pricing structure could be too costly. This was reiterated on GetApp, where customers continued to label the service as "expensive." However, the platform still managed to receive 4.6 out of 5 stars based on over 1,400 reviews. Some pros mentioned include great ease of use and customer support.
LinkedIn Plans and Pricing:
1. Basic Posting Option.
LinkedIn features a basic job posting option that is free of charge. Employers and recruiters can simply click on the "Work" tiles to find "Post a job for free" to post their vacancies in a few simple steps. Their job vacancy will then be posted to the general "Jobs" page on LinkedIn where anyone can view it. Users can also promote their jobs by setting a budget, selecting the pay-per-click option, or choosing dynamic pricing, which is based on the role being advertised.
2. LinkedIn Recruiter.
LinkedIn Recruiter is an advanced tool for searching LinkedIn profiles, organizing your findings, and getting in contact with candidates. It offers 150 InMails per user monthly, bulk InMailing, and advanced search options that include access to full profiles of all LinkedIn members. Contact the LinkedIn sales team for pricing.
3. LinkedIn Recruiter Lite.
LinkedIn Recruiter Lite is a scaled-down version of Recruiter. Lite offers one user and 30 InMails per month. Full profiles can be seen for 3rd-degree connections. It has fewer search parameters available than the full version. Contact the LinkedIn sales team for pricing.
4. LinkedIn Pipeline Builder.
LinkedIn Pipeline Builder allows companies to market to LinkedIn members that fit their criteria through sponsored updates and ads. It also allows potential candidates to express interest in working at the company with a single click or tap. Contact LinkedIn for Pipeline Builder pricing.
5. LinkedIn Career Pages.
LinkedIn's career page cost is negotiated on a business-by-business basis. A career page is a section of an employer profile geared toward hiring. It allows more options for employer branding, including video, employee perspectives, and images. Companies can personalize job recommendations and other messaging based on member industry, position, and more.
6. LinkedIn Work with Us Ads.
LinkedIn's Work with Us Ads is display-style advertisements that LinkedIn users see in their profiles. They can be used to attract potential applicants and are targeted to your employees' LinkedIn networks. By using this feature, you're also able to block competitors from running ads in your employees' accounts. Contact LinkedIn for Work with Us Ads pricing.
How to Post a Job on LinkedIn: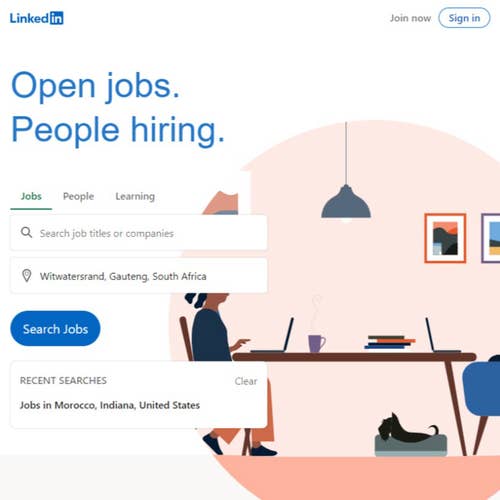 Five easy steps for posting a job on LinkedIn.
1.
Posting a job on LinkedIn.
1.1
Register or log in to your account.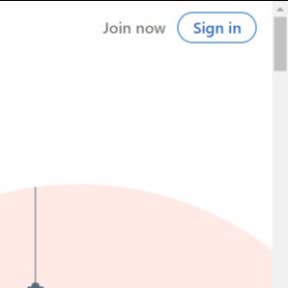 Click on "Join now" or "Sign in" in the top right corner of the LinkedIn home page.
1.2
Click on "Post a Job."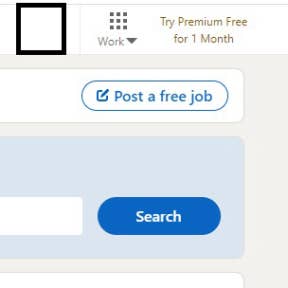 You can do this by clicking on the tile icon in the top right corner of your LinkedIn page and then clicking on "Post a job," or by clicking on "Post a free job" just below the tile icon.
1.3
Complete the online form.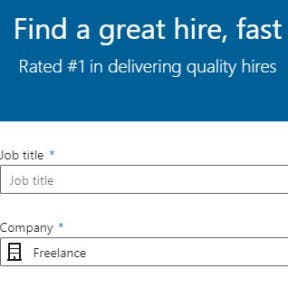 Enter some basic details about your job vacancy and click on "Get started for free."
1.4
Add a job description.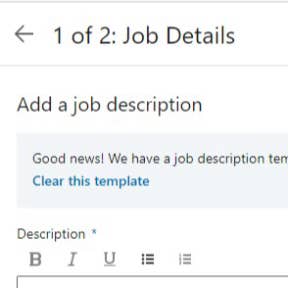 Depending on the role you are advertising, LinkedIn may have a template for you to use. You can edit the template, leave as-is, or rewrite it entirely. Once you are happy with your job description, add skill keywords and a "how did you hear about us" option, then click on "Continue."
1.5
Add a way for applicants to contact you.
On the next page, you can edit how you want applicants to apply for your job, either by email or via an external website. You can also add some prescreening questions to your job ad. Once you are satisfied with your post, click on "Post job for free."
LinkedIn vs. Totaljobs:
Totaljobs is one of the top job boards in the U.K., offering local employers excellent exposure. While LinkedIn is popular as well, it's mainly regarded as a networking platform. That said, LinkedIn offers free job postings for those on a budget. In contrast, Totaljobs does not provide free ads, and its paid plans start at £169.00 +VAT per post.
LinkedIn vs. Reed.co.uk:
Reed.co.uk is a popular U.K. job board that receives millions of monthly visits. LinkedIn, on the other hand, does not share the same exposure, but users can post ads for free with LinkedIn's Basic plan. Reed.co.uk does not offer a free plan, but new users can post a vacancy at a discounted price. Thereafter, job ads start at £150.00 +VAT per post.
LinkedIn vs. Indeed:
While Indeed operates as a job board and offers resume database access, LinkedIn is mostly seen as a social platform where business owners and potential candidates or investors can network. Therefore, unlike Indeed, LinkedIn does not offer a resume database, but it does include applicant tracking and job ad distribution to boost ad visibility.
Key Information
| | |
| --- | --- |
| Legal Name | LinkedIn Corporation |
| Founder | |
| Founding Date | May 05, 2003 |
| Address | 85 Great Portland St., London |
| Number of Employees | 19000 |
| Number of Customers | 830000000 |
| Telephone | |
| Website | |
FAQs:
How much does it cost to post a job on LinkedIn?
The maximum LinkedIn job post cost per day is 1.3 times your daily pay-per-click budget. So, if you set your daily budget at £100.00, you could be charged £130.00 per day. With pay-per-click, once you set the budget, you only pay when users click your posting.
Is there a standard cost to post jobs on LinkedIn?
No. Since all job advertising on LinkedIn is based on a pay-per-click model, there is no standard price. You set the amount that you want to bid for each click, a daily budget, and that will determine your cost.
Is there any way to track the applicants to my job post on LinkedIn?
Yes, LinkedIn has a Candidate Management feature that allows you to track all the applicants to your job post.
How do I share my job posts on LinkedIn?
Go to your LinkedIn account homepage.
Click on the Jobs icon at the top right.
Click on "Manage Job Postings."
Click on the title of the job you want to share.
Go to the "Actions For This Job" box and click on "Share."
Select your preferred sharing option and share away.
Does LinkedIn post jobs to other job boards?
Some job boards and other sites will syndicate your jobs or allow them to be aggregated on other job websites. At this time LinkedIn jobs do not get aggregated.
What sets LinkedIn job ads apart from posts on job boards?
One of the big differences is that people don't only go to LinkedIn to look for jobs. It's a place to connect with friends and colleagues, research businesses and potential clients, and catch up on industry news. LinkedIn job listings reach people that aren't necessarily looking for a job but may be interested in your position.
Can LinkedIn promote my job posts?
How can I post a job on LinkedIn company page for my business?
Make sure that when you post the job, you select the company name of the company whose page you want the post to appear on at the beginning of the process.
When is the best time to post a job on LinkedIn?
Ideally, you should post your job four months before the start date. This will give you sufficient time to screen and interview candidates, and enable a seamless recruitment and onboarding process.