At-a-Glance:
| Feature | ZipRecruiter |
| --- | --- |
| Price | From US$24.00 /day /post. |
| Free offer | 4-day free trial. |
| Employer dashboard | ✔ |
| Distribution to other platforms | ✔ |
| Searchable resume database | ✔ |
| Customer support | Phone, email, and live chat. |
Review:
ZipRecruiter is a popular job board that attracts millions of job seekers every month, has a resume database and candidate matching, offers a free trial, and is used by large local companies including Scotiabank and Royal Bank of Canada, as well as foreign companies such as Jimmy Choo, Care.com, Starbucks, and Uber, to hire people in Canada.
Some employers have complained about service delivery and billing issues, but ZipRecruiter enjoys high ratings on review sites. Companies in Canada should consider ZipRecruiter for its global and international reach, candidate matching features, and ease of use. Be mindful of how its plans work when using the free trial.
Pros:
Job posts are shared with over 100 sites.
The platform has candidate matching features.
Employers can manage applicants from their dashboard.
ZipRecruiter attracts over 30 million job seekers a month.
Access to a resume database of more than 25 million resumes is available.
The four-day free trial allows employers to post as many jobs as they want.
24/7 Support is offered via phone, email, and live chat.
Screening questions can be added to job posts.
The job board lists over 190,000 Canadian-based jobs.
The site is better than Job Bank and Jobs.ca for reaching a global audience.
Cons:
ZipRecruiter doesn't use its considerable social media following to share job posts.
After the free trial has ended, individual basic and premium job posts are billed per day, per active job.
You can only post one job per location with the day-to-day option and Starter Plan.
The candidate matching feature is only available on the most expensive plan.
Access to the resume database is only available on the Premium and Pro plans.
Applicant tracking is only available through integration with other software.
Pricing is not offered in Canadian dollars.
Workopolis, Job Bank, and Jobs.ca post ads in both English and French.
Reputation:
ZipRecruiter has high ratings on software review sites. It has a 5.5 out of 10 on TrustRadius, 4.7 out of 5 on Trustpilot, and 4.7 out of 5 on Sitejabber. ZipRecruiter has a Better Business Bureau rating of A+.
However, the job board also has 194 Better Business Bureau complaints brought against it over the last three years. These include issues with billing and service delivery. On Reddit, job seekers have found the job board to be spammy, matching them with jobs that don't fit their experience or skills.
Pricing:
| Plan* | Pricing |
| --- | --- |
| Basic Job Post | US$24.00 /day /post. |
| Premium Job Post | US$35.00 /day /post. |
| Professional Job Post | US$45.00 /day /post. |
| Standard | US$399.00 /mo. |
| Premium** | US$519.00 /mo. |
| Pro** | US$899.00 /mo. |
*Plans include a 30-day reusable job slot (one job per location).
**The Premium and Pro plans allow you to post multiple jobs under different job titles, or post in different geographical regions to cast a wider net. Job posts are placed in a prime position on ZipRecruiter as well as 100+ other job boards, receiving twice as many candidates as the Standard Plan.
How to Post a Job on ZipRecruiter: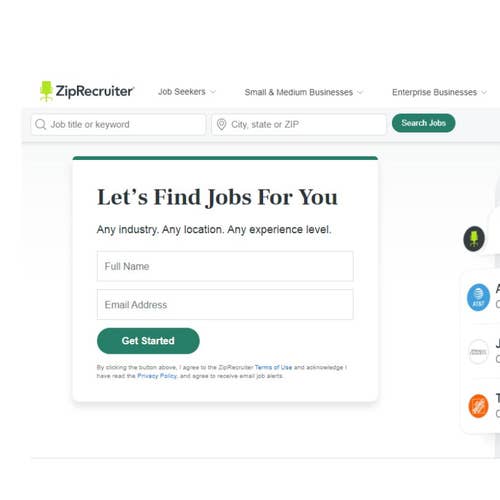 Follow our simple steps to posting a job on ZipRecruiter.
1.
Posting a job on ZipRecruiter.
1.1
Click on "Post a Job" on the home page.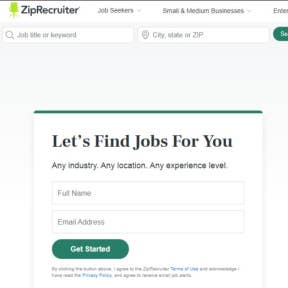 Go to ziprecruiter.com and select "Post a Job" at the top-right corner of the screen.
1.2
List the numbers of employees you have.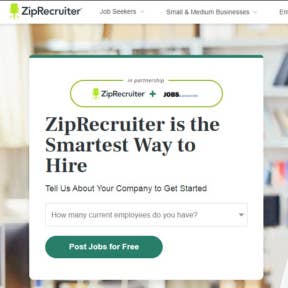 Select the number of employees your business has and click on the "Post Jobs for Free" button.
1.3
Enter information about your company.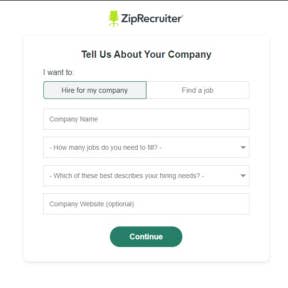 List your company name, how many jobs you need filled, and what your hiring needs are.
1.4
Enter information about the job.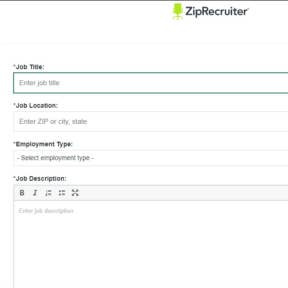 Enter the job title, location, and employment type. You will also need to write a job description and furnish a few other details about the position.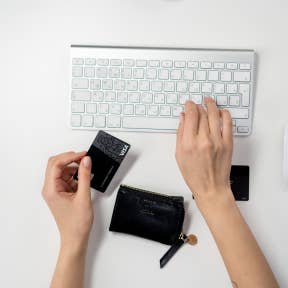 Choose a price plan for your job post and enter your credit card details.
1.6
Click on "Post My Job Now."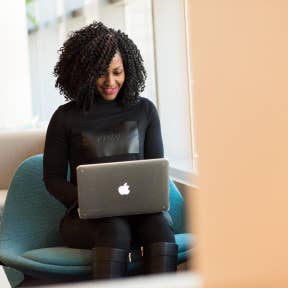 Your job will become live on the ZipRecruiter website.
ZipRecruiter vs. Indeed:
Like ZipRecruiter, Indeed has a large following and receives extensive traffic in Canada. Indeed offers both free and paid job postings, while ZipRecruiter's packages start at US$399.00. Both sites are great choices for reaching a wide pool of candidates based in Canada and offer features such as resume database searches and candidate screening.
ZipRecruiter vs. Job Bank:
Job Bank is a purely local job board, its services only being made available to Canada-based employers and job seekers. It reaches five million job seekers a month and is free to use, so for hiring locally, it is a great option. ZipRecruiter is more costly but offers more detailed applicant tracking features and international reach.
ZipRecruiter vs. Jobs.ca:
Jobs.ca lacks many of the features ZipRecruiter offers and is not inexpensive. That said, Jobs.ca offers employers access to a very specific, well-defined target audience through its range of niche sites. All job ads are in English and French, too. ZipRecruiter is less targeted but reaches more people globally.
Key Information
| | |
| --- | --- |
| Legal Name | ZipRecruiter, Inc. |
| Founder | |
| Founding Date | Jan 01, 2010 |
| Address | 604 Arizona Ave., Santa Monica, CA 90401 USA |
| Number of Employees | 1000 |
| Telephone | |
| Website | |
FAQ:
What is the cost of ZipRecruiter?
ZipRecruiter's monthly subscription options start from US$399.00 and depend largely on the number of jobs you want to post, the duration of posts, how many resumes you want access to, your industry, and where you're situated.
Is ZipRecruiter a job board?
Yes. ZipRecruiter is an online job board that allows employers, including those based in Canada, to post jobs to hundreds of job boards, including ZipRecruiter itself.
Who started ZipRecruiter?
ZipRecruiter was founded by Ian Siegel, Joe Edmonds, Ward Poulos, and Will Redd in 2010.
Do you have to pay for ZipRecruiter after the free trial?
Yes, you have to pay for ZipRecruiter after the four-day free trial. ZipRecruiter subscriptions start automatically with the basic plan with one active job posting.
How long is ZipRecruiter's free trial?
The trial lasts for four days and you will be billed automatically on the fourth day unless you cancel your subscription.
Does ZipRecruiter cost money to try out?
No, not for the first four days. You can try the ZipRecruiter free trial for that amount of time. After that, you'll need to pay according to the package you selected on signup.
How does ZipRecruiter work for employers?
Employers buy a monthly subscription with a number of active job slots on ZipRecruiter and post their vacancies. ZipRecruiter promotes the vacancies on its own site and across its network of job sites. The platform can be used to recruit internationally or in Canada.
How do you contact ZipRecruiter?
For a live chat with a representative, click on the "Contact Us!" tab in the lower right corner of the screen on any employer page. You can also call ZipRecruiter at 011 1 (877) 252-1062. ZipRecruiter has offices on Donora Drive in Toronto, Ontario.
How does ZipRecruiter make money?
ZipRecruiter is free for job seekers, but it charges employers for posting jobs, depending on the number of jobs they post, the number of users they need, and other features they may want access to.
How much does ZipRecruiter charge to put your posts at the top of the results?
ZipRecruiter TrafficBoosts will put you in the top three results. Cost varies per client, so please check your dashboard inside ZipRecruiter.
Do you know how to use ZipRecruiter to post to other job boards?
ZipRecruiter will automatically post your jobs to other boards and websites like ZipRecruiter. There is no extra step involved to get this done.
Is ZipRecruiter legit?
ZipRecruiter is a legitimate business based in Santa Monica, California.
What does ZipRecruiter do for companies that only need to post jobs occasionally?
ZipRecruiter offers a subscription plan, so if you're only posting jobs a couple of times a year, it may not be right for you, but you can cancel at any time. So if you think you'll be advertising the job for more than a few days, it may be worth it. To find out, you may want to try the four-day ZipRecruiter free job posting option. You'll see that offered as part of the ZipRecruiter employer sign-up.
Is ZipRecruiter any good?
ZipRecruiter offers a wide range of great features, reaches millions of job seekers, attracts big brands looking to fill vacancies, and has a largely positive reputation on review sites. It is used by major Canadian businesses including Scotiabank and Royal Bank of Canada, as well as foreign companies such as Jimmy Choo, Care.com, Starbucks, and Uber, to hire people in Canada.
Who is ZipRecruiter owned by?
ZipRecruiter, Inc was founded by Ian Siegel.
Are there any alternatives to ZipRecruiter?