Pricing:
Jobboom provides customers with individual quotes for their services, but they do not list any prices on their website. Contact Jobboom for more details.
Review:
Jobboom is a popular niche job board focused on connecting employers and employees in Quebec and surrounding areas. The company offers more than just job postings, targeted email campaigns, and access to a CV database, but it also offers more than 2,000 helpful articles for employers, dedicated HR assistants, and professional training.
The recruitment assistants are a particularly interesting feature for employers. They post offers, run email campaigns, analyze application data, and conduct initial phone interviews with candidates. However, Jobboom does not use social media to promote job postings at all.
Highlights:
Offers a wide range of helpful employer resources.
Employers can buy a number of job posting days to use in flexible ways.
All job postings on a company's careers page can be uploaded automatically to Jobboom.
Recruiting assistant can search for passive candidates, analyze applications daily, and conduct interviews.
Access to a CV database is available.
You can add a basic company profile for job-seekers to view.
Shortcomings:
Job postings are not shared on social media.
All job posts must be written in French.
No pricing information available on the website.
No applicant tracking.
Reputation:
There are no reviews of Jobboom online and the company does not have a Better Business Bureau rating.
How to Post a Job on Jobboom: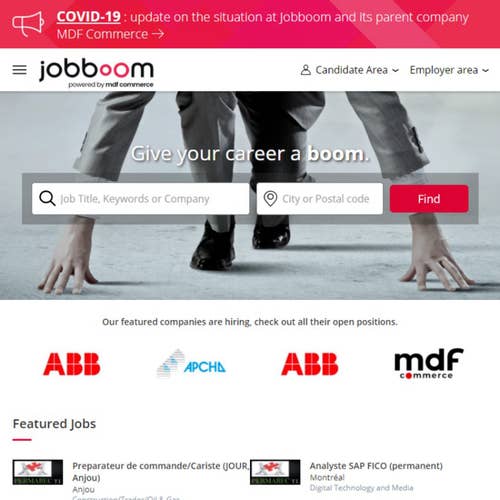 Four easy steps for posting a job on Jobboom.
1.
Posting a job on Jobboom.
1.1
Log in or register for an account.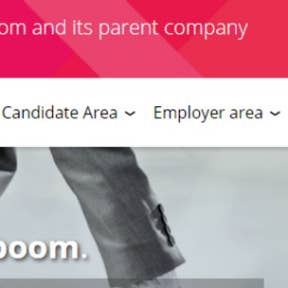 In the top right-hand corner of the home page, hover over "Employer area" and click "Register" in the drop-down menu. If you already have an account, click "Log in."
You will need to verify your email address. Be sure to make note of your file number, which you will need to log in.
You will also need to contact a Jobboom representative, or wait for one to contact you, so that you can activate a job posting package.
1.2
Click "Post a job offer."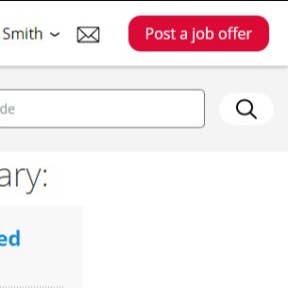 Once you have registered your account or logged in, you will find the job posting button in the top right-hand corner of your dashboard.
1.3
Complete the online form.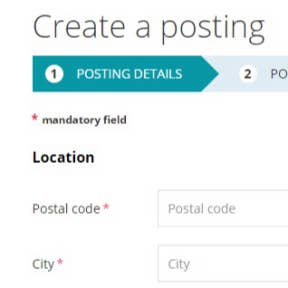 Fill in the job details including location, job title, type of position, company information, job description, etc. Once you have completed the form, you can save a draft or simply click "Next step."
1.4
Choose your posting option.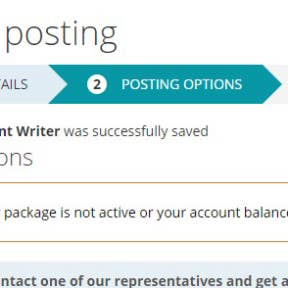 Select the posting option that you activated with the Jobboom consultant and complete your posting.
Jobboom vs. Jobillico:
Jobillico and Jobboom are very similar, but Jobillico has 3 million users and uses social media activities to promote job postings. Jobboom doesn't use social media and only has 2 million users, but it offers more services such as application analysis, phone interviews, and professional advice.
Jobboom vs. Job Bank:
Job Bank is the official job posting site of the Canadian government and has 200,000 daily views and 5 million monthly users. Jobboom is focused mainly on Quebec and has 2 million users. Both platforms offer employer resources, but Job Bank offers up-to-date labor force statistics and regulatory information.
Jobboom vs. Eluta.ca:
Eluta.ca is not focused on one particular region in Canada, as Jobboom is, but caters to job seekers across the country. Compared to Eluta.ca, Jobboom offers a better and wider range of hiring tools, including a resume database. While Eluta.ca offers free job posting, it is not available in French, making it less ideal for recruiting in Quebec.
Key Information
| | |
| --- | --- |
| Legal Name | Jobboom Inc. |
| Founder | |
| Founding Date | Jan. 01, 1996 |
| Address | 1111 St-Charles Street West, East Tower Suite 255, Longueuil, Quebec, J4K 5G4 |
| Number of Customers | 2000000 |
| Email | |
| Telephone | |
| Website | |
FAQs:
How much does it cost to post a job on Jobboom?
Pricing on Jobboom is determined by your individual needs. You can contact Jobboom at 1 (888) 864-3333 for a tailored quote.
How do I create a Jobboom account?
To create an account where you can manage Jobboom job postings, go to jobboom.com, and hover over "Employer Area" on the upper right side of the screen. Click "Register" in the drop-down menu. Fill out the mandatory fields to create your account.
Does Jobboom help employers with candidate interviews?
Yes, Jobboom offers access to recruitment assistants who do initial phone interviews with candidates.
How can I edit a Jobboom job posting?
At any point, you can edit your Jobboom job postings by logging into your account. Just locate the posting you would like to change and click "Edit." Once you are done editing, click "Save" to update the posting.
How can I delete a Jobboom job posting?
If you want to remove a posting, you can log into your account and click the "delete" button next to the ad in your list.
Does Jobboom promote my job posts on social media?
No. Although Jobboom has active social media profiles, your job posts are advertised only on their website and across its network of partners.