Teachers form a vital part of our society, taking on the responsibility to guide and educate the next generation. However, there is a growing shortage of qualified teachers in the United States due to subject area vacancies, poor compensation, and the slow decline of enrollment in teacher development programs. This has ultimately impacted the candidate pool, making it more important than ever to invest in proactive and modern hiring processes.
Special Offer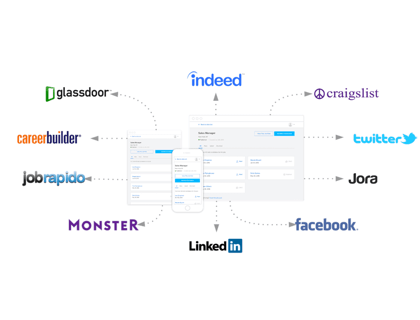 Post Jobs for FREE
Completely free trial, no card required.
Reach over 250 million candidates.
How to Find Teachers:
1. Identify your ideal candidate persona.
Your candidate persona is a fictional representation of your ideal candidate. To create a proper candidate persona, you'll need to determine the demographics, characteristics, expertise, experience, and qualifications you're looking for. This is a great tool to help you recruit a teacher, acting as an informative guide when sourcing talent and calculating recruitment metrics like turnover rates and time to hire.
Make sure that you document your candidate persona and share it with your recruitment team. This will help your team remain cohesive throughout the hiring process.
2. Research the teaching requirements in your area.
Your chances of finding teachers improve once you offer a competitive salary and benefits package. But, before you start calculating your benefits, you'll need to conduct proper research on your area's benchmark data. This will include checking the legal requirements of teachers in your area, the type of benefits that competitor's offer, and sought-after characteristics. Most states require all teachers to have a bachelor's degree, complete a state certification program, and pass a required assessment.
3. Create a compelling job description.
Your job description is the first introduction to new candidates. Therefore, you'll want to ensure that you create a detailed and well-informed job description that clearly highlights the function, responsibilities, and skills requirements of the teaching position. In addition, if you offer competitive benefits like healthcare, insurance, and/or maternity leave, make sure that you add it to your job description.
Popular Teacher Job Descriptions:
4. Post your job ad on niche job sites.
Post your job description on a niche job posting site that solely caters to those in the education industry. This will put you in direct contact with qualified candidates who are currently searching for a job in the teaching field. For the best results, consider posting on regular job recruitment sites that do well in this profession, such as Indeed, Google for Jobs, and Glassdoor.
5. Ask your current teachers for referrals.
Employee referral programs are a great source for recruiting new candidates. Your current teachers are well-versed in your school's processes and culture, and know exactly what type of skills and knowledge is needed to excel in the role. Start by sending a referral email to notify your teachers that you're actively looking to hire teachers. In addition, communicate with your human resources (HR) and recruitment departments to ensure they're prepared for the large intake of referrals.
6. Approach graduates.
A great way to attract top-candidates is by approaching local universities and colleges that offer a teaching program. Here, you'll be able introduce your teaching philosophy to potential candidates. Some institutions may require students to complete an internship before obtaining their qualification. By partnering with the institution, your school may be able to attract and foster the next generation of teachers.
7. Establish proactive hiring strategies.
Simply posting your job ad on a job site may not be enough, especially during high-demand seasons. Instead of sitting back and waiting on candidates to contact you, take the proactive approach and introduce hiring strategies that will get candidates faster. These may include shifting hiring timelines to meet demand, partnering with local training schools, attending job fairs, and introducing in-house internship and/or training programs.
8. Use your school's website.
Create a careers page on your school's official website and include vacancy notifications, job descriptions, and application deadlines. Candidates who are aware of your school and are interested in working for your institution will find this route more personal and effective. Make sure that you systematically update your careers page to include recent positions.
9. Host in-person interviews.
Interviews form a crucial part of the hiring process as it provides the employer with a golden opportunity to showcase their brand, introduce their work culture, and learn more about their candidate pool. Your interview panel should be well-prepared for the interview to ensure that all candidates walk away with a positive experience. Ultimately, you want all candidates to have a good employer brand perception. This will help sell your employer brand and attract more applicants in the future.
Ask niche questions that are geared towards qualified educators. To help measure the extent of each candidates teaching knowledge and skills, ask questions that relate to every day tasks, teaching techniques, and lesson plan preparation. For inspiration, read through our list of compelling teacher interview questions.
Qualities to Look For in a Teacher:
A Bachelor's degree in education or a relevant field.
A minimum of two years' of work experience.
Solid understanding of teaching best practices.
Excellent written and verbal communication skills.
A creative mindset and a friendly demeanor.
Great organization skills.
FAQs:
Where do teachers look for jobs?
What should I look for when hiring a teacher?
Strong knowledge of teaching methods and legal educational procedures.
Good written and verbal communication skills.
Well-organized with excellent leadership abilities.
Excellent interpersonal and presentation skills.