Pricing for Teaching and Support Jobs:
| Plan | Price |
| --- | --- |
| Standard Listing | $395.00 |
| Standard Listing Plus Showcase | $590.00 |
| Standard Listing Plus Expo Booth | $1,945.00 |
| Unlimited Contract | |
Pricing for Administration Jobs:
| Plan | Pricing |
| --- | --- |
| Standard Listing | $495.00 |
| Standard Listing Plus eNewsletter Banner | $1,295.00 |
| Standard Listing Plus Showcase and Print | $1,395.00 |
| Maximum Exposure | $1,995.00 |
| Unlimited Contract | |
Pricing for Education Organizations:
| Plan | Pricing |
| --- | --- |
| Standard Listing | $495.00 |
| Standard Listing Plus Showcase | $795.00 |
| Unlimited Contract | |
Bulk Job Packs:
| Job Pack* | Savings | Pricing |
| --- | --- | --- |
| 3-Job Pack | 8% | $1,100.00 |
| 6-Job Pack | 16% | $2,000.00 |
| 10-Job Pack | 24% | $3000.00 |
*Bulk job pack pricing is the same across all categories.
Review:
TopSchoolJobs is a popular job board for teachers and other educational staff across the U.S. The site boasts a large pool of qualified job seekers, more than half of whom have Master's degrees or higher. Features include applicant tracking, listings on Education Week's website, online job fairs, and more.
Highlights:
Dedicated job board for educators and other educational staff.
Job posts go live in minutes.
The site has 3 million monthly page views.
Users can search for qualified candidates from a large national database.
More than 50% of registered job seekers hold a Master's degree.
Applications are automatically sent to your inbox.
Save up to 24% with bulk job packs that are valid for a year.
The Unlimited contract offers a showcased listing on Education Week's website and in its e-newsletters.
Regular virtual career fairs.
Shortcomings:
No candidate matching.
Very basic employer profile.
No multilingual options.
Reputation:
We could not find any customer reviews for TopSchoolJobs at this time.
How to Post a Job on TopSchoolJobs: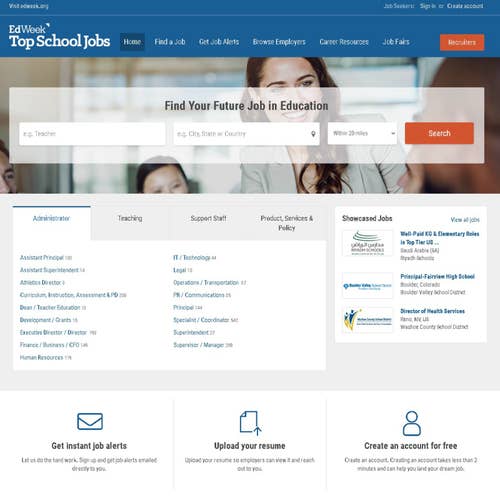 Nine steps for posting a job on TopSchoolJobs.
1.
Posting a job on TopSchoolJobs.
1.1
Click on "Recruiters."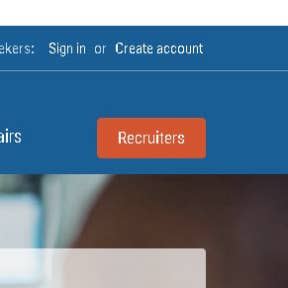 Select the "Recruiters" button in the top right corner of the home page.
1.2
Choose a job posting section.
Choose the appropriate job category for the type of job you are posting.
Under "Which jobs are you looking to fill?" choose from the "Administration," "Teaching & Support," or "Education Organization" categories, and click on it.
1.3
Choose the posting package.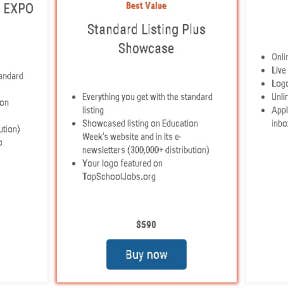 Select from the pricing options available. Click "Buy Now" to be redirected to the next part of the process.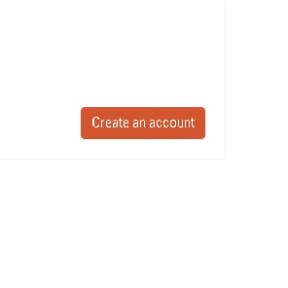 On the left side of the screen, select "Create an account" to register your business on TopSchoolJobs.
1.5
Fill in your details.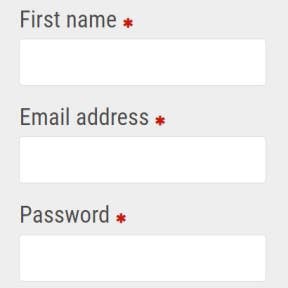 Enter your details into the relevant fields and check the box to accept the privacy policy and the terms and conditions. Click "Create an account" when you are done.
You'll be redirected to the "job posting section" in step 2. Choose the section and package you would like and click "Buy now" when you are ready to create your job ad.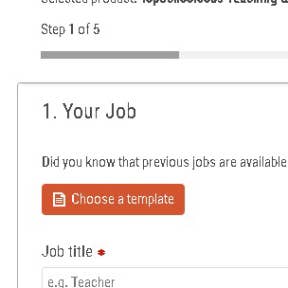 Fill in the details about the job you are posting, then select "Next." The site will ask you to fill in "Your Job," "Description," "Job Details," "Categories," and "Settings" for your new job posting.
1.7
Select "Save and Continue."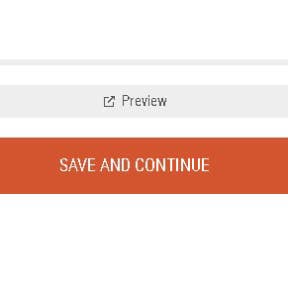 Once you've completed all of the sections mentioned in the previous step and are satisfied with your job ad content, select "Save and continue."
1.8
Pay for your job posting.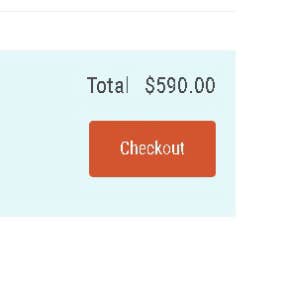 You will then be directed to "Your Cart." Verify your order details and if you are happy with everything select "Checkout."
1.9
Select your method of payment.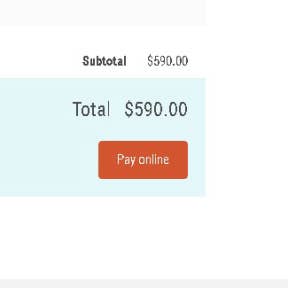 Click on "Pay online" to be directed to the "Payment Details" page. Then select "Continue to payment" and you will be directed to a secure payment portal.
1.10
Add payment details for your purchase.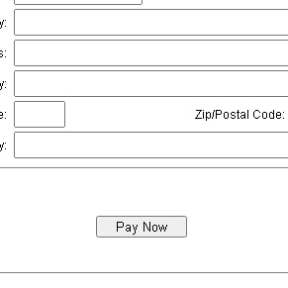 Fill in the payment form with your banking information and select "Pay Now" when you have completed your details. Your job post will be reviewed and posted once payment has been received by TopSchoolJobs.
TopSchoolJobs vs. SchoolSpring:
SchoolSpring and TopSchoolJobs are both job boards for recruiting educational staff across the U.S. SchoolSpring offers more affordable postings: a single job post is $250.00, whereas TopSchoolJobs' standard listings start at $395.00. Furthermore, SchoolSpring's postings remain online for 60 days, whereas TopSchoolJob's postings are only live for 30 days.
TopSchoolJobs vs. TeachingJobs.com:
TeachingJobs.com is a similar educational job board to TopSchoolJobs, however it has a section dedicated to science, technology, engineering, and math jobs. TeachingJobs.com has a more affordable pricing structure: a single job posting costs $100.00, while an unlimited package will set you back $500.00.
TopSchoolJobs vs. Teachaway:
Teachaway differs from TopSchoolJobs in that it allows candidates to search and apply for teaching jobs in the U.S. and abroad. With Teachaway, packages start at $350.00, which is slighter lower than TopSchoolJobs' price for a standard listing. If your aim is to attract talented candidates in the U.S. only, TopSchoolJobs' virtual career fairs might create more exposure for your institution.
Key Information
| | |
| --- | --- |
| Legal Name | Editorial Projects in Education, Inc. |
| Founder | Ronald A. Wolk |
| Founding Date | Jan 01, 1998 |
| Address | 6935 Arlington Rd # 100, Bethesda, MD 20814, |
| Number of Customers | 70000 |
| Email | |
| Telephone | |
| Website | |
FAQs:
What is TopSchoolJobs?
TopSchoolJobs is a job posting site for schools and educational institutions looking to hire teaching staff, principals, administrators, and more. Candidates are able to search and apply for jobs across the country.
What does it cost to post a job on TopSchoolJobs?
The cost depends on the section in which you want to advertise your job (teaching and support, administration, or education institutions). Pricing ranges from $395.00 to $3,000.00, depending on the package you choose.
How do I create an account on TopSchoolJobs?
How do I delete a job post on TopSchoolJobs?
On your dashboard, select the job you would like to delete and click "delete" next to the listing.
What are some alternatives to TopSchoolJobs?