Finding CDL drivers continues to be difficult. The job is in very high demand, so there's a lot of competition for finding qualified CDL drivers with a clean MVR.
Special Offer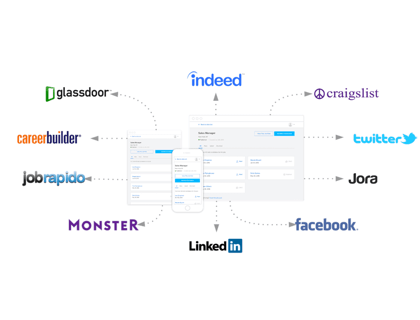 Post Jobs for FREE
Completely free trial, no card required.
Reach over 150 million candidates.
How to Find a CDL Driver:
1. Create an excellent CDL Driver job post.
Most of the time businesses post a CDL Driver job description to job sites and add a few benefits of the job at the bottom. This won't work with jobs that are highly competitive. Instead, try to sell the job to them, focusing on what benefits are for CDL drivers that work for you. Can you offer guaranteed weekends off? No forced dispatches? A fun and close-knit work environment? Great health benefits?
Find out what drivers in your region would really love about the job, and make your job posting stand out.
2. Post your job to multiple sites.
You'll want to start by posting to general sites, like Indeed. This is a great place to start, because it gets large amounts of general traffic, and it's free. From there, branch out to other big sites like Glassdoor, and make sure your site is picked up by Google for Jobs.
Google for Jobs allows your posting to be seen in search results. This can greatly increase the number of people who see your job. You can get it picked up by Google by having someone properly format it on your website, or by using a service that creates a properly formatted jobs page for you automatically.
If you've tried these, and still aren't having any luck, you'll want to consider job posting sites specific to truck drivers, such as Truck Driving Jobs 411. This will help you get in front of people that are more likely to be qualified.
3. Screen your CDL driver applicants.
Even if you bold the requirements for the job in your posting, people often overlook those and apply anyway. Find the qualified ones by sending out a short email that asks a few basic questions, such as:
How long have you worked as a CDL driver?
Do you have any infractions on your MVR?
Do you have experience driving flatbed trucks?
Are you available to work evenings?
This way, they cannot ignore your questions. If you're worried that your applicants may not be responsive to an email, you may want to try delegating someone to make short phone calls to ask these questions.
4. Conduct a phone interview.
In-person interviews take up a lot of time for everyone involved. You can schedule short phone interviews and quickly learn which candidates are the best to continue learning about.
During these interviews, review the screening questions to see if their answers are consistent, check that their expectations for salary and benefits line up with yours, and find out why they no longer are at their previous job.
Example questions:
Why did you leave your last CDL driver job?
What do you expect for salary and benefits?
What days are you available to work?
When would you be able to start?
Have you ever had a DUI?
Can you pass a drug test?
What made you interested in this job?
What you're looking for, mainly, are things that would disqualify the candidate. If they left their previous job because of issues that you know will be present at the position you're offering, for example, having to work weekends, the candidate won't be a good fit. The same if they want a salary that's outside your range, or they cannot work during your business hours.
For candidates that meet your standards at this point, be sure to review the highlights of taking the job, and see if there are any other questions they have. Remember to keep selling the job, as they may be entertaining other offers.
Pay attention to why they're interested in the job, and reiterate particulars of it they're most attracted to.
5. Do a drug test and MVR report.
You don't want to go through the whole hiring process only to find out the driver has a violation or drug test result that prohibits you from hiring them.
In some states, you may need to extend a job offer before requiring a drug test. Check your local laws.
You'll also want to do an MVR report now, even if the driver says they have a clean record. While you can ask the driver to provide a report, you may risk turning them off by asking them to spend the money and time getting it. It's usually better to pay for one yourself.
6. Schedule a road test.
Verifying that a driver has a CDL may not tell you the full story about their qualifications. You'll want to give them a road test that covers the basic skills they'll need for a day on the job, and in some cases, you'll be required to do this.
Check your local laws to be sure that your road test covers what it needs to, and make sure the test puts them through the real challenges a workday represents.
7. Conduct an in-person interview.
At this point, you've got most of what you need to know if a candidate will make a good CDL driver, but an in-person interview will give you insight as to how you'd work with the candidate, if they are punctual, and how they present themselves.
More importantly, it's a chance to continue selling them the job. Introduce them to co-workers, show them around, review the reasons they want to take the job, and the benefits you offer. Have a look at our CDL driver interview questions if you need inspiration.
You may want to do this interview immediately after the road test.
8. Make an offer.
Once you've found a CDL driver who meets your qualifications, you'll want to make them an offer fairly quickly, to take them off the job market before another company finds them. This is often best done in an informal call first, followed by a letter or email that provides the job description, salary, and benefit information.
FAQs:
Where do CDL drivers look for jobs?
Is it difficult to hire CDL drivers?
Yes, qualified CDL drivers with clean driving records who can pass drug tests are difficult to find now.
How can I find a good CDL driver?
Post your job where it will be seen by many applicants.
Screen your applicants to find qualified hires.
Check their MVR and do a drug test.
Road test applicants on most common tasks.
Get to know them in an interview.
Make a good offer.
How do you successfully recruit a truck driver?
Get the word out via trucking job posting sites and word of mouth.
Be clear about what the benefits of the job are.
Look for opportunities to offer things your competitors can't or won't.
Have a solid hiring process in place.
Get in touch with top candidates fast with a phone interview.
Learn what motivates your top candidates, and make a solid job offer.