Fill your vacant truck driver positions by using one of the websites in our list to hire truck drivers. Our list has several renowned national sites, as well as industry-specific sites for trucking and transportation.
Special Offer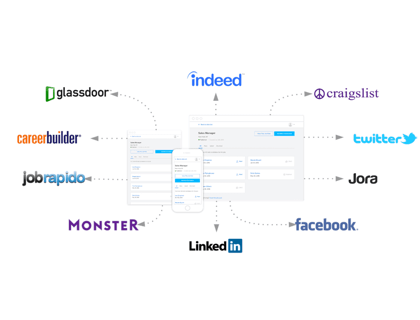 Post Jobs for FREE
Completely free trial, no card required.
Reach over 150 million candidates.
Best Sites for Hiring Truck Drivers:
| Our Rank | Site Name | Pricing Option |
| --- | --- | --- |
| 1. | | Free and paid options. |
| 2. | | Free |
| 3. | | Free. |
| 4. | | Free. |
| 5. | | Free. |
| 6. | | From $279.00 /post. |
| 7. | | Free. |
| 8. | | Free and paid options. |
FAQs:
How much does it cost to hire a truck driver?
It cost between $2,000.00 and $10,000.00 to hire a truck driver, according to our research. However, this depends on the distance, the load, and the special requirements of the job listed.
Can I hire a truck driver for a single trip?
With sites like Meet a Truck Driver, you can hire truck drivers who work independently. You can use the site to hire drivers for a single trip, a series of trips, or a specified length of time.
Do I need to pay for a driver's fuel costs if I hire them?
It depends on the arrangement that you have with the driver. In some cases, the driver will pass all of their expenses along to you. In other cases, the driver will be paid a lump sum and is expected to handle the travel expenses on their own.
My business needs to hire a truck driver. Is there anything I should know?
When you are hiring a truck driver, safety should be your primary concern. You should ask candidates basic questions like:
Have you been in any accidents on the job?
Do you have a valid trucking license?
How many years of experience do you have?
Do you own your own truck?
Do you usually drive on long or short haul trips?
How much do truckers make per load?
While the per-load figure is uncertain, the Bureau of Labor Statistics cites the hourly average for truck drivers at $19.87, and median pay of $41,340.
How much do Walmart truckers get paid?
Walmart truckers have one of the highest salaries in the trucking business, with a pre-bonus average yearly salary of $71,500.
How much does an owner-operator truck driver make?
Owner-operators earn a much higher gross salary than truckers, sometimes even double. The average yearly salary for owner-operators is $184,803.