Pricing:
No pricing information is available on the website. You can contact TruckDrivingJobs.com directly to request a quote.
Review:
TruckDrivingJobs.com provides basic features one typically expects from a job board. They offer free posting that simply includes your job post, company logo, contact details, and the ability to share your post on Craigslist.
There are a few more 'advanced' features such as social media sharing, creating email alerts, and displaying a company profile. Unfortunately, pricing for these features is not available online.
Highlights:
Employers can create a company profile on the site.
Posts are shared to major search aggregators.
Job posts are shared to the site's social media accounts.
Email alerts are sent to the site's database of over 530,000 drivers.
Job post templates are provided to make writing one easier.
Shortcomings:
No candidate matching.
No applicant tracking.
Pricing for advanced features is not made available online.
Reputation:
No reviews were found online.
How to Post a Job on TruckDrivingJobs.com: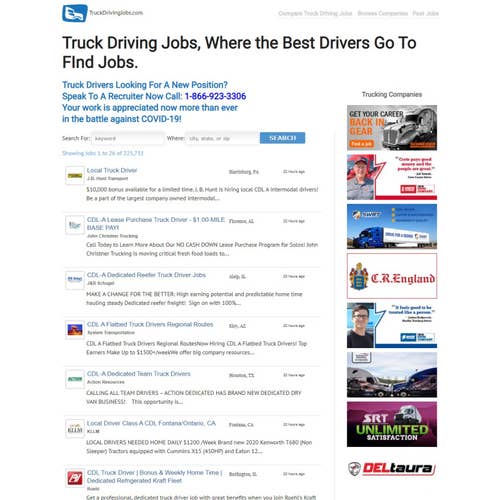 Four easy steps to post a job on TruckDrivingJobs.com.
1.
Post a Job on TruckDrivingJobs.com.
1.1
Click "Post Jobs" on the home page.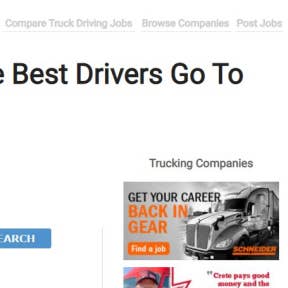 Navigate to the home page and click "Post Jobs" in the top right-hand corner.
1.2
Fill in your job posting information.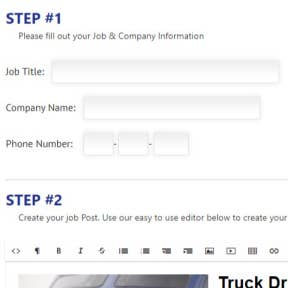 Add your job posting details, such as job title, company name, and website.
1.3
Add a job description and company logo to your post.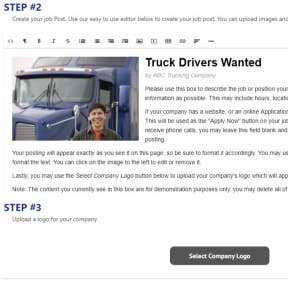 You can use the website's template as a guide.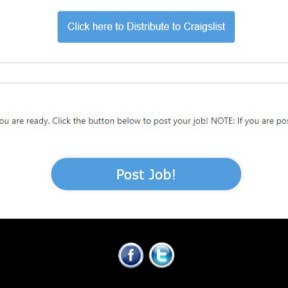 When you are satisfied with your job posting, click "Post Job!" You also have the option to post your job on Craigslist.
TruckDrivingJobs.com vs. MeetATruckDriver.com:
MeetATruckDriver.com allows employers to search through candidate profiles, which TruckDrivingJobs.com does not. MeetATruckDriver.com also has featured drivers on their home page and advanced search filters to make it easier for employers to find the right candidates.
TruckDrivingJobs.com vs. EveryTruckJob.com:
EveryTruckJob.com has a more comprehensive job post creation system than TruckDrivingJobs.com. It allows employers to create a full company profile including detailed information about the company's size. There are also advanced search options to make it easier for job seekers to find posts.
TruckDrivingJobs.com vs. Truck Driver Jobs 411:
Truck Driver Jobs 411 allows employers to search through a candidate database, unlike TruckDrivingJobs.com. Truck Driver Jobs 411 lacks the option for job posts to be shared on social media and posts are not shared on other platforms.
Key Information
| | |
| --- | --- |
| Legal Name | TruckDrivingJobs.com |
| Founding Date | Jan 01, 2012 |
| Address | 6700 Fallbrook Ave., Suite #290, West Hills, CA |
| Email | |
| Telephone | |
| Website | |
FAQs:
What is TruckDrivingJobs.com?
What does it cost to post a job on TruckDrivingJobs.com?
TruckDrivingJobs.com does list pricing on their website. You can create a one-time posting that is completely free. If you want pricing on their job distribution packages, you can contact TruckDrivingJobs.com at 866-878-2508.
How do I create a TruckDrivingJobs.com account?
TruckDrivingJobs.com does not have user accounts like some sites.
How do I edit a TruckDrivingJobs.com job posting?
Your job postings can only be edited by contacting the site administrator after they are posted to the site.
How do I delete a job post on TruckDrivingJobs.com?
You can remove a posting from TruckDrivingJobs.com by contacting the company directly and requesting to have your ad taken down.
How do I find the best drivers on TruckDrivingJobs.com?
Finding the best drivers really depends on the strength of your job posting. Adding a full job description and contact information will help job applicants to learn more about the opportunity and to know what they need to bring to the table.
What are some alternatives to TruckDrivingJobs.com?