A temporary worker is hired when a business requires a seasonal or part-time employee to keep up with business demands. Generally, temporary employees are only necessary if the business is growing quickly, under-resourced, or has an urgent vacancy that needs to be filled.
In our guide, we'll discuss the steps employers and recruiters need to follow in order to hire the right temporary workers for the job.
Special Offer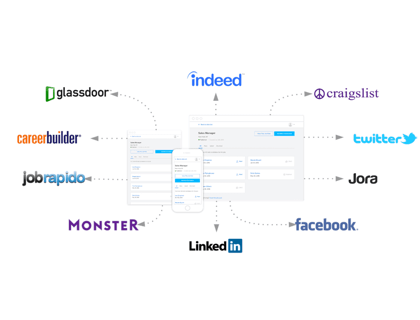 Post Jobs for FREE
Completely free trial, no card required.
Reach over 150 million candidates.
Hiring Temporary Workers During the COVID-19 Pandemic:
Due to the COVID-19 (Coronavirus) pandemic, businesses like banks, liquor, grocery, and hardware stores are experiencing a spike in customer demand. This increased demand was mostly found in grocery and hardware stores, with businesses seeing a 25% increase in foot traffic.
As a result, many grocery and hardware stores are under-resourced and are unable to keep up with the large influx of customers. In addition, the risk of current employees falling ill has increased, further affecting the quality of service provided. To help remedy the growing demand, more and more businesses are looking to hire temporary employees.
U.S. businesses currently hiring temporary employees include Walmart, Sprouts, Domino's Pizza, Amazon, UPS, 7-Eleven, Dollar General, and Lowe's hardware store.
How to Hire Temporary Workers:
1. Evaluate your business's needs.
What is the role of a temporary employee in your business? Will they be required to fill multiple job roles? Before starting your hiring process, make sure you're clear about the specific responsibilities you need a temporary employee to complete. Start by creating a detailed outline of the job requirements, how long their employment will last, and what training may be required.
Identify the skills a temporary employee would already need. Generally, temporary employees need to fill a position immediately, which means businesses won't have sufficient time to train potential candidates. Instead, look for candidates that already possess the appropriate soft skills and expertise, such as excellent communication and adaptability skills, and previous experience working with customers.
Determine the type of temporary employee your business needs. There are three categories of temporary employees: part-time, temporary, and seasonal workers.
A part-time employee is paid an hourly wage and is not entitled to regular employee benefits like healthcare. However, employers are still required to adhere to all business regulations.

A temporary employee is typically employed to fill a gap in employment needs at businesses that are either under-resourced or have a temporary vacancy available because of a worker on leave. Also referred to as temps, these employees can also cover a position until a full-time hire is made.

A seasonal employee is hired during peak traffic periods to help businesses cope with the higher demand. For instance, seasonal employees are generally hired during the holiday season, with most jobs stemming from retail stores or entertainment venues like theme parks, movie theatres, and restaurants.
Pros and Cons of Hiring Temporary Workers:
| Pros: | Cons: |
| --- | --- |
| Reduced benefit requirements. | Training time and costs. |
| Reduced short-term labor costs. | Potential contract buyout fees. |
| Ability to assess potential employees before permanently hiring them. | Possible lack of commitment from temporary employees. |
| Temporary workers help with business efficiently. | |
2. Create a well-written job description.
Now that you've established your business's needs and outlined the specifics of the job, you can start drafting a job description. Your job description should list all job requirements and responsibilities, including details about the skills, qualifications, and experience required, as well as any physical demands of the job and the timeline.
A job description typically has four sections:
Job title: Make use of a job title that everyone can understand, even if your business uses a different label for a position.

Business information: Include a brief summary of your business, including your history and business values.

Description of job responsibilities: List the daily job responsibilities expected as well as any other job functions they'd need to complete over the period of employment.

Explanation of job requirements: Carefully list all of the requirements you have for your candidates, including qualifications, timeline, skills, and characteristics.
Make use of our wide range of customizable job description templates, including grocery clerk, stock clerk, and retail sales consultant templates.
3. Start the hiring process.
A large part of the hiring process will be spent on advertising the job listing and recruiting potential candidates. Simply posting your job description on any job board may not bring in the results your business needs, especially in a time-consuming situation.
Start by asking current employees for recommendations. Your current employees are a great source for referrals. Employees may already have personal recommendations or be able to attract temporary workers faster using their connections and social media platforms. This option is great if you want to save money on recruiting firms or software.
Check local colleges and universities. If your business requires temporary or seasonal workers, career services departments at local colleges are a great source for recruiting candidates. Many colleges also have job boards available to help students find easy work.
Approach employees who have already worked for your business. If your business frequently hires seasonal or part-time workers, consider approaching these candidates with a job offer. This is a great way to shorten your recruitment process as candidates will already be familiar with the job requirements and responsibilities.
Make use of social media. If your business already has an active online presence, you may want to consider advertising your job description on them as most of your followers will be familiar with your brand and services.
Consider investing in a job posting software. This can help you get your temporary job out to many job boards really quickly, and track the applications coming in from them.
List your job description on job boards. If your business falls in a niche market, consider posting on niche job boards. This option helps narrow your search and attract candidates already searching for jobs in your field. Popular niche job boards include retail job boards and sales job boards.
Best Job Posting Sites for Temporary Employees:
| Job Posting Site | Pricing |
| --- | --- |
| | Free. |
| | Free. |
| | LinkedIn Recruiter ranges between $2,399.00 and $8,999.00 per year. |
| | Free. |
See our full list of the Best Job Posting Sites for Employers.
4. Screen potential job candidates.
Your recruitment process will likely bring in a reasonable amount of job applicants, especially in the current climate. Review all applications and shortlist between 10 and 20 candidates that meet most of your job requirements. Only send an official interview confirmation email to candidates that possess the appropriate skills needed to complete the job.
Start the interview process. Once you've chosen your top candidates, the interview process can officially start. Each interview should last at least 30 minutes and include questions that focus on the candidates' characteristics and skills. Also read our step-by-step guide on how to interview candidates.
Consider asking the following questions:
What are your strengths?
What are your weaknesses?
What interested you in this temporary position?
How many people were on your team at your last job?
What would you like to learn in this job?
Are you hoping to transition to a full-time position?
What is your ideal work environment?**
Perform a background check on potential employees. Even though temporary employees will only work at your business for a certain time period, it's vital that you conduct standard background checks like criminal records, social security validation, and address history. Check out our guide on how to do employee background checks for more detailed information.
5. Hire your ideal candidate.
Once you've completed your screening process, you will most likely have one or more candidates that suit all requirements. If you have multiple candidates shortlisted, consider conducting second interviews or asking candidates to complete assessments. This option will help highlight candidates that stand out and showcase their practical skills.
Make an official job offer. Consider making use of a job offer letter, which should include the start date, compensation, work hours, and job title. This process may be followed by a negotiation period. Once both employer and employee are satisfied, you can officially start legalizing the agreement.
For more information, follow our detailed guide on how to make a job offer.
What to Avoid When Hiring Temporary Employees:
Not thinking long-term. Work to build long-lasting relationships with temporary employees, as you never know when you may need to fill a full-time position.

Not vetting job candidates as if they will be there permanently. Conduct background checks, ask for two forms of identification, ensure all employees sign a contract, and keep copies of all important information.

Slow hiring process. Temporary workers are generally hired when businesses need to fill an urgent vacancy. Therefore, businesses should move quickly but ensure the candidate meets the immediate job requirements.

Not making job responsibilities clear. Inform temporary workers on what time they need to be at work, the duration of their lunch, whether mobile devices are allowed, and any other job expectations.
6. Comply with all legal requirements.
Each temporary employee type may have different legal requirements and business owners are expected to comply with all state and federal employment laws. Before choosing a temporary worker for your business, research the different legal requirements and employment and tax regulations.
Create a standard contractor agreement that can be customized for projects or short-term positions. This is great for businesses that frequently make use of temporary or season workers. To cover your basics, the legal contract should outline compensation, project scope, business policies, employee benefits, and job requirements.
Complete an employment eligibility verification form (I-9) no more than 3 days after an employee is hired. In the United States, all employers are required to verify their new employee's identity and eligibility to work in the country.
Determine if you are required to provide unemployment benefits. In each state, there are different laws that specify whether an employer is required to provide unemployment benefits for temporary workers. These benefits are generally not extended to seasonal workers. We recommend checking with your state's department of labor.
Have the temporary employee sign a non-disclosure agreement (NDA). While this may depend on the nature of your work and business, it's a wise choice if you need to protect your intellectual property.
See our full list of new hire forms to ensure your business complies with all legal requirements.
7. Start the onboarding process.
Even though temporary employees will only work at your business for a certain time period, new employees should still go through the official employee onboarding process. This allows the temporary employee time to integrate into the business and help them acquire the necessary knowledge and skills needed to successfully perform the job.
Provide training. It's important that you provide temporary employees with sufficient training. This part of the hiring process helps temporary employees deliver the level of work that the business expects from its full-time employees. Start by training all temporary employees on safety measures and workplace rules and regulations.
Bonus Step: Make use of a staffing or recruitment firm.
Many businesses opt to make use of a staffing agency when hiring temporary employees. While this option may cost your business more money, you will be able to streamline the entire hiring process as the staffing agency will complete it for you.
Benefits of a staffing agency:
Quick hiring process.
Applicants are pre-screened to ensure they meet job requirements.
Applicants undergo an assessment process.
Training is provided.
The staffing agency takes care of all payments and manages tax obligations.
FAQs:
How long can you employ a temporary worker?
You can employ a temporary employee up to one year, according to our research. However, this may depend on the nature of your business and the state requirements. Temporary workers are often employed for 3-6 month periods.
Why do companies hire temporary workers?
Typically, temporary workers are hired when a business is under-resourced, experiencing high customer demands, has a vacancy that needs to be filled, or is experiencing rapid growth.
What are your rights as a temporary employee?
Depending on your business and state requirements, temporary employees are granted the same rights as permanent employees. For instance, temporary employees have the right to report cases of discrimination and sexual harassment.
How do I onboard temporary employees?
Create a detailed training and onboarding plan.
Focus your training content on the specific jobs a temporary employee needs to complete.
Implement a bring your own device policy.
Schedule regular check-ins.
Introduce a buddy system.
What does temp-to-hire mean?
Also referred to as contract-to-hire, ​temp-to-hire means that a business is looking to hire an individual for a temporary period.
Do you have to offer a temporary employee benefits?
This depends on your state requirements. Each state is required to classify whether an employer must provide unemployment benefits for temporary workers.