Post your part-time jobs to job sites aimed at filling positions in this niche, along with highly-trafficked job boards, and you'll likely fill them faster with candidates that better meet your needs.
Special Offer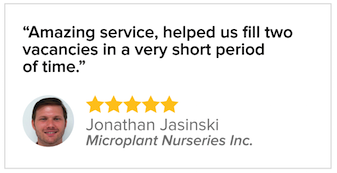 Post Jobs for FREE
Completely free trial, no card required.
Reach over 150 million candidates.
Top 10 Part-time Job Posting Sites:
| Our Rank | Site Name | Posting Options |
| --- | --- | --- |
| 1. | | Free and paid options. |
| 2. | | Free. |
| 3. | | Free and paid options. |
| 4. | | Paid, starting at $89.00. |
| 5. | | Free. |
| 6. | | Paid, starting at $129.00. |
| 7. | | Paid, starting at $7.00. |
| 8. | | Paid, starting at $199.00. |
| 9. | | Paid, starting at $375.00. |
| 10. | | Paid, starting at $99.00. |
FAQs:
What is the best website for part time jobs?
This ultimately depends on your hiring needs and your budget. Some top part-time job posting sites include Indeed, Monster, Dice, and CareerBuilder.
How do I find a good part time employee?
Read our complete guide to finding employees, with proven tips for finding the best people.
How do I fill my part-time job vacancy efficiently?
Are you posting your job to multiple sites and offering market pay and benefits? If you've got these covered, consider writing your part-time job posting so that it focuses on what will attract employees.
Show them why they should really want the job. Check here for more tips and details.
Where can I post part-time jobs for free?
Indeed, Google for Jobs, and Flexjobs are probably the best places to get started posting part-time jobs online for free. You might also try posting to social media, such as Twitter and Facebook.
How do I get qualified candidates to fill my part-time job vacancy?
We recommend starting with a high-quality job description that focuses on why the best candidates should want to work for you, then send an email to each applicant asking them 5 questions that force them to think and take about 20 minutes to answer.
The low-quality, unmotivated clients won't bother answering your email. You'll be able to easily compare the answers you get since they've all answered the same questions, and determine who really put some effort into answering the questions.
This will help you gauge motivation, and if you include questions that take the required job knowledge to answer, it will help you determine who most likely has the skills you're looking for.