Cashiers are typically employed in fast food and grocery stores, taking on the responsibility of scanning items, answering questions, and processing orders. Due to the rise of self-service checkout and online purchases, there is a steady decline in employment. This has widened the candidate pool, leading to a high influx of applications.
If businesses are not well-prepared, the growing candidate pool could negatively impact their time to hire metrics and screening processes, ultimately leaving too much room for talented candidates to slip through the cracks. To help source and retain a skilled workforce, you'll need to set clear job outlines and criteria, conduct trial runs, and develop a proactive screening process.
Special Offer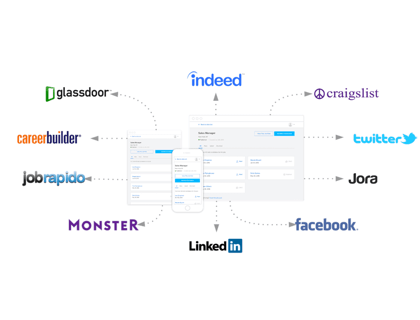 Post Jobs for FREE
Completely free trial, no card required.
Reach over 250 million candidates.
How to Hire Cashiers:
1. Prepare an interesting job posting.
Finding cashiers who meet all your requirements begins with a detailed and compelling job posting. For the best results, your job description should focus on what makes your business the ideal workplace, while also highlighting the key responsibilities and requirements of the job. Because cashiers tend to work long hours, include the general shift times and location of the store. This will help candidates determine if they're able to adjust their traveling routes and schedule.
Cashiers generally work by the hour, which means that most employers don't provide benefits like healthcare insurance or a retirement plan. However, candidates will cite the lack of a competitive wage, flexible hours, and other perks like shopper discounts and on the job training. Talking up the benefits that you do offer will motivate candidates to apply and help them compare your job posting to other competitors.
2. Post your job ad on multiple sites.
Start by adding your job posting to free, high-traffic job boards like Indeed and CareerBuilder. These are general sites that are popular in this profession. It's important to note that cashier positions are often seen as entry-level. Therefore, posting your job ad high-traffic sites may result in a strong influx of applications. Make sure that your screening team is prepared to manage a large workload.
Alternatively, to help filter your candidate pool and find a good cashier that already has previous customer service experience, you may want to consider posting on niche job boards that are dedicated to jobs in the retail sector.
3. Screen your applicants.
Screening applicants helps save time and costs by weeding out unqualified candidates, making it a crucial part of the hiring process. As mentioned above, this entry-level job may attract many applicants. To stay on task and organized, it's recommended that you establish a clear candidate persona and screening system before starting the process.
Create a checklist of the job's minimum requirements and share this document with your screening team. This should help them better identify candidates that are suited for the role.
Another great way to screen applicants is to send basic questions via email. These questions are only used to identify any red flags that may hinder the candidates' chances of excelling in this role. In addition, make a note of each response to measure the qualities of each candidate.
Possible screening email questions:
Do you have experience working in a customer service position?
What are your salary expectations?
Are you available to work weekends, public holidays, and night shifts?
How do you handle the stress of the job?
Are you able to work in a fast-paced environment?
4. Conduct phone interviews.
Now it's time to move onto phone interviews, a smart recruitment method used to thin applications and learn more about your candidate's personalities. This step is also cost-effective and less stressful, benefits any recruitment team will be happy to have. Keep your phone interviews short and professional as you'll need to make multiple phone calls and document each response.
Possible phone interview questions:
Why do you think you're the best candidate for this role?
Do you have experience working on POS systems?
Do you require additional training?
Why did you leave your last job?
5. Invite candidates for in-person interviews.
A formal interview is your chance to really get to know your candidates, introduce your employer brand, discuss job expectations, and show them around your store. s Example questions:
How would you handle a customer who is unsatisfied with the store's service?
You're short staffed and there is a long queue. How do you maintain your line?
How do cashiers enhance the customer service experience?
Are you able to work with money?
How would you ensure that your station remains organized and clean?
6. Do a trial run.
While cashiers are not always expected to enter this role with on the job experience, a practical test that places candidates in the actual workplace environment may give you a better idea of their ability to fit in. Are they able to complete work while also delivering excellent customer service? Do they have what it takes to remain focused when there are long queues?
Depending on demand and high-traffic seasons, cashiers may be expected to work in fast-paced and stressful environments. A trial run can be the difference you need to recruit a cashier that demonstrates the right personality traits needed to uphold your brand and quality of customer service. It best to only invite three top candidates who have already passed the screening and interview stage.
7. Make a job offer.
Make an official job offer once you've identified the ideal candidate for the role. You'll want to act fast to avoid losing your chosen candidate to a competitor. Call the candidate before emailing a job offer letter and share the wonderful news. Your formal job offer letter should have the basic details of the job, including the start date, work attire, and a brief overview of the onboarding process.
FAQs:
How do I get hired as a cashier?
Build your customer service experience.
Create a compelling resume.
Search niche job boards.
Apply to multiple job ads. Make sure that you meet all requirements.
Is a cashier job easy?
A cashier job can be both hard and easy, depending on your skills, personality, and the shopping season. During the holidays and at the end of the month, cashiers may be overloaded with customers and will be expected to remain on their feet for long hours. See our full job description for a more in-depth overview of this role.
What are the duties and responsibilities of cashier?
Scan items and process payments.
Answer customer questions.
Keep track of inventory and stock shelves.
Balance the cash register and generate reports.
Do cashiers have to be good math?
Yes. Cashiers should be able to do basic mathematics.