Qualified software engineers are in high demand and short supply today. Most companies find it difficult to recruit a software engineer with the right skills and experience to complement a great technical team. While your company might be a great place to work, you will need to adopt an aggressive recruitment strategy and offer competitive benefits if you want to attract top talent.
Special Offer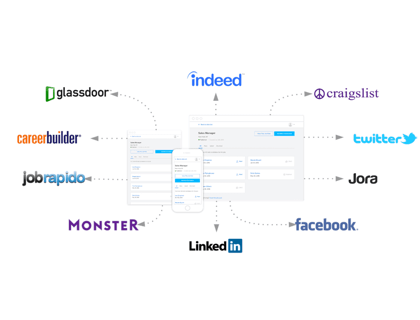 Post Jobs for FREE
Completely free trial, no card required.
Reach over 150 million candidates.
How to Find a Software Engineer:
1. Market your company as a technology workplace.
If you want to find a good software engineer, start by marketing your company as a technology workplace. Engineers want to know they will be working on current projects that will support the growth of their skills and career prospects. By establishing yourself as a technology brand, you are inherently implying that your tech stack is up to date and that you support a workspace where engineers can thrive.
What you pay your tech talent also forms part of your employer brand. Attracting top talent means paying competitive salaries that are in line with other major tech firms. If you can't compete on salary, look at offering enhanced benefits such as stock options or employee perks.
2. Create the perfect software engineer job post.
If you want to attract the best engineers, you will need to create a job post that promotes your company and speaks to your target audience. Start by including information about your company and the role you play in the tech industry. Provide a few details about the different types of projects your software engineering team is currently working on and your goals for the next few years. Use our software engineer job description as a guide.
Along with a description of the skills and experience needed for the role, your job post should highlight information that would attract top candidates. Research suggests that software engineers look for companies that offer flexible work hours, a relaxed dress code, a degree of creative freedom, competitive salaries, a comprehensive benefits package, and other workplace perks.
Don't be afraid to use your current employees as references on your job post. Many of the top tech companies include honest comments made by employees about the company. It may be worth checking out Glassdoor to see what your employees are saying about you.
3. Advertise your job.
If you are not sure how to source software engineers, start by posting your job on career sites and tech job boards. You may also want to expand your reach and post on general job boards such as Indeed.
If your company is active on social media you should also consider posting your job ad on social media sites like Facebook and LinkedIn. You may also want to advertise internally, and post your job ad on your company website. If you structure your data correctly, your ad can be indexed by Google for Jobs, expanding your search even further.
4. Source candidates through blogs and open-source projects.
Finding software engineers through developer blogs and technical posts is a great way to expand your candidate pool. By reviewing blogs and technical posts, you can gain valuable insight into a developer's coding skills and their approach to problem-solving.
Similarly, perusing open-source project sites like SourceForge and GitHub allows you to use and evaluate a candidate's coding samples before you reach out.
4. Start the screening process with a coding assessment.
Recruiting software engineers requires an aggressive approach with a focus on reducing the time to hire. Research suggests engineers spend little more than a few weeks on the job market before being recruited. Once applications start rolling in, the most efficient way to vet candidates is to do a coding assessment.
Experienced software engineers expect and anticipate such tests and will happily complete coding challenges as part of the interview process. You can either outsource your tests or design your own coding challenges on popular testing platforms including:
5. Conduct a brief phone interview.
Candidates that complete your coding challenges still need to be evaluated on other work-related skills. Conducting a brief phone or online interview gives you the chance to verify their education, skills, and industry experience. It also gives you the opportunity to find out what they expect from you. Examples of questions you can ask include:
Why did you leave your last coding job?
What type of software engineering projects have you worked on?
What coding languages are you most familiar with?
What type of salary and benefits are you looking for?
6. Conduct an in-person interview.
At this point, you may want to conduct a second round of tests or move straight on to the final interview stage. If you are satisfied with the technical capabilities of your candidates, a face-to-face interview is needed to solidify your decision and find out more about the candidate's personality. It also gives you the opportunity to sell your company and give candidates a tour of your workspace.
For software engineers, a face-to-face interview is a great way to understand their thought processes and problem-solving capabilities. Ask them some coding-related interview questions and get them to complete a written assignment so that you can see how they approach and solve each problem with written code. Examples of questions you can ask include:
Describe your process for finding and fixing bugs in an application?
What is the best way to organize CSS files? Why?
What is meant by black box testing?
Can you name a few ways to make a website faster?
What is the function of a sandbox? Are there any alternatives?
Use the interview process to get a feel for the candidate's personality and figure out if they will be a good fit with your software engineering team. Make sure you take them on a tour of your offices, introduce them to a few coworkers, and give them an idea of the types of projects you are currently working on. This is your opportunity to impress your candidates and entice them into accepting your offer.
7. Make an offer.
Once you have selected the perfect candidate for your position, make an offer as soon as possible. Top engineers will most likely be waiting on the right offer to come through, so act fast. Give them a call as soon as you have made your decision, and let them know you will be sending through the employment contract, job description, and salary/benefit details via email.
Don't be surprised if your chosen candidate comes back with a counteroffer requesting a higher salary, increased benefits, or flexible working hours. Be prepared to negotiate as finding software engineers with the right skills and experience is not easy.
FAQs:
Where do software engineers look for jobs?
What do software engineers look for in a job?
A competitive salary.
A great benefits package.
Flexible working hours.
Relaxed dress code.
Up to date tech stack.
The opportunity to work on current projects.
Creative freedom.
Is there a high demand for software engineers?
Yes, there has been a sharp rise in the number of people using digital platforms in the last 5 years. This has led to a greater demand for qualified coders and software engineers to build and maintain these platfroms.