Physical therapists are qualified professionals who use their knowledge of massage, exercise, and movement practice to help clients recover from injuries. Thanks to their specialized skills, finding physical therapists have become extremely challenging, with research showing that the employment of physical therapists will increase by 22% by 2028.
To help you hire a good physical therapist, employers will need to adopt automated and proactive hiring strategies.
Special Offer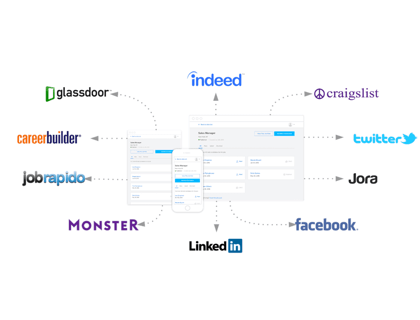 Post Jobs for FREE
Completely free trial, no card required.
Reach over 250 million candidates.
How to Hire Physical Therapists:
1. Write a compelling job posting.
A well-informed job description should introduce your business, describe the function of a physical therapist, and list the general responsibilities and requirements of the role. To help your job description stand out, ensure that your ad clearly states what you're looking for in terms of qualifications, skills, and job experience.
If you're offering additional benefits, add this detail to your job description as candidates will find this appealing. Typically, physical therapists will look for benefits like healthcare insurance, a retirement plan, and flexible work schedules to accommodate patients that are unable to visit a facility.
2. Post your job ad on niche sites.
For the best results, post your job description on various job posting sites that cater to the healthcare industry. This will help filter your candidate pool and place you in immediate contact with job seekers who are already looking for employment in this specialized field. Popular job posting sites to source physical therapists include PTWebucation, Academy of Pediatric Physical Therapy, and APTA.
3. Screen applicants.
Screening applicants is an important step in the hiring process, acting as your first introduction to the candidate pool. This process will introduce you to a variety of qualified and talented individuals, as well as those who lack certain requirements listed in your job description.
To help automate the screening process, create two piles; one for the "maybes" and the other for those who meet all your requirements. You can then start working your way down, starting with the candidates who met all requirements. Once you've compiled a list of candidates, conduct telephone interviews or send through a few screening email questions to measure their potential and knowledge of the position. This process should help you identify the best candidates.
Possible phone or email screening questions for physical therapists:
Do you have experience treating [specify] injuries?
How long have you worked as a physical therapist?
What qualification do you have?
Are you able to travel to patients?
What are your salary expectations?
Make sure that you keep your ideal candidate persona in mind when you start to recruit a physical therapist. Pay special attention to candidates' qualifications, years of experience, and list of skills. Ideally, you'll want to have at least ten applicants that meet your candidate persona.
4. Conduct in-person interviews.
Now that you've shortlisted applicants that meet your job descriptions' criteria, invite candidates for a formal interview. Interviews are a great way to assess a candidates' work ethic, reliability, personal characteristics, and job expectations.
Example interview questions:
How do assess a patient's condition? How do you track progress?
What programs do you plan to use to create an exciting environment?
What is your strategy for working with shy clients?
Can you describe a time when you collaborated with a colleague on a physical therapy plan?
Describe some of your most challenging cases. What therapies did you use?
Check out our complete guide on how to create an interview process.
5. Assess the candidates' practical skills.
Physical therapists are highly-trained individuals who should be well-versed in the human body and treatment plans. Therefore, to ensure that your ideal candidate is able to perform his/her tasks to the best of their ability, conduct a practical and/or comprehensive assessment to help measure the extent of their expertise and work experience. Look for candidates that demonstrate excellent knowledge of treatment plans for various injuries and age groups.
6. Make a formal job offer.
Once you've conducted interviews and assessments, and performed the relevant background checks, all that's left is making a formal offer to the successful candidate. It's important to note that candidates are not required to accept an offer immediately. This process may include a negotiation period where both sides have the opportunity to introduce certain employment requirements.
Start by contacting the candidate via telephone and stating that you would like to make a formal offer. Follow this up with a formal job offer letter. Your job offer letter should provide important information about the job, including work hours, benefits, start date, and compensation.
FAQs:
Where do physical therapists look for jobs?
What should I look for when hiring a physical therapist?
Good analytical and logical thinking.
A valid license to practice physical therapy.
Outstanding interpersonal communication skills.
Compassionate and attentive to detail.
How do I hire physical therapists?