Skilled welders have been in steady demand in the manufacturing and construction industry and will continue to be in demand, according to the U.S. Bureau of Labor Statistics. However, a notable shortage of skilled labor that has persisted for some time has left many companies finding it difficult to recruit qualified welders.
With a specialized skill pool that is rather small, it becomes increasingly important to make an attractive and highly competitive offer to attract and hire welders.
It is also crucial to the recruitment process that the hiring manager or recruiter has in-depth knowledge of welding and the daily processes the job involves in order to effectively attract, screen, and assess applicants.
Special Offer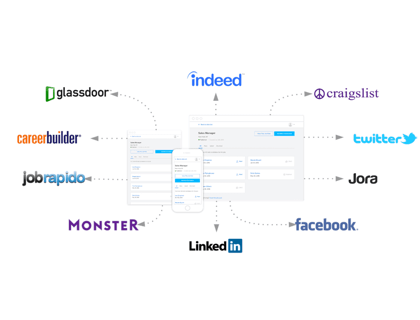 Post Jobs for FREE
Completely free trial, no card required.
Reach over 150 million candidates.
How to Find a Welder:
1. Create a compelling job post.
Most welder job descriptions briefly introduce the company and the role before listing general job duties and the required skills, qualifications, and years of experience. A great job description should be very clear and truthful about what you are looking for in a welder and what you are offering. Provide a detailed list of the responsibilities and duties the role entails, the physical demands of the job, and the required skills and certifications.
To help you attract great candidates, the job post should include details regarding the benefits you offer and any other conditions candidates should be aware of, such as weekend work. While you will want to highlight the benefits of the job, which may include a comprehensive benefits package and financial assistance for continuing education/professional certifications, do not feel tempted to omit any negative aspects, such as weekend work.
Use our welder job description templates to write a great job post:
2. Post your job on several platforms.
Start off by posting on a general job board, like Indeed, which receives great traffic and allows for free job postings. Also have a look at other sites, such as Google for Jobs and CareerBuilder, to expand your reach.
If you are getting only a few responses from the general sites, you may have more success on industry-specific positing sites, such as Welders Universe or the American Welding Society's job board.
3. Screen your applicants.
Despite clearly listing the specific skills and certification requirements in your job posting, you will likely receive many applications that do not meet the exact criteria. To ensure that you only consider applicants that meet your basic requirements, send an email with a few questions, such as:
How long have you worked as a professional welder?
Can you provide a summary of the welding projects you have worked on?
Are you willing to travel and/or relocate?
What certification do you have?
Include questions regarding the specific welding tasks, techniques, and processes you expect candidates to have experience with, as well as the type of materials they should have extensive experience working with. These details will help you filter the applications you receive before beginning the interview process.
4. Conduct a phone interview.
Phone interviews are a great way to learn more about the candidates you have under consideration before setting aside more time for a weld test and an in-person interview. This first round of interviews serves to get to know the candidates a little better and find out more about their work history and motivation.
During the phone interview, have them give you a brief overview of their training and experience and check whether their answers match their resume and the answers they gave to your screening questions. Ask about their expectations, the relevant experience they bring to the table, and why they left their previous position. You will quickly learn which candidates you want to know more about and which seem less suitable.
Example questions:
Why did you leave your last welder job?
What are your salary expectations?
What do you expect for benefits?
Are you willing to travel or relocate for work?
What type of training and certifications do you have?
What did your previous job entail?
Why are you no longer at your last job?
At this point, you want to find out if there is anything that disqualifies candidates, either in terms of their skills or their expectations. For example, if their benefits or salary expectations do not match what you are willing to offer or the candidate reveals they are reluctant to work weekends or over-time, they may not be a good fit.
What you are looking for are candidates whose expectations match what you have to offer and who have the skills and abilities the position requires, along with a strong work ethic. When you feel that a candidate would be a great match, be sure to emphasize the perks and benefits you offer to keep them interested.
5. Schedule a weld test.
To properly assess whether a candidate has the skills and abilities their certifications and resumes claim they have, you'll want to set up a weld test to verify that they have the skills to perform work that is up to the code or welding procedure needed by your company.
Candidates should show up equipped to weld, meaning that they should be wearing protective clothing and work boots, and bring along their welding jacket, helmet, and work gloves.
6. Conduct an in-person interview.
Once you have established that a candidate has the necessary skills and otherwise meets the criteria outlined in the job description, you'll want to set up an in-person interview to get to know them better and find out more about their work ethic, whether they seem reliable, and how they would get along with your team.
This is also an opportunity to show them around the work floor and introduce them to some of the team. Pay attention to their reactions and how they conduct themselves, this will give you an idea of how well they might fit in. Following this, ask them about their impression and whether they can see themselves fitting in, before reiterating the benefits and perks your offer.
It's best to prepare a list of interview questions ahead of time. Have a look at our welder interview questions for some ideas.
More welder interview questions:
7. Make an offer.
When you have made a final decision as to the candidate you would like to hire, you'll want to make them an offer without delay. This is typically done in two stages, the first being a verbal confirmation that you would like to offer the candidate the position and the second being a written job offer. Give them a call and let them know that you would like to have them on board and will send them an email or letter with a formal job offer including the details of the position, salary, and benefits.
FAQs:
Where can I find a good welder?
How do I find out if a welder is AWS certified?
Finding welders that match your job specification and have the right credentials can be difficult and some may not actually have the relevant certifications. You can verify a welder's American Welding Society (AWS) credentials using the AWS QuickCheck tool or by searching the AWS National Registry of Certified Welders.