How to Hire an Optometrist: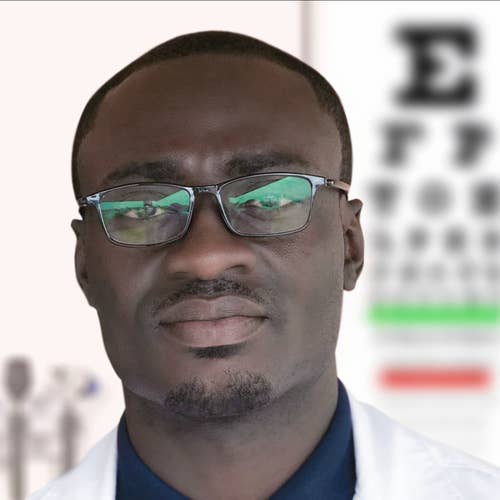 A step-by-step guide to finding excellent optometrists for your hospital, clinic, private practice, or optical goods store. Includes a full process that will help you find and hire the best optometrists fast.
1.
Attract the best optometrists.
1.1
Sell your hospital, private practice, or optical goods store.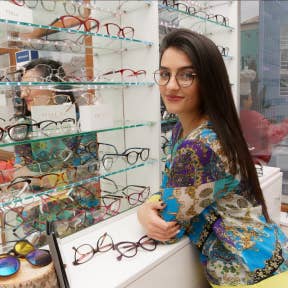 To attract above-average candidates, you'll have to offer more than good working hours and a competitive salary and benefits package. While these are on top of the list for job seekers, candidates also look at what else the practice has to offer.
To find your best selling points, answer the following questions:
What are the most attractive attributes of your practice?
Is there a signing or performance bonus?
What kind of growth opportunities are there?
What is the work-life balance like?
Does your practice have good online reviews?
Do you offer reimbursements for continuing education courses?
What is the support staff like?
Does your practice invest in advanced technology?
Do you offer guaranteed minimum pay?
Will optometrists enjoy job satisfaction and long-term patient relationships?
Ask existing staff what they enjoy most about working for you. They may be able to mention perks you've overlooked.
1.2
Write a compelling optometrist job post.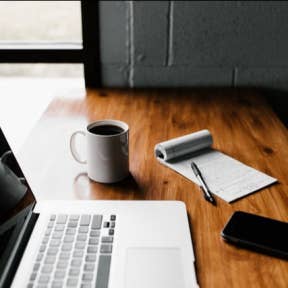 Sourcing good optometrists starts with creating a compelling optometrist job description. You'll want to introduce your practice or facility and highlight why optometrists would want to work for you.
List the responsibilities of the position, as well as the skills, characteristics, qualifications, and certifications all applicants should have. If they'll be required to work with electronic health record software such as RevolutionEHR, be sure to mention this.
Provide a clear and honest list of all the duties, requirements, and limitations of the role. Be as transparent as you can. For example, if you experience slow seasons, mention these, and perhaps include a brief outline of your plan for when there is downtime.
Start your job description with a brief introduction of your practice, highlighting its most attractive qualities. Top selling points might include your mission and values, modern facilities with specialty equipment, your team, opportunities for growth, or your location.
Next, write down a concise description of the role, including the most appealing aspects, such as a signing bonus, comprehensive benefits, or flexible hours.
Lastly, list the key duties and responsibilities, along with the qualification and license requirements. Don't forget to mention the salary and benefits you offer.
1.3
Use an optometrist job description template to make it easier.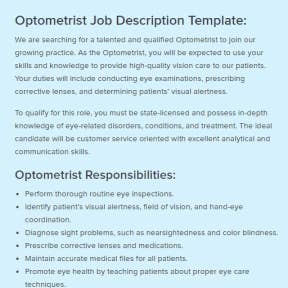 An optometrist job description template will provide much of the boilerplate information you'll need, such as responsibilities and qualifications, making your task a bit easier.
Clearly outline the requirements, duties, and limitations of the position you're offering.
2.
Advertise the position.
2.1
Post your job to general sites, such as Indeed.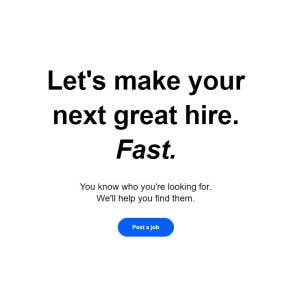 Start by posting to general job posting sites such as Indeed. These are great places to start because they get plenty of traffic and they're free.
2.2
Make sure your job is picked up by Google.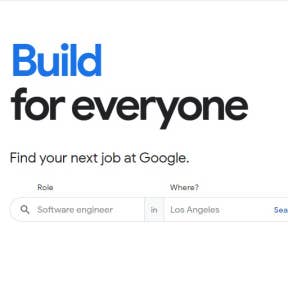 Google for Jobs allows your posting to be seen in search results. This can greatly increase your job visibility. You can get it picked up by Google by having someone properly format it on your website, or by using a service (such as Betterteam) that creates a properly formatted jobs page for you automatically.
2.3
Target dedicated job boards for optometrists.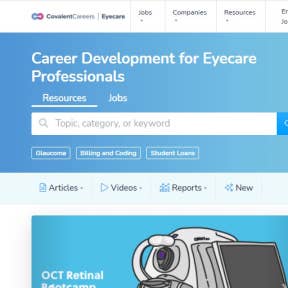 This will narrow your search to optometrists who might be a more suitable fit. Use an optometry job posting site to advertise vacancies.
2.4
Ask employees for referrals.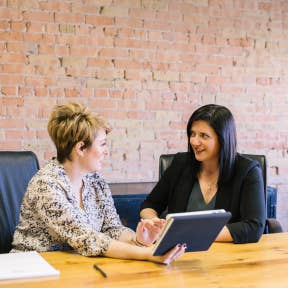 Asking current employees for referrals is a great way to find top talent. Create an employee referral program to motivate employees to participate in the recruiting process. Essentially, the program offers rewards for any referrals leading to hires. Make sure it is clear to your employees that the optometrist they refer should have the necessary skills, qualifications, experience, work ethic, and attitude.
2.5
Use social media as an effective recruiting tool.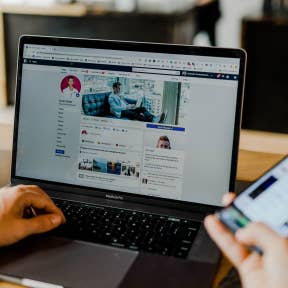 Perhaps you already have a large following on social media, but are you using these platforms as effective recruitment tools? Your social media accounts should not only have content aimed at clients and patients, but it should also be appealing to potential hires.
To attract the best talent, your posts should be engaging, informative, and professional. Maintain an active presence on social media and respond to any questions, comments, or queries in a timely manner.
If you scroll through your social media posts, it should be evident that you're an excellent employer to work for. If this doesn't come across clearly, you should probably add some new content to your feed.
Your online presence should give candidates a glimpse of the environment they will be working in as well as the workplace culture.
Sharing employee testimonials as well as images and videos of team-building events is a great way to get optometrists interested in your hospital or private practice.
Appreciation posts, if used strategically, can also be quite powerful. If someone on your team has a birthday or reaches a significant milestone, acknowledge it on social media. Small gestures like these show that you value your employees.
3.1
Screen your applicants.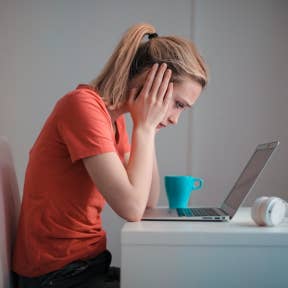 Review the applications you've received and reach out to applicants to verify key details. You can do this by sending each candidate a short email or giving them a quick call asking a few basic questions, such as:
Where and when did you obtain your qualification as an optometrist?
How long have you worked as an optometrist?
Do you have a valid license to practice optometry in this state?
3.2
Conduct a phone interview.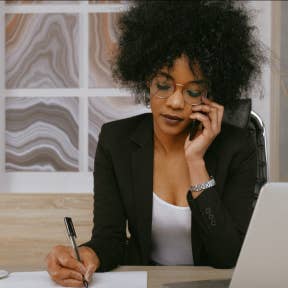 In-person interviews are costly and time-consuming, so conduct a telephone interview before deciding to meet with prospective hires.
At this point, you should also discuss salary, compensation, additional benefits, and growth opportunities with the applicant. Try to determine their reason for leaving their previous job or career field.
Some questions to ask include:
What inspired you to become an optometrist?
What are the most important aspects of this job?
How will this position help you attain your ultimate career goals?
Which aspects of optometry do you enjoy the most?
Use the telephone interview to review the answers candidates provided to your screening questions. If their responses are completely different, this is a red flag.
3.3
Conduct background checks.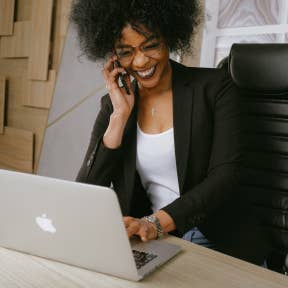 Before proceeding to in-person interviews, conduct a background check to confirm applicants' qualifications, licenses, employment history, criminal record, and other application details. There are a variety of software platforms that offer background check services you can use to do this.
3.4
Conduct an in-person interview.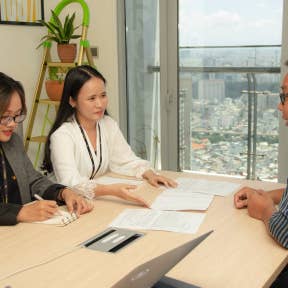 At this point in the recruitment process, you will want to have a more in-depth conversation with the candidates that best match your criteria. Invite these for an in-person interview to get a better idea of how they would fit into your practice and to assess their knowledge and skills. Prepare a list of questions that test their knowledge and experience, such as:
Can you walk us through a routine eye examination?
What was your most meaningful experience as an optometrist?
How do you deal with anxious patients?
How do you see your career developing over the next 10 years?
During the slow seasons, how do you use your free time?
Finding a good optometrist takes valuable time, resources, and effort, so try to hire candidates who are likely to stay on and grow with your practice or department.
4.
Hire your new optometrist.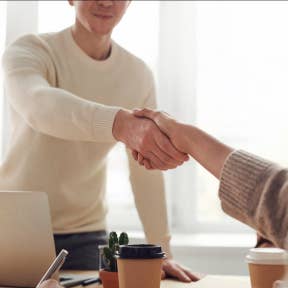 Now that you've invested the time to find a good optometrist, you'll want to make them an offer sooner rather than later to avoid losing them to a competing employer. Give them a quick phone call to inform them of your decision to offer them the position, before sending them an official job offer letter via email.
4.2
Onboard your new optometrist.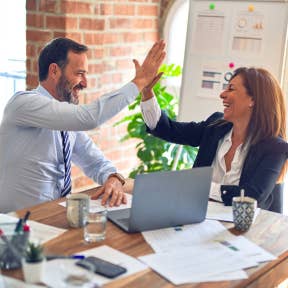 Onboarding is a key final step in the hiring process that is not to be overlooked. Make a good first impression and get the new optometrist up and running fast by having a detailed and organized onboarding process.
FAQs:
How can I find a good optometrist?
What should I look for when finding an optometrist for my practice?
The optometrist you end up hiring should have the required qualifications and license to practice in your state, and they should perfectly complement your existing team. Look for candidates who are likely to stay on and grow with your practice.
What are the best places for employers to find optometrists?
What is an optometrist's salary?
How many hours a week do optometrists work?
The average optometrist works around 41 hours per week.