Many health care practices find it difficult to recruit optometrists, which is largely attributed to low unemployment rates and a competitive job market in the field of optometry. As the demand for specialty roles like optometrists continues to grow, practices need to invest in their hiring strategies to secure top talent.
Special Offer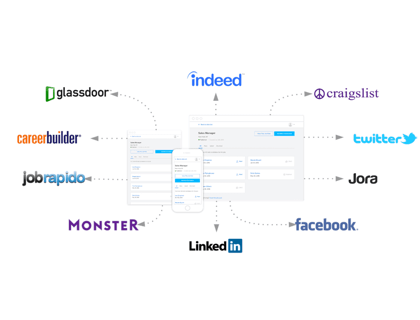 Post Jobs for FREE
Completely free trial, no card required.
Reach over 150 million candidates.
How to Hire an Optometrist:
1. Create a compelling job post.
Sourcing optometrists for your healthcare practice starts with creating a compelling optometrist job description. To attract above-average candidates, you'll have to offer more than good working hours and a competitive salary and benefits package. While these are on top of the list for job seekers, candidates also look at what else the practice has to offer. What are the most attractive attributes of your practice? Is there a signing bonus? Are there growth opportunities? Does your practice have good online reviews? What is the support staff like? Does your practice invest in advanced technology?
Start your job description with a brief introduction of your practice, highlighting its most attractive qualities. Top selling points might include your mission and values, modern facilities with specialty equipment, your team, opportunities for growth, or its location. This should be followed by a concise description of the role, including the most appealing aspects, such as a signing bonus, comprehensive benefits, or flexible hours. Then, you can go on to list the key duties and responsibilities, along with the qualification requirements. Don't forget to mention the salary and benefits you offer.
2. Post your job.
You can start by posting to a general job board like Indeed, to reach as many candidates as possible. If you're not having much luck with general job boards, you may want to turn to optometry job posting sites and other sources, like social media and networking events, for a more targeted search.
You'll also want to make sure that your post is picked up by Google for Jobs so that it appears in search results. This can greatly increase the number of people who see your job. You can get it picked up by Google by having someone properly format it on your website, or by using a service that creates a properly formatted jobs page for you automatically.
Rather than waiting for candidates to find your job post, you can also actively search for suitable candidates on professional networking platforms, like LinkedIn. Search for profiles that match your job specifications and reach out to suitable candidates with a tailored message highlighting what you offer and pointing out what you believe makes them a great fit for the position.
3. Screen your applicants.
Review the applications you've received and reach out to applicants to verify key details. You can do this by sending each candidate a short email or giving them a quick call asking a few basic questions, such as:
Where and when did you attain your qualification as an optometrist?
How long have you worked as an optometrist?
Do you have a valid license to practice optometry in this state?
4. Conduct a phone interview.
Conducting the first round of interviews over the phone is a great time-saver and is sufficient to find out most of the things you need to know. Ask applicants to tell you about their career so far and why they left their previous place of employment. You may want to ask them about some points in their resume or application. For example, if there is a considerable time gap between jobs, you'll want to find out why that is. Also, review their answers to the screening questions.
Find out what applicants expect in terms of compensation and benefits, and how they imagine their daily work life would look like should they work for you. From this, you will quickly be able to determine whether their expectations match what you can offer. Give them some insight into what the working environment and conditions are like at your practice and detail the compensation and benefits package you can offer.
Example questions:
What attracted you to the field of optometry?
Can you tell me about your qualifications and training?
What do you imagine your typical day at our practice will look like?
Why did you leave your last job?
What are your salary and benefits expectations?
What are your preferred working hours?
5. Do a background check.
Before proceeding to in-person interviews, conduct a background check to confirm applicants' qualifications, licenses, employment history, criminal record, and other application details. There are a variety of software platforms that offer background check services you can use to do this.
6. Conduct an in-person interview.
At this point in the recruitment process, you will want to have a more in-depth conversation with the candidates that best match your criteria. Invite these for an in-person interview to get a better idea of how they would fit into your practice and to assess their knowledge and skills. Prepare a list of questions that test their knowledge and experience, such as:
Can you walk us through a routine eye examination?
What was your most meaningful experience as an optometrist?
How do you deal with anxious patients?
How do you see your career developing over the next 10 years?
7. Make an offer.
Now that you've invested the time to find a good optometrist, you'll want to make them an offer sooner rather than later to avoid losing them to a competing employer. Give them a quick phone call to inform them of your decision to offer them the position, before sending them an official job offer letter by email or mail.
FAQs:
What should I look for when finding an optometrist for my practice?
O.D. degree from an accredited School of Optometry.
Valid state-issued license to practice as an optometrist.
Strong diagnostic and decision-making skills.
Excellent communication and interpersonal skills.
Good organizational and time management skills.
Interest in helping people.
How can I find a good optometrist for my practice?
What are the best places for employers to find optometrists?