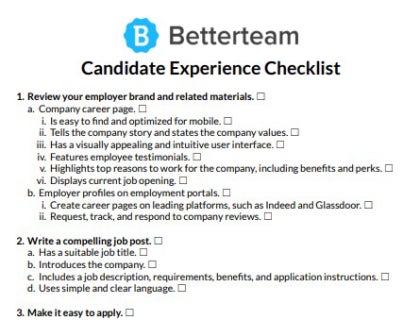 Candidate Experience Checklist Download:
Use this checklist in PDF format to help create a positive candidate experience.
Download Now
How to Create a Great Candidate Experience:
Before getting started, map the recruitment experience from a candidate's perspective, and then look at what you can do in each step to optimize the process and improve the candidate experience. While you may have additional stages in your hiring process, the following steps serve as a general guide for creating a great candidate experience.
1. Review your employer brand and related materials.
During the hiring process, you will be introducing candidates to your employer brand, so you'll want to ensure that the process and experience align with your brand values and educate candidates about your company. Therefore, be sure to define your employer brand, if you haven't done so already, and prepare content about who you are as an employer.
In addition to an attractive, easy-to-find career page that gives candidates an idea of what it's like to work for your company and what makes you a great employer, consider creating a compelling company page on popular career portals, such as Indeed and Glassdoor, and taking note and responding to any reviews you may have received as an employer.
Read our Employer Branding article to learn more about the topic.
2. Write a compelling job post.
Your job advertisement is often the first interaction a candidate has with your company, so you'll want to get off to a great start. Your job post should highlight what makes the position and working at your company an attractive prospect and give candidates a clear overview of the role's demands and requirements.
When crafting your job post, you'll want to use the job description that was created when you identified a skills gap and hiring need in your company. Be sure to use simple and clear language and look out for jargon or phrasing that may sound unclear or confusing outside your HR department.
If you need some inspiration, have a look at our job description directory.
3. Make it easy to apply.
In your job ad, you will have supplied clear instructions on how candidates should apply for the role. This process should be simple and straightforward. While you may simply request candidates to send their cover letter and resume via email, allowing for online applications can help streamline the process.
However, requiring candidates to create an account and log in to your recruitment software and then manually retype their resume and life story can quickly turn them off. Therefore, be sure to keep the process short and user-friendly, and provide an outline of the process so that candidates know what to expect before they get started.
4. Be responsive, appreciative, and manage expectations.
Responding to candidates in a timely manner is crucial to a great candidate experience, starting with an application acknowledgment email to thank candidates for their applications and inform them about the next steps, including an estimated timeline.
Your next steps may include sending candidates additional screening questions or assessments before selecting which candidates to interview, whether remote or in-person. When you decide not to continue with a candidate's application, let them know promptly and in a respectful manner that they are no longer being considered.
5. Create a positive interview experience.
Invest some time in preparing your interview process to ensure it goes smoothly and efficiently. When you've decided to invite a candidate for an interview, send them an interview invitation email with the details and give them an idea of what to expect, including the interview format, duration, and what they should bring along or prepare.
Resources for designing a great interview process:
6. Keep candidates updated.
Follow up your interviews with an email to show that you appreciate the time the candidates set aside to meet with you and inform them about the timeframe within which you will reach a decision. Once you have selected a candidate to present with a job offer, give them a call to tell them the good news and send them a formal job offer letter.
Let unsuccessful candidates know as soon as possible that you have decided to go with another candidate and be courteous, thank them for considering you as an employer, and request feedback to help you improve the candidate experience. As you may have had several great candidates, be sure to stay in contact and add them to your talent pool.
Next Steps:
Once your chosen candidate has accepted your offer of employment, congratulate and welcome your new employee and get them started in your onboarding program.
Why is candidate experience important?
Candidate experience is important for building and managing a company's talent pool and employer brand. Companies may often have several candidates who are a good fit for a job opening, and while not all can get the job offer, they'll want great candidates to keep them in mind as potential employers.
Job seekers who enjoyed a great candidate experience are more likely to apply again in the future and share their positive experiences with peers, endorsing the company to other potential candidates. A poor candidate experience has the opposite effect, and candidates may not apply for roles at the company again and discourage others from doing so.