Interviewing is a crucial part of the recruiting process. To be a good interviewer, you have to be prepared, ask the right questions, listen carefully, and evaluate the candidate to see if they're the right fit for your company.
Read our guidelines below on how to conduct a good interview, and find answers to commonly asked questions.
How to be a Good Interviewer:
1. Be prepared.
It's important to prepare thoroughly before interviewing a potential employee so that you don't come across as disorganized and unprofessional. Be sure to brush up on the interviewee's skills and employment history beforehand by reading their resume, and print out a copy for reference during the interview.
2. Choose your questions wisely.
Create a list of questions that are tailored to the role you are hiring for, such as questions relating to skills, job knowledge, and work history. You should also include behavioral and situational questions to give you a good idea of how the candidate handles challenging situations. Preparing a list will also ensure that you ask similar questions during the interview process.
3. Have an interview structure.
An unstructured interview can cause you to lose track of the interview and end up wasting your and the candidate's time. The best way to avoid this is to set out a structure during your interview prep; for example, make the first part of the interview a brief introduction and description of the main goals of the position and what your company hopes to achieve, followed by the interview questions. Lastly, give the interviewee an opportunity to ask a few questions of their own.
4. Take notes and listen carefully.
Notetaking is essential in any interview. It will help you keep track of how each candidate performed and allow you to compare candidates once the interview stage is over. Be sure to clear your mind and focus on what the candidate says so that you can note any positive or negative attributes. You might also want to use a scorecard to assess the candidate's answers effectively.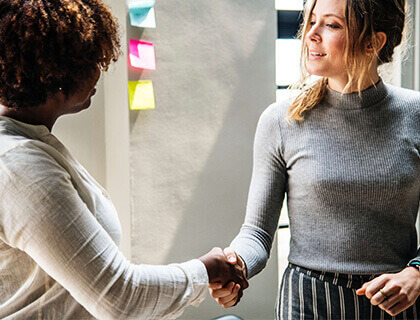 Good Interview Questions to Ask Candidates:
Can you tell me about yourself?
Why would you like to work for us?
How would you describe your working style?
What are your strengths?
What is your biggest weakness?
Can you tell me about a time when you overcame a challenge?
Why do you want this job?
Why would you like to work for us?
Why are you leaving your current job?
Why should we hire you?
What achievement are you most proud of?
FAQs:
What makes a good interview?
Aside from the preparation that goes into interviewing potential employees, keep in mind that you should also make the interviewee feel as relaxed as possible to elicit the best response from them. A good interviewer is welcoming, conversational, and considerate. To break the ice, tell the candidate a little about yourself or talk about a light-hearted topic before you get down to business.
What are good second-interview questions to ask candidates?
Depending on your organization's structure, you may need to ask a candidate to return for a second interview to help you make a final decision. The first interview would have provided a short-list of candidates and basic insight into their work history and skills. A second interview is more detailed and tests a candidate's soft skills, problem-solving ability, and competence for the job.
Here are a few good second-interview questions to ask:
Was there ever a time when a project's priorities changed suddenly? How did you adapt?
What previous professional experience has prepared you for this role?
Can you tell me about a time when you had to manage multiple tasks within the same deadline?
Have you ever made an unpopular decision that led to good results?
Can you tell me about a time when you worked successfully as part of a group?
If you'd like to know more about how to be a good interviewer, be sure to read our article on How to Interview Candidates Effectively.