Pricing:
eFinancial Careers does not list prices on its website. Job posting costs vary based on a user's region. Employers can contact eFinancialCareers for pricing information.
Review:
eFinancialCareers is a leading financial services careers website with a global footprint. Employers benefit from their financial sector expertise and their highly trafficked job site. eFinancialCareers attracts talented finance professionals in the U.K. and abroad, making it a convenient portal for reaching local and international talent.
13% of web traffic to eFinancialCareers comes from the U.K., compared to 46% for the U.S. Prominent companies such as J.P.Morgan and Trevose Partners Limited use eFinancialCareers to find financial talent in the U.K.
Highlights:
Employers can post jobs quickly and easily using self-service job credits.
Employers have options to purchase between one 1-5 job listings at a time.
Job posts are displayed on over 45 worldwide partner sites.
The website has a mobile app that increases job ad visibility.
The job board features a database with more than 1.5 million resumes.
eFinancialCareers has a dedicated telephone line for U.K. customers.
The website has multilingual language options to appeal to a wider, diverse candidate pool.
Employers are connected to a global pool of 1.5 million financial specialists.
Services extend across 24 sites dedicated to major financial centers across the world.
Dedicated account managers offer employers tailor-made recruitment solutions.
Job seekers can receive job alerts.
Shortcomings:
Employers need to contact eFinancialCareers for detailed information about their services and prices.
No mention is made of free job posting trials or promotional offers.
Reputation:
eFinancialCareers resides under the DHI group — a publicly traded company listed on the New York Stock Exchange. No negative reviews by employers were found. On Sitejabber, eFinancialCareers has received a 5-star rating from one user.
Three job seekers on Trustpilot rate eFinancialCareers with 2.9 out of 5 stars due to reported difficulties using the site. One user states that the site is "good for jobs."
How to Post a Job on eFinancialCareers: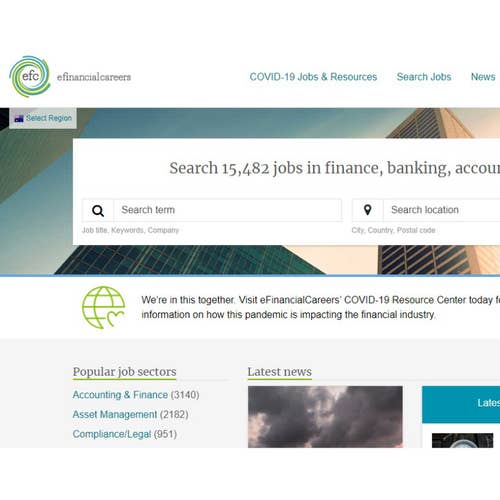 Two easy steps for posting a job on eFinancialCareers.
1.
Posting a job on eFinancialCareers.
1.1
Click on "Recruiters."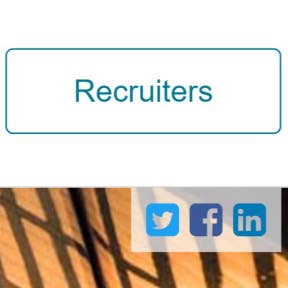 Navigate to the eFinancialCareers home page and click on "Recruiters," then "Post a job" on the next page.
1.2
Complete the form and talk to a consultant.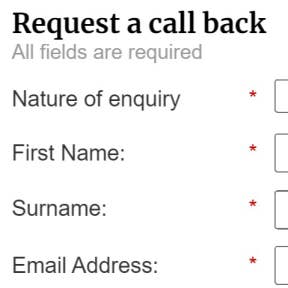 Complete the online form, then click on the green "Submit" button at the bottom.
Employers also have the option to call the number provided onscreen. One of their consultants will be in contact to discuss your job posting requirements.
eFinancialCareers vs. TopFinancialJobs:
TopFinancialJobs is one the U.K.'s leading job portals for finance professionals. Their job posting packages start at £119.00 while eFinancialCareers do not advertise their pricing. While eFinancialCareers lets companies post jobs anywhere in the world, TopFinancialJobs caters only to the local market.
eFinancialCareers vs. reed.co.uk:
reed.co.uk is a popular British job board that lists jobs in most industries, while eFinancialCareers is a niche job board that targets financial specialists. eFinancialCareers has the advantage of appealing directly to British financial professionals while also offering employers access to a global talent pool. reed.co.uk's pricing starts at £89.00 per post.
eFinancialCareers vs. FinancialJobsWeb.com:
FinancialJobsWeb.com lets employers post jobs to British cities but has no U.K.-specific site. Both are highly trafficked sites and both distribute job posts to other leading job boards. Employers need to contact eFinancialCareers for pricing information. FinancialJobsWeb.com prices start at US$225.00.
Key Information
| | |
| --- | --- |
| Legal Name | eFinancialCareers Ltd. |
| Founder | |
| Founding Date | Jan 01, 2000 |
| Address | 5th Fl., Telephone House, 69-77 Paul St., London, EC2A 4NW, United Kingdom |
| Telephone | |
| Website | |
FAQs:
How much does eFinancialCareers cost?
How do I create an eFinancialCareers account?
To create an account where you can post jobs and manage eFinancialCareers job postings, go to their home page for your country and click on "Recruiters," then "Post a Job."
How can I edit an eFinancialCareers job posting?
To make changes to one of your eFinancialCareers job postings, log into your account and select the posting from your list of active jobs. Once you open the posting, you can change any of the information. Click on "Save" to update your changes.
How can I delete an eFinancialCareers job posting?
To delete one of your job postings, select it within your dashboard and click on the "Delete" button.
What are some eFinancialCareers alternatives?