The biggest challenge facing employers looking to hire sales professionals is verifying the skills that they claim to have. Candidates with the right skills and experience are also selective with which jobs they apply to, so employers need to offer competitive benefits to attract top talent.
Special Offer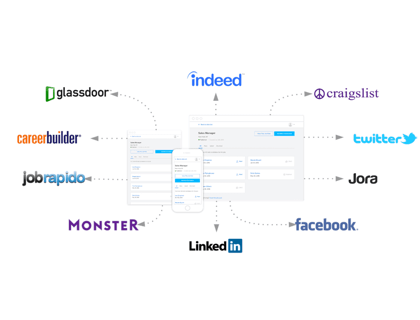 Post Jobs for FREE
Completely free trial, no card required.
Reach over 150 million candidates.
How to Find Sales Professionals:
1. Create a job post.
Write a job post that outlines what you expect from candidates in terms of day-to-day responsibilities as well as long term sales goals. This will give candidates a good idea of what you expect from them and ensure that you hire sales professionals with adequate experience.
There is a trend amongst sales applicants to apply selectively when looking for a new job. There are many vacancies but not many adequate candidates who can fill the position. For this reason, your job offer needs to be competitive to recruit sales professionals. Be sure to list the benefits that come with the job, such as a generous commission system or a base salary that is slightly higher than average (within reason based on the seniority of the role.) It has become the industry standard to offer uncapped commissions.
Many candidates consider the product being sold to be an important factor in accepting a job offer. Describe the product(s) that the candidate will be selling, and mention the highlights of the product that would make the candidate want to sell it.
An overwhelming number of sales professionals are also looking for fast career progression. You can find sales professionals faster by outlining how you can facilitate career development through mentorship or providing training for management positions.
Management also plays a large role in whether a candidate is interested in a sales position. Try to describe the manager's style and approach, as this will give candidates a better idea of what their work environment will be like.
2. Post your job.
You should post your job description to large job boards like Indeed and Glassdoor because they have large audiences and you will be able to find good sale professionals from their pool of active users. There are also sales job boards that you can post to to reach a more targeted audience.
You can also post your vacancies on your own website. Be sure to format the post so that it is picked up by Google for Jobs. If this is not something you are familiar with, it is advised that you look for a professional who can format your posts.
3. Screen your applicants.
When you begin to receive applications, you should send out emails with screening questions. This is to ensure that candidates meet the minimum requirements for the role, and to rule out any candidates that don't fit what you are looking for in an obvious way.
Example questions:
What training have you had in sales?
Can you describe your sales record at your current company?
When would you be available to start?
In which industries have you held sales positions?
4. Conduct a phone interview.
In-person interviews can be time-consuming for both parties, so it is best to have a telephone interview first. This allows you to shorten the list of candidates before inviting the top applicants for an in-person interview.
The phone interview should aim to find out if the candidate is qualified as well as if they are a good cultural fit for your company. Employers have warned that candidates who do not fit with your company's culture can create conflict.
Example questions:
What are your salary expectations?
How long were the sales cycles at your former company?
How well did you meet your sales goals in your former position?
How would you describe your sales strategy?
Why would you like to work for our company?
What kind of corporate structure do you work best in?
Why did you leave your former role?
Look for any answers that conflict with each other, or with answers from your initial screening. If there are candidates that you are interested in, you should find out which aspects of the job appeals to them and explain these elements more.
5. Ask the candidate to demonstrate their skills.
Employers have said that a huge challenge with hiring salespeople is verifying their skills. Candidates can often appear charismatic when describing their skills, but this does not translate to making sales.
As such, it is advisable that you ask candidates to demonstrate their skills by researching your product and giving a sales pitch as if they were talking to a client. You can simulate a more realistic scenario by asking questions and offering resistance to their pitches.
6. Conduct an in-person interview.
While you may know the candidate well at this stage, meeting them in person allows you to see if they are presentable, punctual, and if they have a positive body language. Having the candidate visit your office also presents the opportunity to introduce them to your current staff and see if there is good chemistry.
7. Make an offer.
When you have found the right candidate for your company, you should make them a job offer as soon as possible to take them off of the job market. Start by phoning the candidate to let them know that their application has been successful, and then send an email that confirms the job description, benefits, and salary.
FAQs:
How do I find good sales candidates?
You can find good sales candidates by posting a detailed and attractive job post and posting it to large job boards. You should also screen applicants at the start of the hiring process to create a shortlist of adequately-qualified candidates.
How do you recruit salespeople?
You can recruit salespeople by posting an attractive job post, screening applicants, and hosting an in-depth interview to learn more about applicants. You should also ask the candidate to demonstrate their sales skills so that you get an idea of how they will perform.
How do you find top sales talent?
The best sales talent will only apply to jobs that offer competitive rates and benefits, so be sure to highlight these in your job post.