Finding great salespeople is a key phrase that rings through every sales recruitment drive, which is often considered to be a rather difficult and even frustrating task. While fantastic all-rounders, salespeople that are brilliant in every respect, from finding business, nurturing new clients, and closing deals, would be great, they tend to be few and far between.
Special Offer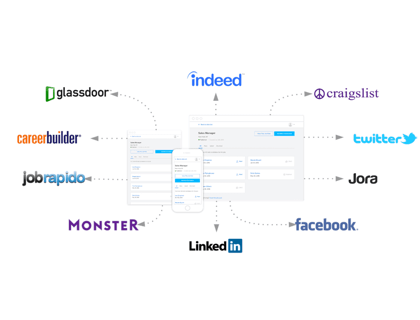 Post Jobs for FREE
Completely free trial, no card required.
Reach over 150 million candidates.
How to Find Salespeople:
1. Create a great job post.
Identify what you are looking for in your salespeople. Review your sales department and assess what experience level and skill set you need your new recruit to bring to the table. Define the characteristics and key skills that are a must for anyone to be successful. A positive and goal-driven attitude is a fairly standard requirement listed in every sales job description.
Other sought after qualities typically include:
Ability to work independently.
Professional appearance.
Competitive nature.
Ability to build rapport with clients.
Strong customer service skills.
Confident demeanor.
Strong negotiation skills.
Ability to learn quickly.
Start with a brief introduction to your company and a concise summary of the position you want to fill. The idea is to sell the position by highlighting attractive aspects, such as a competitive benefits package or an appealing work environment. Including some detail about the products or services you sell can help you attract salespeople with experience in your particular industry, such as automotive or pharmaceutical sales, and can help yield a better selection of suitable applicants.
Following the introductory paragraph, you'll want to list the key responsibilities and duties the job entails, along with the minimum qualification requirements, skills, and qualities applicants should have. Think about the daily tasks and responsibilities of the role. Are there specific software programs and tools candidates should know or have extensive experience with? Are they required to travel? Must they have a driver's license?
Before finalizing your job description, have another look at the compensation plan you are offering. Key things that are sure to deter top performers are caps on commissions and regularly raising quotas. Attractive salary packages include a good basic salary and incentives, such as bonuses, prizes, and other forms of recognition.
Use our salesperson job description template to get started.
2. Post on multiple job boards.
Advertise your vacancy on multiple job portals, starting with big sites that receive large amounts of traffic, like Indeed, to reach as many candidates as possible. Beyond this, also have a look at dedicated sales job boards which are great for finding salespeople looking for more focused opportunities. Depending on the industry you're in, there may also be niche job boards to include, such as MedReps.com, which is great for companies in the medical sales market.
To expand your reach beyond candidates who actively search for opportunities on dedicated job posting sites, you can look to platforms like LinkedIn to find passive candidates. Search for profiles that match your job specifications and reach out to candidates with a tailored message highlighting what you offer and pointing out what you believe makes them a great fit for the position. This approach allows you to seek out top talent but may require you to make a very attractive offer to persuade them to leave their current employer in favor of your company.
3. Screen your applicants.
Depending on the number of applications you receive, you may want to use a resume parser to process large numbers of resumes quickly and create a shortlist of applications that contain keywords that match your job description. Once this is done, you can proceed to screen applicants by means of a short email or phone call to verify certain key details, the absence of which would disqualify them as a candidate.
Refer to your job description to formulate these questions, for example:
How long have you worked as a salesperson?
How comfortable are you with cold calling?
Have you worked with Salesforce (or other tools the job description required)?
Are you available to work early/late/weekend shifts?
4. Conduct a phone interview.
Following the screening process, you may still have a considerable number of applications. Scheduling an in-person interview can be incredibly time-consuming, therefore it makes sense first to conduct a brief phone interview. This allows you to get to know a little more about the candidates and determine which are worth learning more about and which seem less suitable.
Ask candidates to describe their motivation to work in sales, how they nurture client relationships, and how they negotiate successful sales. Ask about the unsuccessful sales they've had and how they deal with rejection, as well as what they expect in terms of compensation and benefits.
Be sure to verify the answers they provided to the screening questions and find out why they no longer work for their previous employer. Keep candidates that seem like they could be a good fit for the position interested by highlighting positive aspects of the role and the benefits and perks you offer.
5. Arrange a sales test.
Schedule a test run with candidates to find out how they handle themselves with customers, whereby the role of the customer will be played by yourself or a colleague. You can prepare different scenarios, such as having the candidate attempt to upsell an existing client or following up on a lead and attempting to close the sale.
Depending on the responsibilities of the job, you might ask candidates to complete a written assessment to evaluate their math and written communication skills.
6. Conduct an in-person interview.
At this stage of the recruitment process, you will have most of the information you need to assess the competence and suitability of promising candidates. Conducting an in-person interview will, however, give you a better idea of how well a candidate would fit into your team and workplace. Use the opportunity to introduce them to some colleagues from the sales team and let your colleagues spend a few minutes speaking with them and showing them around.
You'll also want to review their motivation for wanting to work for your company as a salesperson and provide a detailed account of the salary structure and benefits you offer. Have a look at our salesperson interview questions if you need some ideas for additional questions to ask.
Following the interview, get some feedback from the colleagues who interacted with the candidate to find out what impression they got and whether they believe the candidate would be a good fit.
7. Make an offer.
Once you have found a candidate you like and believe would make a great addition to your team, you'll want to make them an offer fairly quickly. Remember that great salespeople can be hard to find and you don't want to lose out because you waited too long to contact them. Usually, you would give them a quick informal call to tell them that you would like to have them join your team and will extend a job offer, followed by an email or letter containing the details of the job, the salary, and benefits you are offering.
FAQs:
Where can I find good salespeople?
What should you look for when hiring salespeople?
Look for candidates who exhibit the qualities defined in your job description, perform well in a written assessment, display confident and persuasive sales skills, and pass a background check.
Qualities to look for in a salesperson include:
Ability to work independently.
Professional appearance.
Competitive nature.
Ability to build rapport with clients.
Strong customer service skills.
Confident demeanor.
Strong negotiation skills.
Ability to learn quickly.