Pricing:
| Plan | Pricing |
| --- | --- |
| 1 posting | US$335.00 |
| 4 postings | US$235.00 /post. |
| 10 postings | US$160.00 /post. |
| 20 postings | US$135.00 /post. |
| 50 postings | US$118.00 /post. |
| 1 month resume search | US$345.00 |
| 3 months resume search | US$232.00 /mo. |
| 1 year resume search | US$150.00 /mo. |
| 1 job posting & 1 month resume search | US$495.00 |
| 4 job postings & 3 months resume search | US$1,295.00 |
Review:
JobsInLogistics.com is a job board for sourcing logistics, supply chain, transportation, distribution, warehousing, and freight forwarding professionals. Jobs posted on the site are distributed to top job boards, including ZipRecruiter, Adzuna and more.
Canadian employers will be able to search for local candidates using the resume database, as well as posting their Canadian-based positions. The percentage of Canadian visitors to the site is increasing, according to SimilarWeb, and is now at 8.55%.
Highlights:
The platform offers featured job ads for improved visibility.
All jobs are live on the site for 60 days.
Employers have access to a large database of qualified candidates.
Job postings are visible on JobsInLogistics.com and distributed to other top job boards and search engines.
Pricing for job postings seems to be competitive compared to other local sites, such as Supply Chain Canada.
The platform offers employer branding, including banners, company logos, and links to your company website.
The platform offers enhanced job postings that can include company videos, images, and HTML code to enhance your profile.
Employers can create personalized emails to distribute to targeted candidates.
Shortcomings:
There are no search filters, so local candidates may not find your job posting.
Pricing is only displayed in U.S. dollars.
Posted jobs can be refreshed, but incur a fee of US$185.00 per job.
Resume database access requires an additional payment.
There is a limit of 100 resume views per day.
JobsInLogistics.com's media kit states that they have a large social media following and that they offer Facebook campaigns to attract candidates, however, their Facebook page is currently unavailable or was deleted.
The website is not available in French.
Reputation:
JobsInLogistics.com has received mixed reviews. On Reddit, one user complained that there are many spam job posts amongst the legitimate ones. JobsInLogistics.com has over 5,000 followers on Twitter with no negative sentiment towards the brand recorded.
How to Find Employees on JobsInLogistics.com: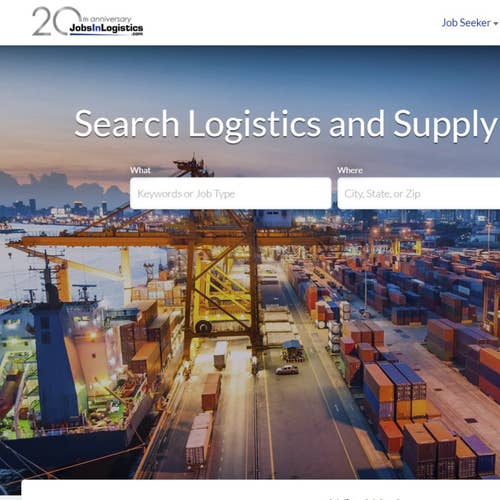 An easy guide for posting and searching resumes on JobsInLogistics.com.
1.
Posting a Job on JobsInLogistics.com.
1.1
Register as an employer.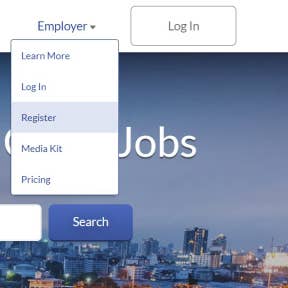 From the home page, hover over the "Employer" button towards the top right-hand corner. Scroll down and click on "Register."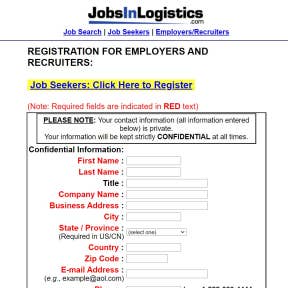 To complete the registration, enter your details on the form and create a username and password. Click on "Register" at the bottom of the form when all fields are filled.
1.3
Click on "Purchase Jobs."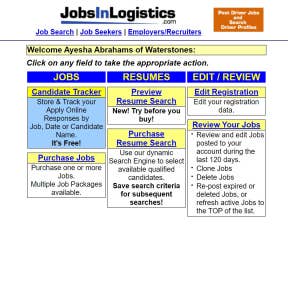 You will proceed to your dashboard after registration. In the bottom left-hand corner, click on "Purchase Jobs" to buy a job package and/or resume search.
1.4
Purchase your job or resume search package.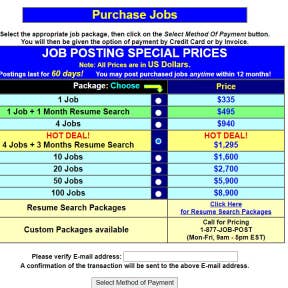 From the purchase window, select your job package of choice, enter your email address, and click on "Select Method of Payment."
1.5
Pay for your job posting.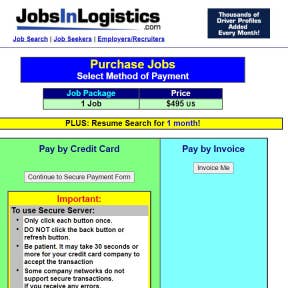 From the payment window, you can opt to pay by credit card or by invoice. Select your preferred method.
If you're using a credit card, click on "Continue to Secure Payment Form." From here, you will be redirected to a payment gateway and asked to enter your credit card details. Once you have selected your credit card type, click on "continue." You will then be required to enter the billing information and complete the payment.
If you choose the invoice option, you'll proceed to a payment window. Verify your details and click on "Confirm Billing Address." Once this has been done, an invoice will be emailed to the address you've provided.
1.6
Click on "Post Jobs."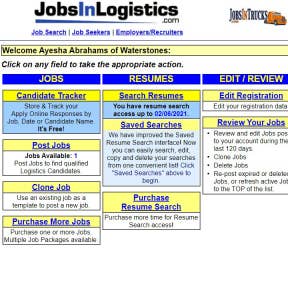 Once you've purchased your posting, your dashboard will have an option to "Post Jobs." Click on it.
1.7
Complete the job outline form.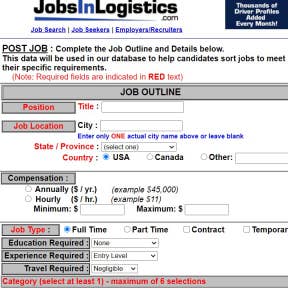 Fill in all the fields on the job outline form, then click "Continue."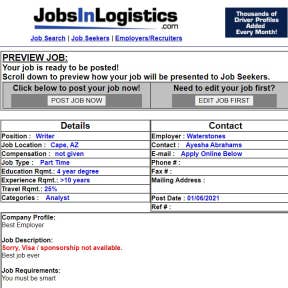 This is the final step, so be sure to check all the details of your job posting before you post it. From the preview screen, click on "Post Job Now" if you are happy with the posting, or select "Edit Job First" if you wish to make any changes.
2.
Searching Resumes on JobsInLogistics.com.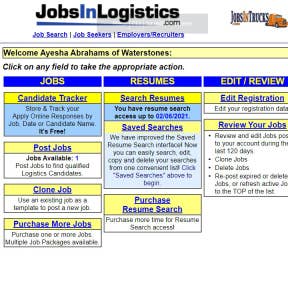 Depending on the package you've chosen, you may be able to make use of the resume search. From the dashboard, click on "Search Resumes."
2.2
Fill in the resume search fields.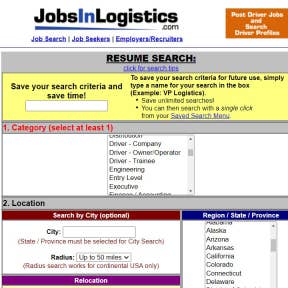 Enter the required information on the resume search form, including the category, location, compensation, job type, and more. When you are done, click "Search Now" or "Reset Form" to restart the process.
JobsInLogistics.com vs. Job Bank:
Job Bank is a general job board that caters to the Canadian job market. JobsInLogistics.com, however, serves both the U.S. and Canada, which might be the better option for employers in search of talent outside the country. While Job Bank is a free job posting site, JobsInLogistics.com's pricing starts at US$335.00 for a single listing.
JobsInLogistics.com vs. Indeed:
Indeed features a Canadian branch of the larger job board, meaning that it has a large audience and is well known. JobsInLogistics.com has a smaller audience in comparison and is more expensive than using Indeed, which is free. While you can sponsor posts on Indeed to make them more visible, JobsInLogistics.com offers more exposure through banner ads and branding.
JobsInLogistics.com vs. Supply Chain Canada:
Unlike JobsInLogistics.com, Supply Chain Canada is dedicated solely to the Canadian supply chain workforce. JobsInLogistics.com, by contrast, caters to the whole of North America and a wider job force. Both sites offer a variety of packages with resume database access and their pricing is relatively similar.
Key Information
| | |
| --- | --- |
| Legal Name | JobsInLogistics.com |
| Founder | |
| Founding Date | Jan. 01, 2000 |
| Address | 17501 Biscayne Blvd, Suite 530, North Miami Beach, Florida, 33160, USA |
| Email | |
| Telephone | |
| Website | |
FAQs:
What is JobsInLogistics.com?
How much does it cost to advertise a job on JobsInLogistics.com?
Pricing for job posting on JobsInLogistics.com starts at US$335.00 per job post but discounts are available for bulk packages.
How long will my job post stay on JobsInLogistics.com?
Your job post will stay on the website for 60 days from the day of publication.
How can I delete a JobsInLogistics.com job posting?
Postings can be deleted at any time by logging in and clicking the "delete" option next to the posting you would like to remove.
Does JobsInLogistics.com offer assistance with promoting my job post?
Yes, you have the option of refreshing your job post that will take your advert back to the top of the list. There is an additional charge of US$185.00 for each job post that is refreshed.
Does JobsInLogistics.com have a resume database that I can access?
Yes, a resume database is available at JobsInLogistics.com and the pricing is determined by the duration that you require access to the database for. There is a restriction to view resumes of 100 per day, 300 per month, 750 per quarter, and 2,500 per year. There is a cost to view resumes on the site.
How do I create a JobsInLogistics.com account?
Does JobsInLogistics.com offer assistance with candidate interviews?
No, JobsInLogistics.com does not assist employers with interviewing candidates.
What are some JobsInLogistics.com alternatives?