Pricing:
| Plan | Pricing |
| --- | --- |
| 1 posting | $335.00 |
| 4 postings | $235.00 /post. |
| 10 postings | $160.00 /post. |
| 20 postings | $135.00 /post. |
| 50 postings | $118.00 /post. |
| 1 month resume search | $345.00 |
| 3 months resume search | $232.00 /mo. |
| 1 year resume search | $150.00 /mo. |
| 1 job posting & 1 month resume search | $495.00 |
| 4 job postings & 3 months resume search | $1,295.00 |
Review:
JobsInLogistics.com is a job board for sourcing professionals who are skilled in the areas of logistics, supply chain, transportation, distribution, warehousing, and freight forwarding. Jobs posted on the site are distributed to top job boards, including TopUSAJobs, ZipRecruiter, Talroo, MyJobHelper, Adzuna and more.
Job seekers are able to search for hundreds of job openings, ranging from hourly warehouse jobs to supply chain executive positions. The site allows you to upload your resume and apply for jobs quickly and easily.
Pros:
The platform offers featured job ads.
All jobs are live on the site for 60 days.
It offers access to a large database of qualified candidates.
Job postings are visible on JobsInLogistics.com and distributed to other top job boards and search engines.
The platform offers employer branding, including banners, company logos, and links to your company website.
The platform offers enhanced job postings that can include company videos, images, and HTML code to enhance your profile.
Employers can create personalized emails to distribute to targeted candidates.
Cons:
There are no search filters.
Posted jobs can be refreshed, but incur a fee of $185.00 per job.
There is a limit of 100 resume views per day.
JobsInLogistics.com's media kit states that they have a large social media following and that they offer Facebook campaigns to attract candidates, however, their Facebook page is currently unavailable or was deleted.
Reputation:
JobsInLogistics.com has received mixed reviews. On Reddit, one user complained that there are many spam job posts amongst the legitimate ones. JobsInLogistics.com has over 5,000 followers on Twitter with no negative sentiment towards the brand recorded.
How to Find Employees on JobsInLogistics.com: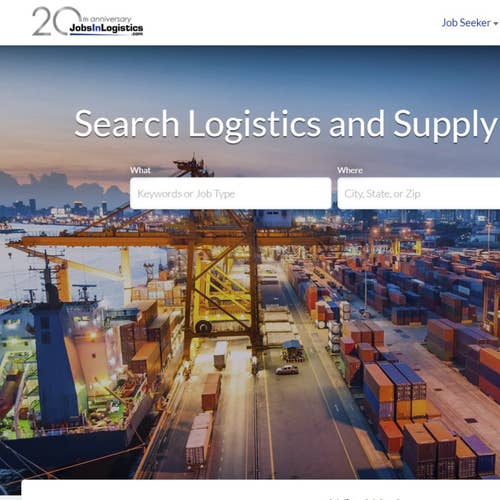 An easy guide for posting and searching resumes on JobsInLogistics.com.
1.
Posting a Job on JobsInLogistics.com.
1.1
Register as an employer.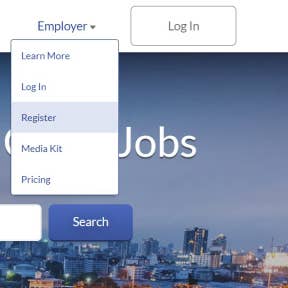 From the home page, hover over the "Employer" button towards the top right-hand corner. Scroll down and click on "Register."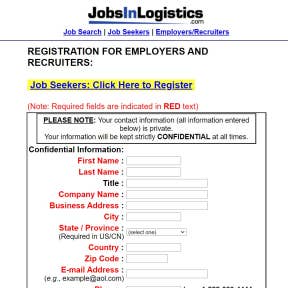 To complete the registration, enter your details on the form and create a username and password. Click on "Register" at the bottom of the form when all fields are filled.
1.3
Click on "Purchase Jobs."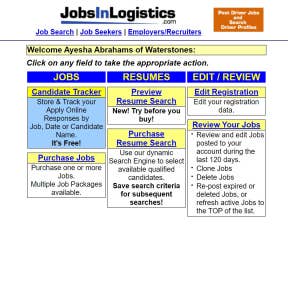 You will proceed to your dashboard after registration. In the bottom left-hand corner, click on "Purchase Jobs" to buy a job package and/or resume search.
1.4
Purchase your job or resume search package.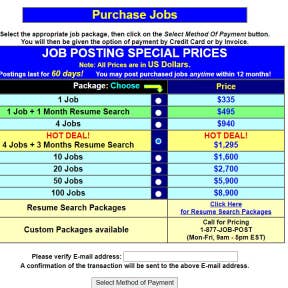 From the purchase window, select your job package of choice, enter your email address, and click on "Select Method of Payment."
1.5
Pay for your job posting.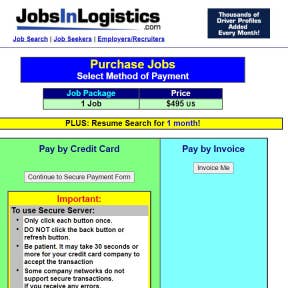 From the payment window, you can opt to pay by credit card or by invoice. Select your preferred method.
If you're using a credit card, click on "Continue to Secure Payment Form." From here, you will be redirected to a payment gateway and asked to enter your credit card details. Once you have selected your credit card type, click on "continue." You will then be required to enter the billing information and complete the payment.
If you choose the invoice option, you'll proceed to a payment window. Verify your details and click on "Confirm Billing Address." Once this has been done, an invoice will be emailed to the address you've provided.
1.6
Click on "Post Jobs."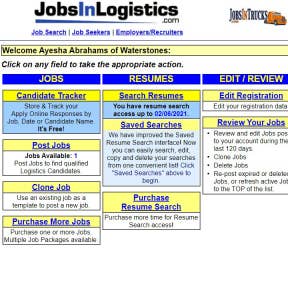 Once you've purchased your posting, your dashboard will have an option to "Post Jobs." Click on it.
1.7
Complete the job outline form.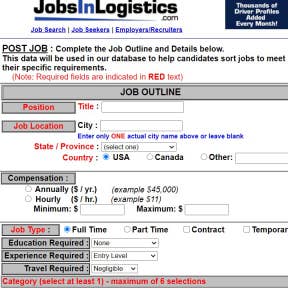 Fill in all the fields on the job outline form, then click on "Continue."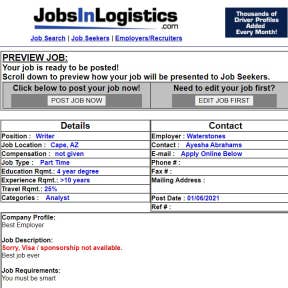 This is the final step, so be sure to check all the details of your job posting before you post it. From the preview screen, click on "Post Job Now" if you are happy with the posting, or select "Edit Job First" if you wish to make any changes.
2.
Searching Resumes on JobsInLogistics.com.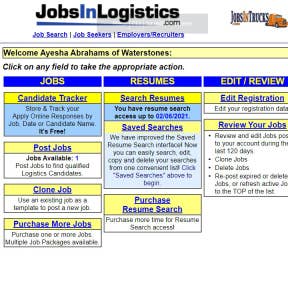 Depending on the package you've chosen, you may be able to make use of the resume search. From the dashboard, click on "Search Resumes."
2.2
Fill in the resume search fields.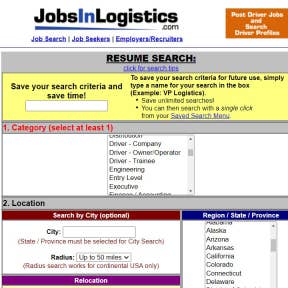 Enter the required information on the resume search form, including the category, location, compensation, job type, and more. When you are done, click on "Search Now" or "Reset Form" to restart the process.
JobsInLogistics.com vs. Logistics Career Center:
Logistics Career Center offers job posting, resume search, and targeted emails, among other offerings, and is slightly more affordable than JobsInLogistics.com. They charge $300.00 for a standard 60-day job post, whereas JobsInLogistics.com charges $335.00 for a 60-day listing and has separate costs for job posting and resume searches.
JobsInLogistics.com vs. LogisticsJobsite:
LogisticsJobsite allows job seekers to search and apply for jobs in transportation and logistics. Employers can purchase packages starting from $199.00 for 1 job post. All packages include distribution to niche sites, demographic data, and detailed analytics for recruitment, whereas JobsInLogistics.com charges $335.00 for 1 post.
Key Information
| | |
| --- | --- |
| Legal Name | JobsInLogistics.com |
| Founder | |
| Founding Date | Jan 01, 2000 |
| Address | 17501 Biscayne Blvd, Suite 530, North Miami Beach, FL 33160 |
| Email | |
| Telephone | |
| Website | |
FAQs:
What is JobsInLogistics.com?
How much does it cost to advertise a job on JobsInLogistics.com?
It costs between $118.00 and $335.00 per job post, depending on the number of jobs that you need to advertise.
How long will my job post stay on JobsInLogistics.com?
Your job post will stay on the website for 60 days from the day of publication.
How can I delete a JobsInLogistics.com job posting?
Postings can be deleted at any time by logging in and clicking the "delete" option next to the posting you would like to remove.
Does JobsInLogistics.com offer assistance with promoting my job post?
Yes, you have the option of refreshing your job post that will take your advert back to the top of the list. There is an additional charge of $185.00 for each job post that is refreshed.
Does JobsInLogistics.com have a resume database that I can access?
Yes, a resume database is available at JobsInLogistics.com and the pricing is determined by the duration that you require access to the database for. There is a restriction to view resumes of 100 per day, 300 per month, 750 per quarter, and 2,500 per year. There is a cost to view resumes on the site.
How do I create a JobsInLogistics.com account?
Does JobsInLogistics.com offer assistance with candidate interviews?
No, unfortunately, JobsInLogistics.com does not assist employers with interviewing candidates.
What are some JobsInLogistics.com alternatives?